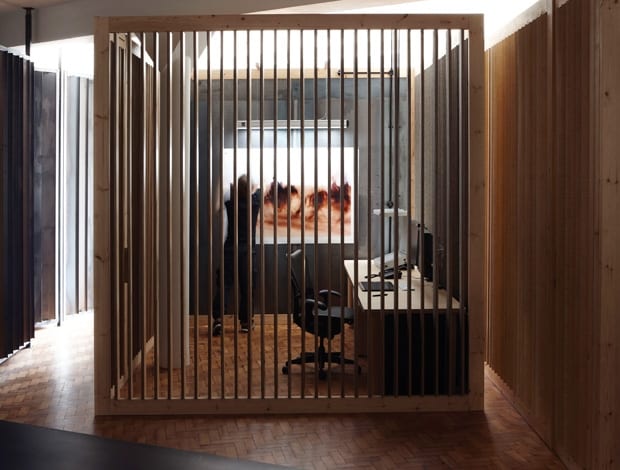 Retouchers work in booths surrounded by adjustable black louvres|Retouching calls for a neutral working environment|Bakelite light switches were sourced from Germany|Aluminium discs, each with a central bulb, forms the kitchen lighting|Malouin has extended the parquet floor up the walls, an irreverent touch||
"This is an absolute dream space to work in," says Philippe Malouin of architecture and interior design practice Post-office, gesturing to an expansive, herringbone-floored space illuminated by two white walls of tall, Victorian windows. It houses Touch Digital, a photographic retouching company based in Perseverance Works in Shoreditch, for which Malouin has created a monochrome heaven of black aluminium, grey fibreglass Eames chairs and grey woollen curtains.
The space recalls stylised 1950s black-and-white photography, but beyond aesthetics there is a practical imperative for the restrained colour palette. Dressed head to toe in grey, Touch managing director Graeme Bulcraig claims he never wears a brightly hued T-shirt to work, since placing colours near images skews the way we perceive them. Happily, Post-office's favoured aesthetic is one of understatement. "We didn't want to go all Google," says Malouin. "And anyway, AstroTurf and sofas is not our style – we are anti-bling and anti-trendy."
Bulcraig is in the middle of a day of interviews to expand his team to eight. "So far, the interviewees have been impressed: in most retouching places you are stuck virtually in the dark, in tight little rows," he says. Coming from a creative background himself, he had an unusually significant input into the design, putting together a thick scrapbook of images to inspire Post-office. "It was all about textures, and ply," says Bulcraig. Accordingly, plywood and timber used are in abundance, adding warmth and charm to the scheme. One especially quirky feature is the herringboned walls surrounding the entranceway (an upward extension of the original flooring) punctuated by a row of beautiful Bakelite 1950s light switches, sourced from Germany.
Touch moved here in March, from its former studio in nearby Rivington Street. After 13 years in business, Bulcraig calls this "a massive step up in terms of investing in the look and feel of our studio," adding that clients "enjoy coming here because they can relax and switch off after being in the hectic environment of a photographic studio." It really is strangely relaxing here – the monochrome hues and natural wood are gentle on the eye – but the bold lines and big bold box-like shapes offered by the fixtures strongly signal that you are in a creative space. Malouin, who spent a year at Tom Dixon's studio after graduating in 2008, has created most of the office furniture, including a massive, castor-mounted desk to store photographic papers. Opening the doors at each end of the three-metre-long free-standing cupboard reveals a set of neat box shelves that each house a single roll of paper. This is truly bespoke storage space – Malouin had to order outsized ply to make it.
Having enormous paper means printers to match, but these machines are by no means obvious as you walk through the space. They are disguised as black monoliths, sheathed in anodised aluminium – the same material used for second-generation iPods, notes Malouin. "These shapes help to show that the printers' position is purposeful, rather than just being randomly parked," he says.
Malouin also custom-created much of the lighting in the office, including 17, metre-wide disks of LED-illuminated aluminium that hang over the kitchen space. Like colour, lighting was another constraining element in this project. Retouching studios are by necessity low-lit, yet this is a bright and airy space. Post-office's solution was to create freestanding work pods constructed from adjustable vertical steel and wooden louvres, allowing the retoucher exquisite control over the light levels in their workspaces. The pods are striking objects, built to resemble "giant sculptural installations, or shipping containers," says Malouin. Over on the other side of the office are more slatted room dividers, only these "slats" are made of grey Bute wool fabric stuffed with polystyrene beanbag balls. They are oddly reminiscent of lilos.
While this project may have had a fairly modest budget ("Luckily we like Graeme, so we didn't feel exploited," quips Malouin), there is nonetheless a close attention to detail. Malouin betrays a fastidious streak – a desirable quality in any designer – when he tells how he sent Post-office's intern on a frantic dash across the Channel to buy 90mm-diameter dowel for the legs of the birch-ply desks. "The only place with that diameter of dowel was Paris, and I had to have them; they absolutely had to be that diameter. Because the desks are so simple, they have to be perfectly proportioned."