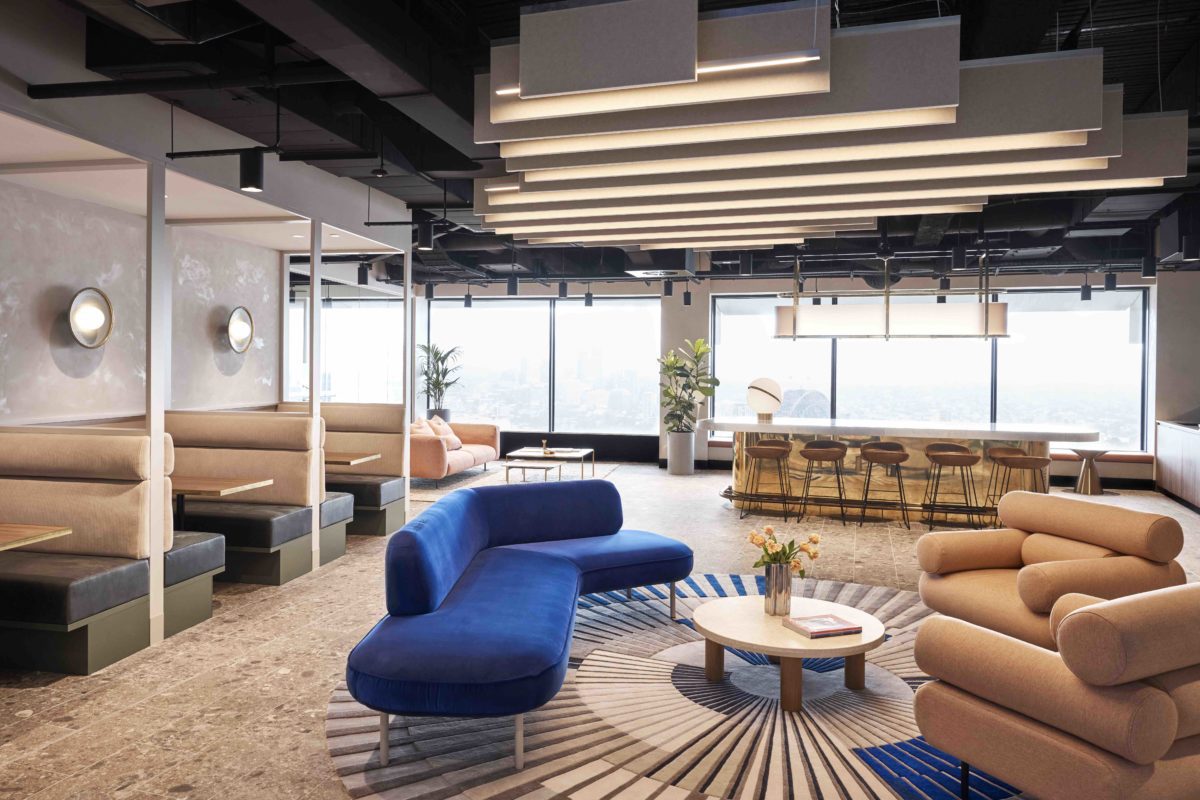 Sydney-based designers Tom Mark Henry created an office interior reflective of the Ebonex team's energy, supporting comfort and collaboration
As a home for a business, the workplace of Ebonex Australia is a standout. Designed by Tom Mark Henry, the interior is open yet intimate, with every amenity and facility. This spacious office provides all that staff might need and so much more – it supports comfort and connection for best practice on every level.
Located in Sydney's Central Business District, the workplace perfectly reflects the dynamics of the company and speaks of a layered and detailed design. As a young and vibrant enterprise for digital currency exchange, Ebonex Australia commissioned Tom Mark Henry to create an environment that would reflect its brand, exemplify comfortable working but one that would also provide outstanding amenities. The result is a perfectly balanced yet exciting design that speaks of people and place.
Carla Matias, design manager and project lead at Tom Mark Henry, and the team have met the brief but exceeded expectations with smooth curvaceous forms, multiple-functionality, style and finesse. The marvellous views of Sydney Harbour become the backdrop to an interior that is fresh and light but that also provides a variety of places and spaces to work and relax, meet and gather.
The curve has been strategically incorporated into the interior design in response to the base building architecture. Not actually a motif, it is more subtle and can be seen in detailing of furniture, cabinetry and lighting, creating a layered effect.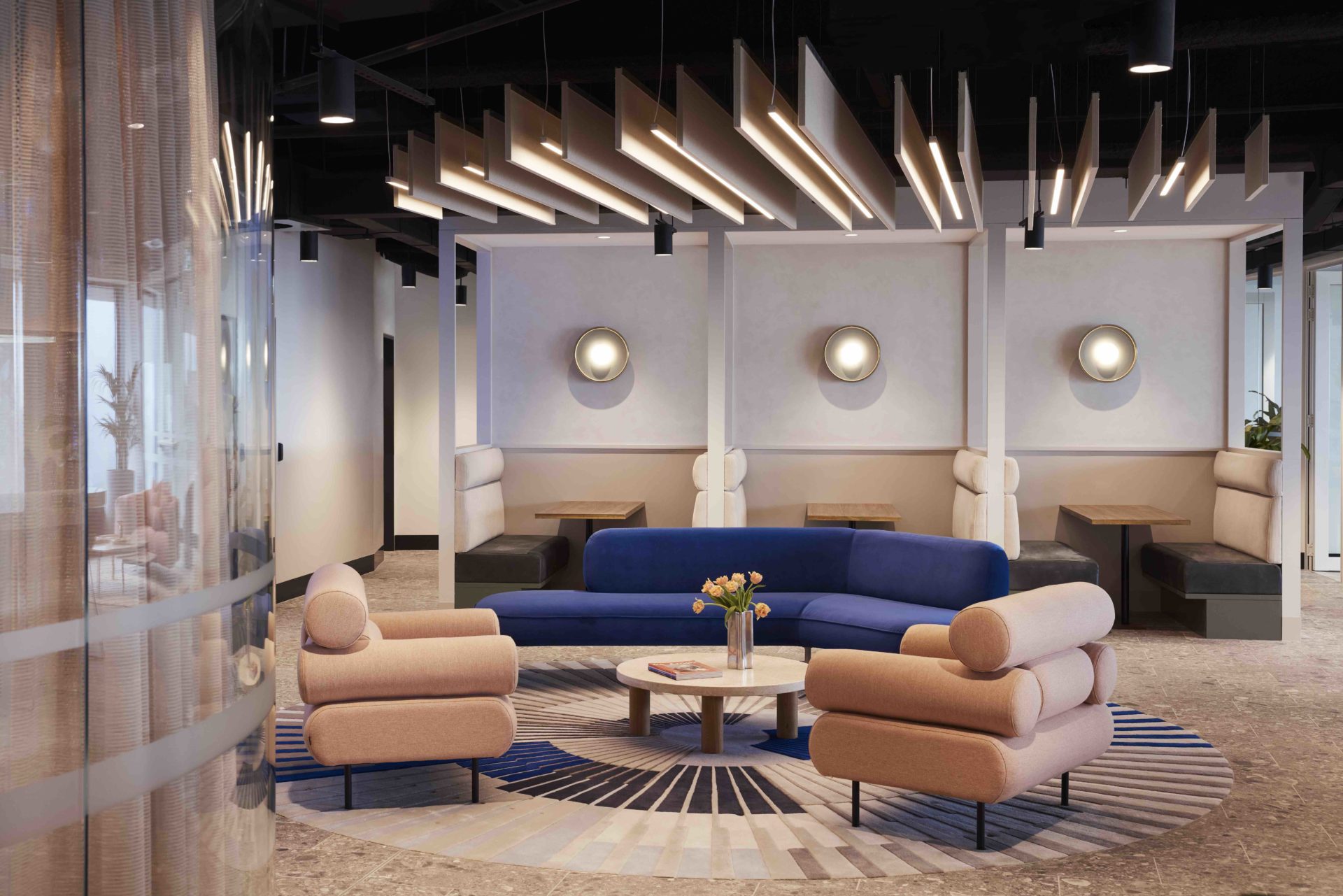 The floorplate is shaped as an open fan and, at 402sq m, there is ample space for work and play. At the entrance is a waiting area with furniture grouping, pod-like desks are situated to the left and there is a centrally located island bar with a plinth facade clad in reflective brass.
Natural light has been optimised throughout the open-plan design, which affords generous space for some 18 people. At the very southern end of the floor, is a space used for seminars and events, behind this, the boardroom, with cutting-edge technology, features a stunning marble-topped conference table.
Executives enjoy stellar views from the north-facing offices, although everyone has access to the vistas, and there is a small recording studio, meeting rooms, kitchen and a mother's room tucked against the core of the building. Of great importance is transparency within the interior and the open-plan design ensures visual connection that helps promote and enhance communication.
Matias explains: "The client brief was centred around creating a workspace that reflected the energy of their team, all the while capitalising on the iconic harbour views the site had to offer. A significant portion of the floorplate was designated for the bar, open meeting spaces and the entry lounge."
She adds: "Access to natural light for the offices and the open workspace, as well as the need for visual and acoustic privacy to enclosed meeting rooms, also played a part in planning."
The colour palette is warm and muted and includes shades of pink and blue, the brand colours of Ebonex Australia. Greys, creams and timber hues have been employed and the accents of pink terracotta, dark blues and green add drama and texture. Materiality is authentic with marble, terrazzo and quartzite on tables and coffee table tops, while timber, tiles and carpet tiles have been laid underfoot to denote and delineate areas.
Lighting is discreet and beautiful, with linear and ball-shaped wall sconces and a light above the bar that doubles as a gantry for bottle storage and imitates the elongated and round-edged shape of the structure below. Fittings and fixtures are satin chrome or brass and add sophistication to cabinetry and doors. Filmy curtaining demarks spaces but allows some visibility through and beyond to maintain connectivity.
Furnishings have been chosen with care and sofas and chairs in organic shapes of bold blue or neutral beige anchor the spaces. Banquette seats in alcoves allow for more intimate meetings and here the textures are layered, stacked upon each other, much as building bricks.
"We always see furniture as an opportunity to add unexpected colour, shape and texture in spaces," says Matias. "As the flagship Ebonex office in Australia, we wanted to use this as a platform to hero local design that is prominent in the space."
A focal point of the design and an ingenious acoustic inclusion is the baffled ceiling feature overhead in the waiting area. The beige-coloured, variably sized acoustic baffles help create an intimacy in the space and become something of an overhead floating art installation.
In all, Tom Mark Henry has designed a workplace that has the sensibility of a fine residence coupled with the amenities required for a business and, while the staff at Ebonex Australia have those incredible outside views of Sydney Harbour, it is the interior that steals the show. The design is not only refined and fully resolved but thoughtful, with a timelessness about it.
This is a place designed for people first and foremost, but it also makes a grand statement for Ebonex and certainly establishes its presence in Australia.
As featured in OnOffice 161, Winter 2022. Read a digital version of the issue for free here
Images by Damian Bennett