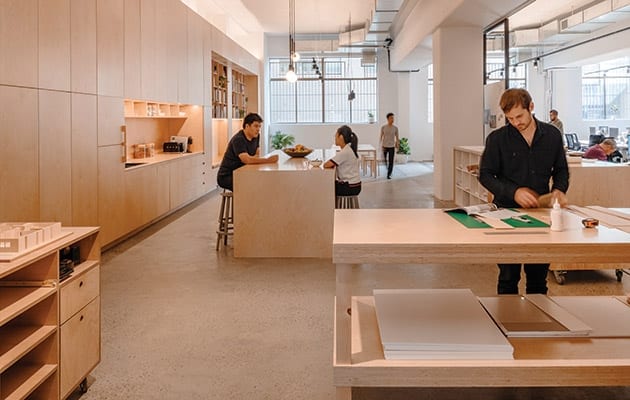 Images by Brett Boardman|||
The best architects practice what they preach, so when Australian firm Hayball needed to move its Sydney office to larger premises it developed a set of guiding principles for the interior design that now inform its commercial projects. The principles were defined following a co-creation process involving the whole staff, which resulted in a workspace that reflects the attitudes and aspirations of its users.
Founded over 30 years ago, Hayball established its first Sydney studio in 2015 and is now one of Australia's largest architectural firms. Recently, a growing portfolio of projects and a substantial increase in staff numbers prompted a move to a space that currently accommodates around 30 people, with room for even more. The new office is located in the central Surry Hills neighbourhood, on the ground floor of a five-storey brick building that was once a shoe-making factory. To provide a blank canvas for its experimental design, the architect completely gutted the interior, leaving just a pair of meeting rooms intact.
Booths with Zero's Silo Pendant lamps offer focused privacy
Through its work in the commercial and education sectors, in particular, Hayball has consistently adopted a co-creation approach that involves the end user in the design of its environment. By applying these methodologies to the Sydney workspace, the firm was able to pinpoint the key criteria its staff needed.
"During the co-creation process we try not to ask people what they want, but rather focus on more lateral questions that help them think deeply about how they might like to work in the future," says Hayball's studio director, Fiona Young, while giving OnOffice a virtual tour. "The main themes we established were community and collaboration, which helped to inform the layout and design of the office."
Having outlined these requirements during a series of workshops and group activities with the staff, Hayball asked interior designer and friend of the studio Bettina Steffens to bring a different perspective to the implementation phase. Together, they developed a proposal for a series of warm, welcoming spaces designed to inspire creativity and promote interaction between colleagues, collaborators and clients, as well as providing a sustainable workplace that helps to enhance staff wellbeing.
The two refurbished rooms are set in a plywood-clad volume
Employees and visitors enter from the street into an open reception area that can also be used to host workshops or activities aimed at fulfilling Hayball's commitment to engage with other architects and the local community. The main office space beyond features conventional workstations, but the concept of collaboration is supported by encouraging employees to migrate around the office rather than sticking to a specific desk. This act is facilitated by mobile technology – everyone has their own laptop – as well as the provision of portable tote trays for carrying pencils, pads and other personal items. The trays stow away neatly into lockers to ensure spaces remain clear for others to use.
However, with the added flow of people, the need for improved sightlines took on extra importance. Each desk has a single monitor to avoid the visual separation that can occur with multi-screen setups. According to Young, once people got used to switching desks, it prompted conversations between colleagues who rarely spoke before. "I feel I get to know people better and I also gain a better understanding of the projects happening across the studio as a result of moving around," she claims as she wanders through the office. "I think some people are more movers than others, but those who do move are definitely recognising the benefits."
Staff can retreat into an inset nook when they want peace to work
In addition, Hayball and Steffens created a variety of different realms within the office that provide opportunities for both work and play. An angled, plywood-clad volume extending along one wall incorporates the two refurbished rooms. One is now a meeting room that doubles as a table-tennis arena, featuring a boardroom table from Australian brand Koskela and swivel seats from Danish company Hay. An adjacent lounge-like space known as the Fire Side can be used for informal meetings or presentations. The chairs and tables in this room are produced by local supplier Cult, which also helped to source many of the other items throughout the office.
Next to the private meeting areas is a whiteboard room that allows users to write or draw on every surface, including the walls and even the floor. The remainder of this built-in volume contains a pair of intimate booths ideally suited to quiet individual or group working, as well as a cosy nook surrounded by shelving that staff can duck into when they need a break from the collective. Lighting was carefully chosen to create the correct ambience in each space, with a pendant from Danish brand Muuto illuminating the Fire Side room and Zero's Silo Pendant in the booths.
Bookshelves and seating are built into a wall of plywood units
On the opposite side of the workspace is a library with bookshelves and bench seating built into another wall of plywood units. Adjoining the library is a kitchen where people come together for lunch or evening drinks, while a model-making area with a 3D printer is positioned just beyond the entrance to a utility space housing the printing facilities, toilets and a foosball table. A Triple Kick pendant lamp by Volker Haug hangs above the kitchen island, which is surrounded by Leon Ransmeier's Revolver stools by Established & Sons. All of these zones are separated from the main office by a set of movable screens that can close off areas when privacy is needed. Magnetic whiteboard surfaces fitted to these panels enable them to be used by teams on both sides.
A whiteboard room allows users to write or draw on every surface
The layout of the office purposely provides a variety of working environments, allowing employees to choose how much engagement they wish to have with their colleagues. Ideas can be developed over coffee in the kitchen or table tennis, but if privacy is needed staff can cocoon themselves in the nook or the booths. "I think the retreat spaces are just as important as the collaborative workspace," Young suggests, adding that a standing desk by the window is one of her favourite spots for work. "During the research process, people talked about the need to be able to retreat from their teams and have space to reflect, which often aids their creativity."
Throughout the interior, a pared-back palette of natural materials reflects the idea of sustainability in the guiding principles. Concrete, plywood and leather create a neutral yet tactile backdrop enlivened by numerous plants. These were chosen for their ability to remove toxins from the air, but also based on research suggesting certain species can support short-term memory. "That's why we're propagating rosemary at the moment," insists Young. "Although it's also because it smells nice!"
The kitchen island features Revolver stools and a Triple Kick lamp
By trialling a new creative process and innovative workplace concepts, Hayball has established principles that will be implemented across future projects, including its Melbourne and Brisbane offices. "We definitely consider this office as a prototype for how we want to work," Young claims. "We recognise the importance of asking the end user what their aspirations are and how they will use their space, and that's exactly what we've done here."
Architect Hayball drew up a set of design principles for its warm, plywood-clad Sydney studio based on the input of its own staff