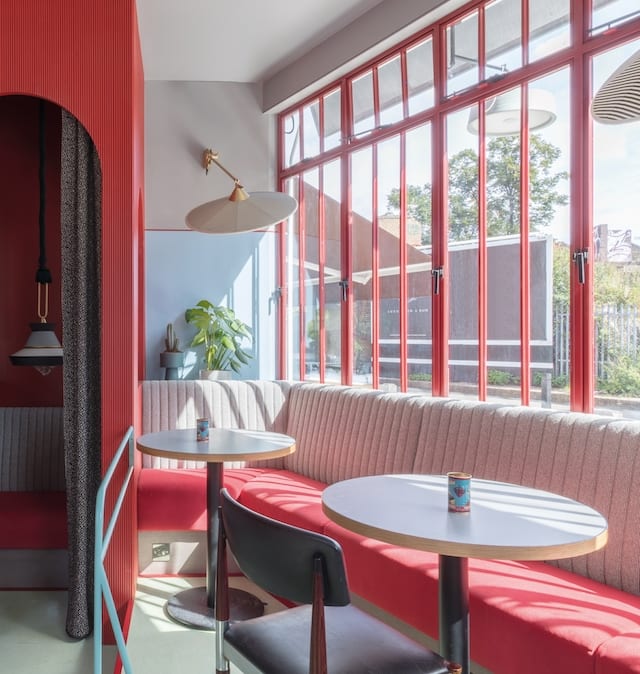 |||
The building is in the south London neighbourhood of Balham (where Du Cane Court, a block of art deco flats, was said to be earmarked by Hitler as his UK HQ), off the main nightlife drag, a mere 85sq m, and some of it is windowless. And yet design firm Sella Concept is making the place work very hard indeed.
Into this corner site, co-founders Tatjana von Stein and Gayle Noonan have shoe-horned three different dining and drinking zones for owners Alastair and Nicholas Heathcote. The brothers already operate three themed environments in London: Indian-inspired cocktail venue The Imperial Durbar, the Himalayan-esque Hill Station, and tapas offer La Cabina. For Balham, the flavour is South American. But not the decor.
Piraña (Spanish for piranha) is a casual bar-restaurant that borrows more from a mid-century modern aesthetic than any cheesy Mexican stereotypes. "We couldn't help ourselves to first respond with warm and sensual South American colours and patterns," says von Stein, "but we quickly moved away from this and came up with a retro theme that transcends time and style."
The Heathcotes were introduced to Sella Concept – designer of Mediterranean restaurant Omar's Place in Pimlico, the cafe and workspaces of De Beauvoir Block (OnOffice March 2018), and the Night Tales venue in Hackney – by a friend in the design business. Their brief was to create "a retro style which brought something new and stylish to the area", says older brother Alastair, a former army captain, Olympic rower and eventual heir of Sir Gilbert Simon Heathcote, 9th Baronet.
The jade green terrazzo floor was sourced from Spain
Inside and out, Piraña's palette is pale blue, grey and deep red, and most of the furniture is bespoke, including the jade green terrazzo floor from a Spanish fabricator.
The corner site (of less than 45 degrees), had been home to a former bar-cum-restaurant, The Balham Lounge. Heathcote, who lived one road away for five years, knew the venue, but had never stepped foot inside.
Then, the entrance opened on to Bedford Hill, set in a wall of waist-to-ceiling windows. The designers boxed in the door and created new double doors around the corner on a quieter street. This allows for more seating outside on Bedford Hill's pavement.
It also helped solve some internal issues, explains Noonan. "One of the challenges was the room's rectangular, corridor-like space, which we were able to solve by creating a central entrance to separate three areas in one room: a central bar, a chef's table and an elevated platform seating area. Secondly, there is an element of intrigue and experience seeing into a restaurant from the main road but having to walk to its side entrance, you commit early on to the experience."
Grey and red banquettes look out on Bedford Hill, Balham
They rebuilt the front facade, replacing those windows with narrow vertical panes and painting the metal framework red. Small square mosaic tiles cover the rest of the exterior, and the name – in neon – is picked out in lower-case italics. Noonan, who has a background in graphic design, created the logo along with all Piraña's visual identity, applied to menus, business cards and online.
In the front room, seating hugs the walls with red and grey upholstered banquettes. The tables in front of the windows are on a newly installed platform, to help with zoning.
Directly in front of the entrance is a small, horseshoe-shaped bar, with a counter top of green terrazzo, and a grey-painted wall and shelving behind, to make the bottles standout.
Either side of the bar, the designers planned in two bijou snugs, which they curtained off. But space constraints demanded that the left-hand one be converted into a waiter station. Operations manager David Griffin says that the remaining snug with its private bar hatch hasn't had much uptake, but perhaps that will change come St Valentine's Day.
Servomuto pendant lamps in the backroom lounge
To the left of the bar is the chef's table, a low shallow counter vertically clad in timber slats, with views into the open kitchen. By moving the prep kitchen to the basement, Sella Concept has created a second area at the rear. This has no windows, so has been made intentionally nocturnal with parquet flooring, cosy booths, dark walls, chunky seating and low-level lighting. "The back room is rapidly getting booked out from parties of 20 to 30 people, so that's a great unexpected addition," says Heathcote.
Creating this backroom drinking lounge involved some structural changes. A wall which created a corridor to the toilets has been removed. The two areas are united by thin red horizontal lines, which run around the walls.
Von Stein explains the lengths and depths the duo have gone to: "We've designed the booths, bar, banquette, tables, stools, floors and sinks [in the toilets]. The key for us is to create a story that threads throughout the space in every minute detail." Only the chairs and lighting – wall and pendant lamps from Milan-based design studio Servomuto – were bought in.
Construction took three months, and the designers worked directly with the building contractor on the renovation, without a third-party architect. "The budget [£180,000] was tight for the amount of design detail involved," says Noonan.
Sella Concept's offering has two jobs to do. One is to pull in the punters despite being a short distance from the rest of Balham's action. They should be helped by the multi-million-pound refit of The Bedford pub diagonally opposite. The 1931 Grade II listed building designed by Alfred W Blomfield (and home to London's long-running Banana Cabaret comedy night) is due to reopen in December as a boutique hotel by new owners as Three Cheers Pub Company.
"Hopefully it will refocus Balham in this direction," adds Griffin. And unlike the Heathcotes' other one-off venues, the hope is that this one might have potential elsewhere. Von Stein explains that the brothers "asked us to create a new brand that they could roll out in the future".
Sella Concept created a stylish interior for the London restaurant out of a restricted space