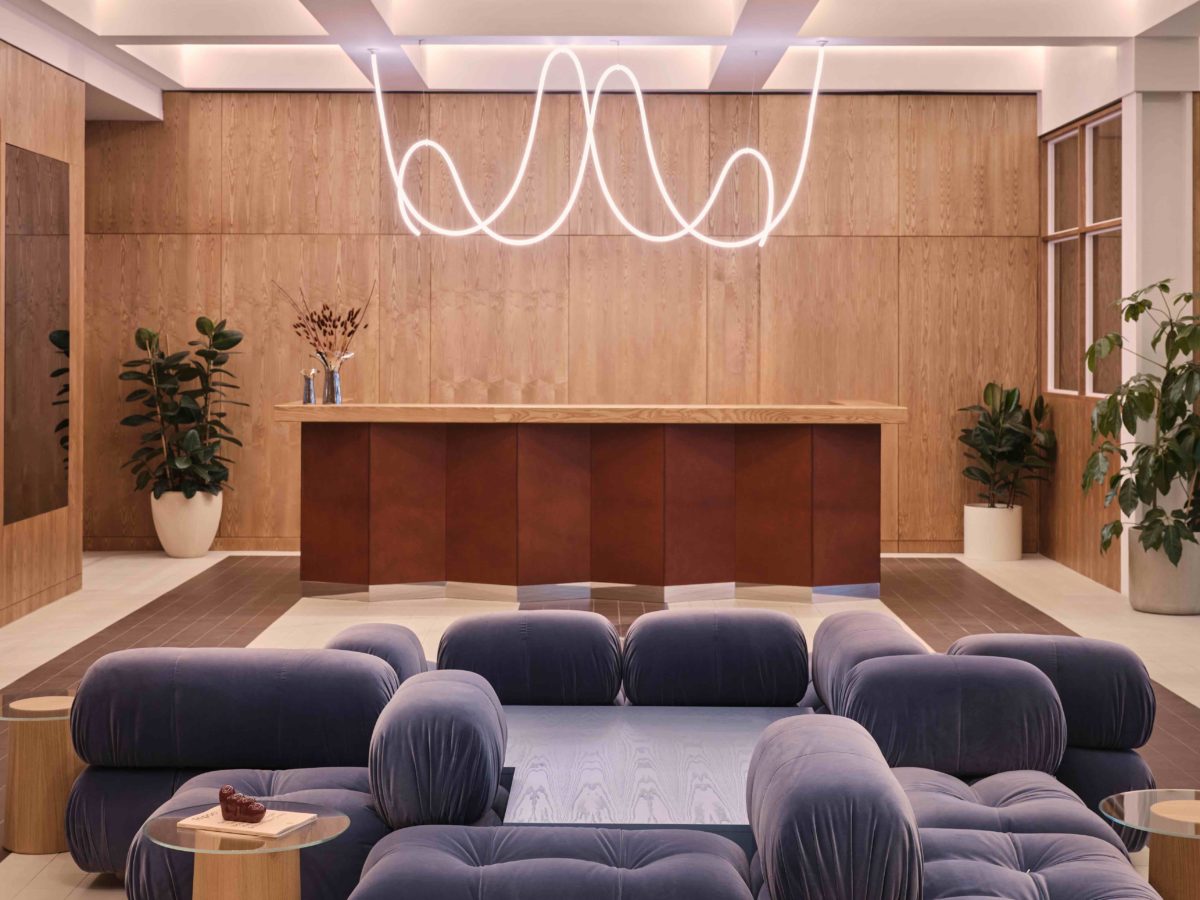 The latest project of workplace specialist The Office Group is a high-quality place to work, socialise and connect. Designed by London-based creative firm Universal Design Studio, 210 Euston Road marks TOG's 40th London-based office
Once the home of the not-for-profit agency Aga Khan Foundation, the building now stands as a bustling workspace at the heart of King's Cross. Having previously collaborated with Universal Design Studio, TOG approached the practice again to reimagine the existing seven-story structure as a stylish office building.
"Each time we have worked with TOG, the brief has been completely different. So for this project, we weren't merely replicating what we have done before," says associate director at Universal Design Studio, Carly Sweeney. For 210 Euston Road, the design practice set out not only to create sleek interiors, but also to craft environments centred around modern working patterns.
Located at the centre of London's Knowledge Quarter, 210 Euston Road is surrounded by world-renowned institutions, including The British Library, Bartlett School of Architecture and University College Hospital. "Considering the location, we wanted to create a knowledge hub that took influences from the nearby buildings," says Sweeney.
With a total area of 69,000sq ft, 210 Euston Road is one of TOG's largest offices to date. The project is also the first workspace the office specialist has opened since the Covid-19 pandemic swept the globe. "Despite the coronavirus, we were able to continue designing the building and produce something that everyone is extremely proud of," says Sweeney.
As you enter the building through a sleek extended threshold, you are greeted by an impressive oak-clad reception lobby. A faceted leather desk is set off by a slender statement light fitting hanging above it, and the warmth of the leather is complemented by stylish velvet seating in a cool blue. The carefully curated furniture gives off a strong sense of order and makes the interior feel calm and considered.
Well-placed plantings offer splashes of green, while a medley of brown hues contrasts with cream accents. "We wanted to create a timeless interior that still felt warm and inviting," explains Sweeney. The ground floor includes a modestly-sized cafe run by burgeoning roastery Caravan. "Facing the main road, the space helps to bring the public into the building," adds Sweeney. The stylish cafe is an eclectic mix of wooden details and tiled surfaces.
There is also a forward-thinking residency showcase room at this level. "For this project, we wanted to create a building that speaks to the local community. As part of this, we wanted to have a showcase zone that would feature rotating artwork," states Sweeney. Towards the back of the office, a bone-white flowing ceiling is combined with rectilinear columns, while black lamps and chairs act as a bold contrast to the soft colour palette of the structural elements.
As you descend to the lower levels of the building, the off-white and beige hues continue to guide your movement. Here TOG has incorporated a wide array of amenities for staff members, such as a fitness studio, parents' room and a small library space. The building also features showers, bike storage and a wellness room to encourage relaxation. Coffee stations can be found on every floor, while the seventh floor includes a members' bar for after-work socialising. "Now more than ever, members of staff are searching for stimulating spaces where they can relax, feel comfortable and have some privacy," says Sweeney.
Throughout the building, workspaces have been designed to be reconfigured when necessary to meet the changing needs of businesses as they grow and develop. The spacious and light-filled scheme currently provides a broad range of working areas, from private focus booths for video calls to lounge spaces for collective working. "It's interesting because, before the pandemic, individual booths for online calls weren't really a thing. Now they've become a crucial part of newly designed offices," says Sweeney.
There are several quiet study zones peppered across the offices, as well as break-out zones for moments of collaboration. 210 Euston Road also features twelve bookable meeting rooms that are fully kitted out with the latest video-conferencing technology.
While most of the floors are devoted to small-scale businesses, the top two levels are dedicated to single companies and include up to 150 workstations. "I think the pandemic showed many organisations that they do not need large sprawling headquarters, and that having smaller satellite offices would actually make more sense."
One of 210 Euston Road's greatest features is its ample number of external areas. "Impressively, the building incorporates 16 plant-lined terraces with elevated views of King's Cross," states Sweeney. This allows both formal and informal interactions to spill outside throughout the day. Universal made sure to add rich foliage to each of these spaces to help create tranquil environments. "Working with TOG was great, as they are very design focused and know exactly what they want. It honestly felt like they were an extension of our team," shares Sweeney. 
The offices at 210 Euston Road add to Universal's diverse portfolio, which includes hotels, restaurants and retail environments. Founded in 2001 by Edward Barber and Jay Osgerby, the creative studio has established itself over the past twenty years as an international design firm that works across the intersections of industrial design, furniture and architecture.
With its meticulous wood details, refined material palette and human sensibilities, TOG's 210 Euston Road is a masterclass in design. These are contemporary offices that ooze style. By carefully blending different types of working zones, Universal has achieved a building that provides high levels of adaptability and flexibility. In its latest project, TOG continues to showcase a refreshing attitude to workspaces by trying new things and keeping the spaces diverse.
At 210 Euston Road, it provides versatile, agile and distinctive environments that promote connection and collaboration. "People are now looking for spaces where they can be social and connect with their colleagues, and this is exactly what we wanted to achieve with 210 Euston Road." 
Images by Simon Bevan
As featured in OnOffice 160, Autumn 2022. Read a digital version of the issue for free here