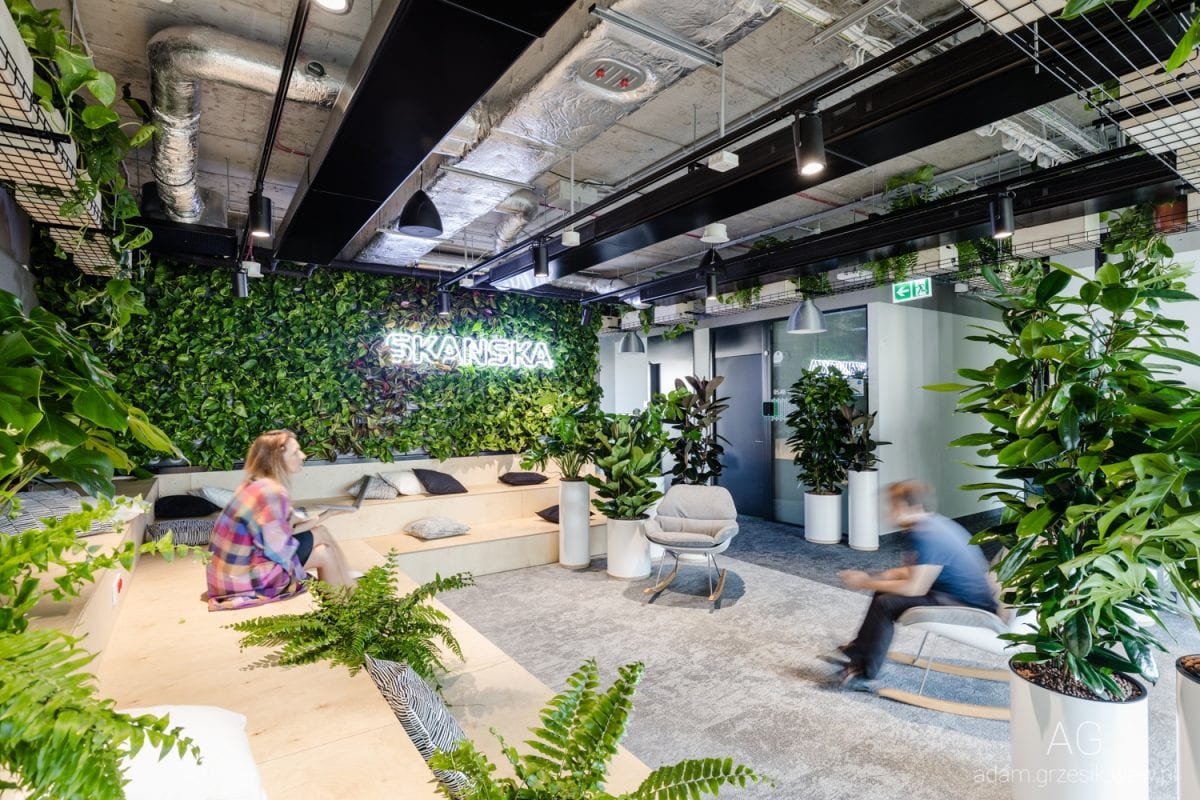 |||
World leading project development and construction group Skanska opened its new headquarters in Warsaw's Spark Building – a LEED-certified, three-building office complex – at the beginning of July. Local architecture studio Workplace Solutions collaborated with interior landscape designers Florabo, to create a 'biosphere' in Skanska's common space, designed to spill out into the corridor, like greenery in search of water and light.
Drawing on Skanska's scandi roots, Workplace Solutions designed an open, human-centered social and meeting space lush with plants to emanate the character of the company. The common area features a Skanska neon light glowing amidst the green and sound absorbing panels for better acoustics at the office. And with 120 hanging plants, 396 individual plants, 20 pot plants on wheels and a green wall, is this the greenest office in the world?
Skanska's neon logo stands out from the living wall
Perhaps not, as the architects have that title reserved for another one of their recent projects, in the port city of Gdynia, on the Baltic coast of Poland. A reflection of the biophilic design trends sprouting all over commercial projects, the studio's Gdynia Seaport Office for Nordea IT follows a set of guidelines created by Workplace Solutions itself.
Five-fold, the guidelines for biophilic design include mobile greenery that can be moved in case of emergencies, a number of three plants per person, the equivalent of 15 sqm of leaves per person, and flexibility – greenery that can be laid out in 'cascades', double up as a room divider or act as acoustic panel. In addition, the studio has also identified the three kinds of species which have the best quality in refreshing and producing air: the areca palm, Philodendron and Sansevieria (otherwise known as mother-in-law's tongue).
Workplace Solutions' Greenest Office features 220 plants
Founded in 2012 by Bogusz Parzyszek, Workplace Solutions describes itself as closer to a design lab with a design background, and much of this is owed to the founder's background and experience. "Eight years ago I was publishing a magazine on the office, and I realised there is a huge gap – transmitting knowledge from workplace strategy into architecture," says Parzyszek, who has seen a number of trends come and go in Poland. He explains that although activity-based working is very well-known, hot desking isn't as commercially viable. "Our real estate prices are much lower than in the UK, so desk sharing is popular but only 1% of the companies use the system," he says.
Florabo's prototype links plants to BMS
Recently, Florabo built a prototype system which connects plants to the building management system. Built in cooperation with Warsaw University of Technology and based on research from Workplace Solutions' 'Greenest Office' in Gdynia, the goal was to "exploit plants to produce more air or less air, according to the situation". As Parzyszek explains, "we know it's possible to connect the system with the plants, and we're still checking how far we can go."
It is well known that green offices boost staff wellbeing, and biophilia certainly is a passion for Parzyszek, who believes architects should take a biophilia-first approach. "Ask any architect, are they designing greenery at the same time or is it an after-thought?" he says, pointing out that clients are more interested in this than architects, who should in turn put more emphasis on biophilia as it is what the end-user wants. For Parzyszek, what architects are interested in is "earning money and being popular", and since greenery is a trend that is here to stay, it will prove a lucrative approach.
For weekly trends, insights and designers unafraid to speak their mind, subscribe to the OnOffice newsletter!
Skanska's new office in Warsaw features a jungle of 536 plants in 100 sq m, and the Polish architects behind all the greenery are ones to watch