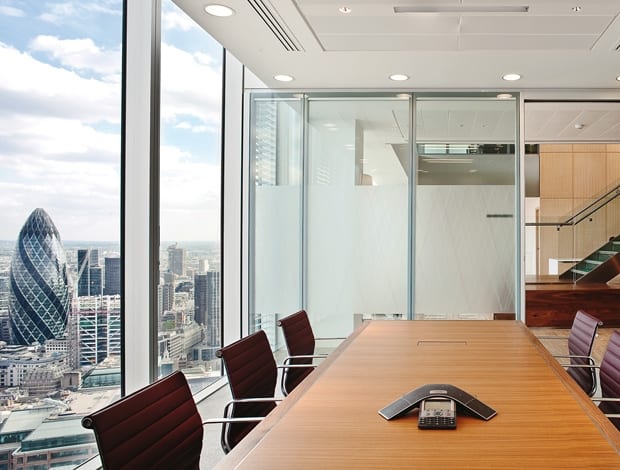 Floor to ceiling height windows give meeting rooms spectacular views of London|A timber clad reception desk and raised timber platform with inset bench in the meet and greet area|Marbleised LED panels sit behind a new staircase connecting reception to the thirty-third floor|Company branding comes into play on floor thirty-two with red ceiling panels and coordinated furniture|One of the client facing meeting rooms on the thirty-second floor|Gensler ensured plenty of opportunity to sit and soak in the views on the restaurant floor|Soft seating in reception|Informal meeting zones were incorporated into the client facing floors to give a variety of space||
One of the world's largest law firms, Reed Smith, calls in Gensler to create a crisp, clean workplace up in the clouds
When US law firm Reed Smith LLP merged with London-based Richards Butler, the challenge of combining the two into a cohesive operation presented itself.
Up until last April, following the actual merger in 2007, employees had been shuttling between two buildings across the Thames. It was inconvenient and inefficient, and so the decision was taken to secure a new London headquarters in British Land's steel and glass Broadgate Tower in the city. Gensler, who had already done Reed Smith's New York office, was brought in to design 15,400 square metres of space over thirteen of the skyscraper's thirty-five floors; two are now fully equipped with client-facing space, one holds the restaurant and a social hub for employees, others house support services, IT and human resources, and of course, seven floors are now home to the lawyers and their assistants.
Phil Page, director of operations for Reed Smith, says that in addition to providing a space for the newly merged company and its 650 staff, the move was intended to help with the overall working culture. "One of our core values is to have the best environment for the practice of law. The old properties weren't conducive to more flexible and open ways of working in terms of fit for purpose technology, reducing our carbon footprint and enhancing communication and teamwork," he explains. "Creating a world class environment to enable this new entity as an international law firm, in one of our core markets, was about bringing all those things together."
"Back in the bad old 1980s it was the banks who held the meetings, but now its down to lawyers to provide spaces that represent clients in the best possible light"
Initially there was the cellular versus open plan debate, says Page, and for reasons of confidentiality and concentrated working, the lawyers are still in private offices. The collaborative work can be done in the formal and informal meeting spaces on levels 31, 32 and 33 and dotted throughout other floors, he adds, and those varied spaces are key.
"The lawyers are now the hub of most corporate transactions, you'll see people using our offices for these large scale transactions and so we need to have client space to host those kind of events. Way back in the bad old 1980s it used to be the banks who held those kinds of meetings, but now its down to the lawyers to provide spaces that allow us to represent us and our clients in the best possible light."
'Light' being the operative word – because all of the floors, particularly the floors for clients, are flooded with it. The views extend from Primrose Hill to Wembley, and do most of the work in terms of wowing visitors. It is a decidedly "not ostentatious" interior design by Gensler, says Page, and the views and cross bracing of the base building are the overpowering visual features.
Reception is an elegant affair with a wall of marbleised light panels alongside a gestural staircase leading to the second floor of meeting rooms, which are furnished very simply. The minimal timber reception desk and cream soft furnishings do well not to distract from the views. It's clearly intended to be neutral and beige – the aesthetic is as far away from the dark wood paneling and heavy upholstery traditionally associated with law firms as it could possibly be. It's still formal but perhaps a bit less stuffy – much lighter and airier, which is the obvious way to go when you're up that high.
"The aesthetic is as far away from the dark wood paneling and heavy upholstery traditionally associated with law firms as it could possibly be"
Each floor plate is 1300 square metres and a side-core structure means a column-free space from end to end. On the main work floors, southern and northern views are kept in tact, meeting tables have been placed at either end and tea points, filing systems, print pods and informal meeting zones are down the middle. Corner offices are generally occupied by partners and the rest of the glazed offices, which are situated around the periphery, are filled with lawyers and paralegals. Support staff sits in open areas in between. It's a modular system, explains project designer, Matt Kobylar, so can be reconfigured as and when the business calls for it.
The 31st floor holds the restaurant and is the one floor where the designers brought in some obvious Reed Smith branding. Wall graphics and a bold ceiling in shades of red are the key features aside from more mesmerizing views from the full height windows, which are flanked by tables and chairs and bench seating. Floor 31 also holds workspace and a hotel-like resting pod for transient employees or those who are working around the clock.
Gensler carried out surveys and focus groups before beginning the design process to assess "qualitative issues as well as the quantitative brief", says Kobylar. So, it was more than finding out what the filing and paper storage requirements were and how the main offices should be configured. "We asked a cross section of employees: 'If your firm were a car, what type of car would it be?' and we used that to talk about performance issues and how they see themselves. Ultimately they settled on a four door sedan, not a coupe, and a BMW as opposed to a Jaguar." All of these findings informed the design. "One of the successes of the project is that it looks appropriate to them, it's not over the top. There are some grand statements in reception but otherwise it is fairly modest and really gives visitors an idea of who Reed Smith are."