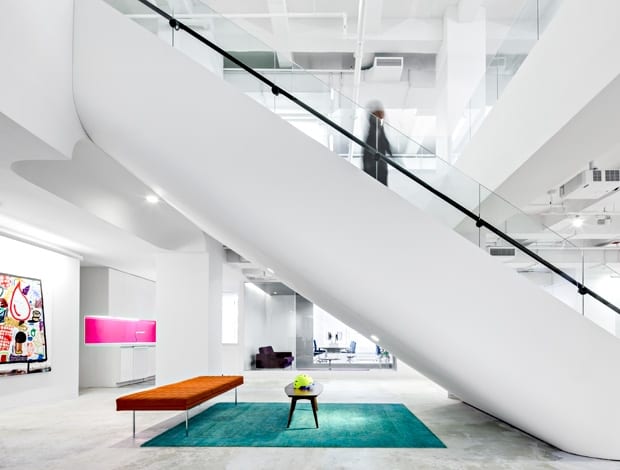 For once, no one's suggesting that chance encounters will take place on the stairs|Dichroic window film gives glass walls a shimmering finish|Red Bull has shied away from its corporate colours for the fit out|Three sizes of space, with varying levels of privacy, should provide built-in future flexibility||||||
No stranger to attention-grabbing workplace design, Red Bull plays it straight for its New York HQ, with a fit out that puts future-proofing ahead of flashy branding
"As a response to the various trends in office design right now, this project is an exercise in subtlety, and whether that has value," says architect Jeffrey Inaba about his practice's recently completed office for Red Bull in New York. And it's true.
For a brand known for its sponsorship of high-octane extreme sports and Formula One – not to mention its buzz-inducing energy drink – the 1,560sq m, two-floor space in New York's Chelsea neighbourhood is notably understated and calm.
There's no slide, no Astroturf-clad canteen and no quick-to-date themed rooms here. Just light, airy, grown-up spaces, given character by curved walls, carefully picked furniture, and restrained use of unusual materials like iridescent window film.
"It was really interesting that Red Bull didn't want it to be a project where we translated the identity that they've so successfully established in the digital realm to the physical realm," says Inaba. "They really understood that the experience of the physical space could be something that defined the character of the work that was going on in there – something that could be relatively independent from the excitement of an energy drink company."
Inaba had previously collaborated with Red Bull on the redevelopment of the ground floor of this former warehouse, fitting it with a state-of-the-art production studio, rehearsal studios, two performance spaces, a lecture hall, a bar and a radio broadcast studio.
All this was built to coincide with the New York leg of the Red Bull Music Academy, an event that visits a different city each year and pairs promising new musicians with established producers and other experts. However, the office (situated on the seventh and eight floors) is not public-facing, so the focus was less about street-level engagement and more about developing a future-proof design that would be good for the entirety of the 15-year lease, no matter how technology developed.
As Inaba explains: "Instead of trying to fit out the space with respect to some current idea of work productivity, like creating 'serendipitous encounters', the idea was that the theories of the workplace are so specific to the types of technology that we use today that it might not be wise to lay out the space specific to those paradigms – because in three, five, seven years the nature of work will have changed."
Instead, Inaba zoned the two floors into small, medium and large spaces with varying levels of privacy, and designed meeting rooms and bigger conference rooms, the underlying idea being that in the future Red Bull would be able to evolve the uses of each space based on their workflow requirements.
For Inaba, this concept is very different to that of a flexible design. "Flexible offices typically mean making walls that are movable or furniture that can be repositioned over time," he explains. "But the idea here was to make everything fixed so that there wouldn't be labour costs in the future. Often, in spaces that are designed to be flexible, those walls don't ever move."
Workstations for 120 people have been created in a configuration that can integrate visiting teams from Red Bull's US HQ in Santa Monica and its head office in Austria among the 60 permanent members of staff. The eighth-floor reception was also kitted out so that employees who prefer to work on the sofa can do just that.
Faced with generous floor-to-ceiling heights and huge windows on both the front and back of the building (a rare thing in such a built-up area), Inaba focused on two basic architectural qualities – light and space – to develop the floorplan. Conference rooms are situated in areas that help frame the larger open spaces and act as physical dividers. At the same time they are small enough that, with windows on two sides, they allow daylight to pass through the entire space.
These meeting rooms are lit by a custom-built central fixture that combines mechanical parts, like the air pumps, with an element that spreads a wash of light over the room. A new curved stairwell is located centrally to allow light into the deepest part of the floorplan, and also provide a large area where the entire team can potentially gather.
One of the biggest challenges of the project was integrating the mechanical systems into the building. As the New York Office often works with the Red Bull Media Centre (the wing that produces most of the brand's video content), threading a sophisticated tech infrastructure through the building was essential.
Red Bull and Inaba decided that the ducts and conduits carrying all the electrical and HVAC technology should be exposed, so that the infrastructure could be updated as technology developed without the cost of removing a concealed ceiling. Along the service quarter these conduits are quite built up, but in the working spaces they're more minimal. "For us it was
a Zen-like exercise, trying to make a minimalist composition of all those elements," says Inaba.
With such a dialled-down interior, the choice of furniture was even more important to lend the space some character. Half of the furniture was custom-built, and the other half was chosen from both emerging designers and Knoll's classic modernist styles.
Smooth textures contrast with bouclé wool, and tonally similar saturated colours are placed next to one another to create an urban, slightly discordant feel. These rich hues are also supported by a bright pink splashback in the kitchen, and the use of dichroic window film on selected meeting room windows, which has the effect of washing the glazing with iridescent psychedelic shades.
In the shower room (created for those who commute by bike), the windows are fitted with a similar film in yellow, which saturate the yellow walls and floors with an even more intense light. "It's the one space that you walk into that's fairly spectacular," says Inaba.
Red Bull was initially concerned that clients might find the space boring compared to its media offices, but those fears soon evaporated once they started using the building. "They've had some really positive feedback from visitors," says Inaba. "It's good to know that there's room in the workplace environment today for trying things like this that still seem to get noticed."