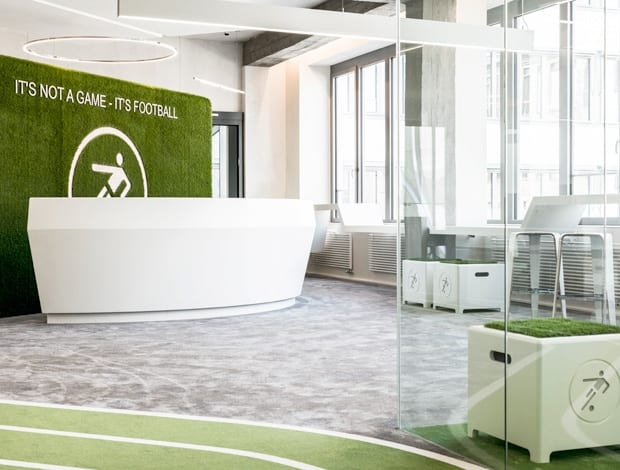 "It's not a game, it's football"|A white-striped greenway winds around the open-plan office and ends in football nets|Arrows and marks on the floor refer to the 'team playbook'|The canteen contains foosball tables and scarves from various football teams|The mini football arena for events, presentations and watching matches from across the world|||
Onefootball's eponymous app represents the world's leading football community, connecting over 14 million football fans in 200 countries. As such, the German company wanted a football-themed HQ that'd stimulate its 90 employees, while providing a professional working environment.
TKEZ Architects' very literal approach is about as subtle as a football in the face, from the AstroTurf flooring to the miniature football arena. But, no doubt this was its goal (ahem), allowing football fanatics to 'live, work and play' the game.
On entering the former factory in the heart of Berlin, Onefootball's logo is emblazoned on a fake grass wall behind the reception desk. It shows a running figure leaning in for a kick, in a pastiche of road-sign graphics. This, combined with the tagline above it "It's not a game – it's football", informs visitors that the company takes football very seriously.
TKEZ stripped back the 14,00sq m space and removed its core, and now brushed concrete, exposed brickwork and white walls provide a neutral, airy backdrop for the abundance of green. A white-striped greenway circumnavigates the open-plan office, meandering between the glass meeting cubes. Each one is named after a major football stadium, such as Maracana in Rio de Janeiro or Camp Nou in Barcelona. They feature electric privacy curtains, green-back chairs and enlarged floor decals of arrows and marks, as if from a team playbook.
Touch-down areas allow workers to choose between their assigned desks, acoustic 'textile cabins', a light-filled green courtyard, and breakout areas containing soft-seating and rewritable wall surfaces for brainstorming.
At the ends of corridors, football nets encourage lunchtime penalty shootouts, and there are, of course, foosball tables in situ. These are positioned in front of a glass cabinet of football scarves that provide rare dashes of colour beyond the stalwart green. The pièce de résistance, however, is the recreated mini football arena with a curved auditorium beneath a colour-backlit roof. It serves as a space for presentations, larger meetings and gatherings, as well as being used for screening games from across the world on a 4sq m television.