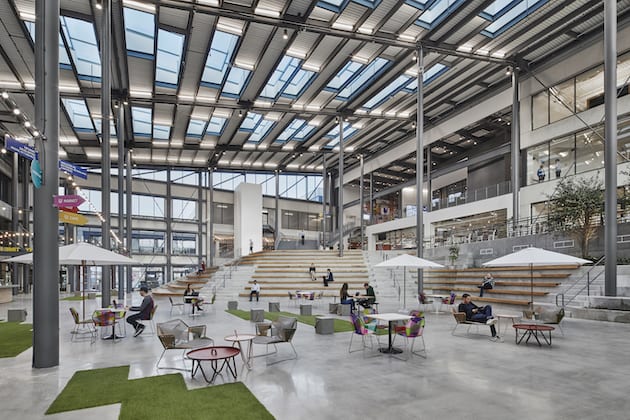 The Marketplace is the heart of the campus where Unilever employees can connect, collaborate and socialize|||
Creating a new headquarters in New Jersey for Unilever's 1,000+ brands was a mammoth task. Perkins and Will transformed five 1960s office buildings into a new, state-of-the-art workplace with climate consciousness at the heart.
CLIENT: Nate Barney, Unilever North America Service Delivery Director, Workplace & Travel Services
Plans for our North American headquarters launched in 2014 to support our Sustainable Living Plan and Unilever's corporate-wide goal to be carbon positive in operations by 2030. Together with Perkins and Will and Edge Technologies, we crafted a future-proof vision with sustainability at its heart.
Main entrance for employees and visitors off Sylvan Avenue
We wanted a workplace that supported the evolving needs of our modern workforce, while also functioning as a recruitment tool to attract the best and brightest talent.
Entry lobby. Employees and visitors are immersed in Unilever's products and stories, helping to build and strengthen brand loyalty
One year on, the endeavour has been a huge success. Not only have we received an overwhelmingly positive response from employees, the project has also been awarded LEED platinum certification from the U.S. Green Building Council as well as LEED Commercial Project of the Year.
See more One Year In projects here
It was crucial that the new space empowered employees to work with flexibility and support their physical and mental wellbeing.
Company Store, a retail space for Unilever employees and visitors to purchase Unilever products
Now, integrated technologies allow staff to adjust room conditions through an application on their phone.
Tea Bar, located in the Marketplace, with a barista providing tea and coffee to employees and visitors
Simply put, we are giving our people the agency to make their working environment as comfortable as possible, in real time.
Connect Zone, an open space breakout area where staff can collaborate, relax or socialize
Ultimately, we believe that Unilever has a responsibility to make sure our operations leave as small a footprint as possible on our planet while also providing our employees with a safe, healthy and productive work environment.
Focus Zone. Touchdown workspace typically used for short periods of time (left). Open quiet space for staff to undertake focused alone work (right)
ARCHITECT: Paul Eagle, Perkins and Will's New York studio
Perkins and Will were tasked to redesign and reposition Unilever's North American headquarters.
Connect Zone, large open area teaming space for informal meetings
As both designers and workplace strategists, we saw a huge opportunity to transform a sprawling suburban office park in New Jersey into a smart and sustainable campus with a dynamic vibe that matches the energy found in Manhattan workplaces.
Informal connect zones (background) and acoustically treated open meeting booths (foreground)
Sustainability anchored every design decision from the outset. It was critical to the client that the new space support The Unilever Sustainable Living Plan – a mandate to cut the firm's carbon footprint by 50% while simultaneously doubling business.
Vitality Zone, well being room for quiet reflection away from the workspace
Key to the project's success was our collaborative partnership with Edge Technologies. We worked with the Dutch developer to integrate technology thoughtfully and intuitively into the design without compromising on aesthetic vision.
Personal lockers support the principle of agile working
This included over 15,000 sensors used to measure temperature, light, carbon dioxide, humidity, and who's present in a room, helping the building adjust over time to become more efficient.
Vitality Zone, with a vending area providing refreshments for Unilever staff
The 325,000-square-foot renovation also included the construction of The Marketplace, an entry pavilion and common area that stitched together the open space between individual buildings to create an entirely new, enclosed structure.
Fitness Center, a gym, studio and cycling room for Unilever employees to exercise
Unilever's North American HQ opened almost one year ago. OnOffice checks in to see how employees are settling into the space