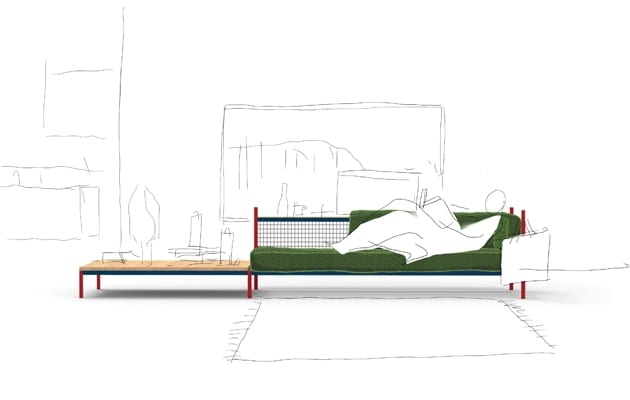 Grid Sofa by the Bouroullec brothers for Established and Sons|||
At Clerkenwell this year Established & Sons are exploring the crossover between work and home. Design director Sebastian Wrong explains
OnOffice: Your new collection, set to debut at Clerkenwell Design Week (21-23 May), will respond to the changing world of work. What can we expect to see?
Sebastian Wrong: Established & Sons will debut a new collection that responds to the rise of live-work spaces and shifting attitudes towards aesthetics and the way we behave in the working environment. Continuing with the company's distinctive forward-thinking and creative philosophy, four new crossover pieces have been designed to inspire work at home, in the office, in shared spaces and everywhere in-between.
The Grid Sofa (Ronan & Erwan Bouroullec), the KD Table and Beam Table (Konstantin Grcic) and the Lucio Chair (Sebastian Wrong) have been created in close collaboration with the designers to deliver compelling design, cutting-edge manufacturing and high-quality craftsmanship to businesses and individuals that want to inhabit a universal space that is comfortable, flexible, informal and functional.
Grid Sofa by the Bouroullec brothers for Established and Sons. Drawing copyright to Erwan Bouroullec
OO: How do you design a crossover piece to inspire work at home, in the office and elsewhere?
SR: The working environment is no longer a fixed office space with table systems and task chairs. Nowadays it can be your home, a co-working space, or sitting on the train. For this new nomadic working context the environments need to be accommodating and versatile. The shift from residential to commercial environments is a comfortable transition for us to explore with our designers.
OO: Why do you think that blurring the lines between home and work has become increasingly popular?
SR: The work environment in cities has evolved – people are now juggling work with life and multi-tasking a lot more because we are connected 24/7.
Modern professionals need to be working in spaces that can accommodate their needs. Working environments need to be much more transitional and adaptable.
OO: How do you choose your collaborators? What made Fora the ideal place to launch your new collection?
SR: Fora Clerkenwell is a real-life co-working space that offers premium and flexible services to its residents – the perfect environment to test the new @Work collection.
OO: Visitors will be able to try out the new range at Fora. Is putting your pieces in a live context now more important than ever?
Established & Sons felt it important for @Work to be used and inhabited in a real context as opposed to a staged environment.
OO: Your collection creates multi-functional environments, suitable for informal meetings, presentations and more. How do you see office design evolving in years to come?
SR: This is the future of the workspace: a fluid multifunctional environment that's connected 24/7. The word "office" is seemingly becoming redundant in many applications to our working lives.