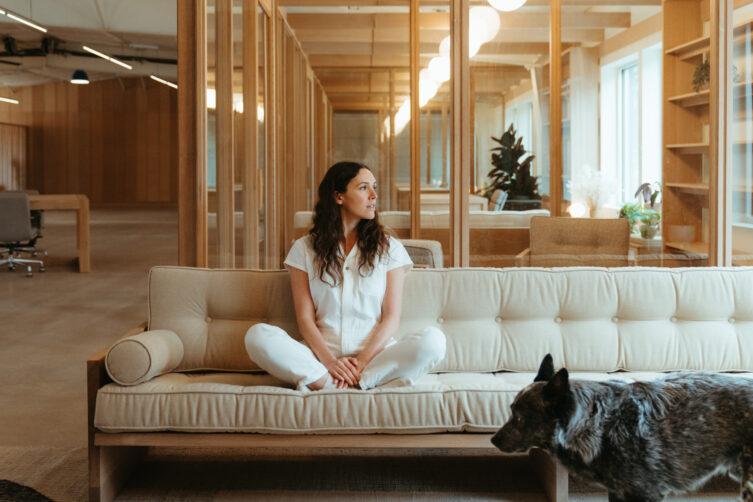 Texas-based KKDW Studios design the Find What Feels Good HQ in Austin for well-known Yoga instructor, Adriene Mishler, with a focus on flexibility, warmth and natural 'camera-ready' materials
Stepping into the welcome lounge of the Find What Feels Good headquarters in East Austin, Texas, guests are immediately calmed by the earth-toned upholstered furniture, the bespoke slat wall—its panels pivot to amplify ever-shifting lighting—and plenty of greenery.
This living room-style vignette is one way that Kelly DeWitt, founder and creative director of the nearby Wimberley-based KKDW Studios, reimagined the 5,000-square-foot layout "in a way that doesn't stunt the openness, but doesn't feel too big either," she explains. "I wanted people walking into a warm, residential atmosphere, not a massive space."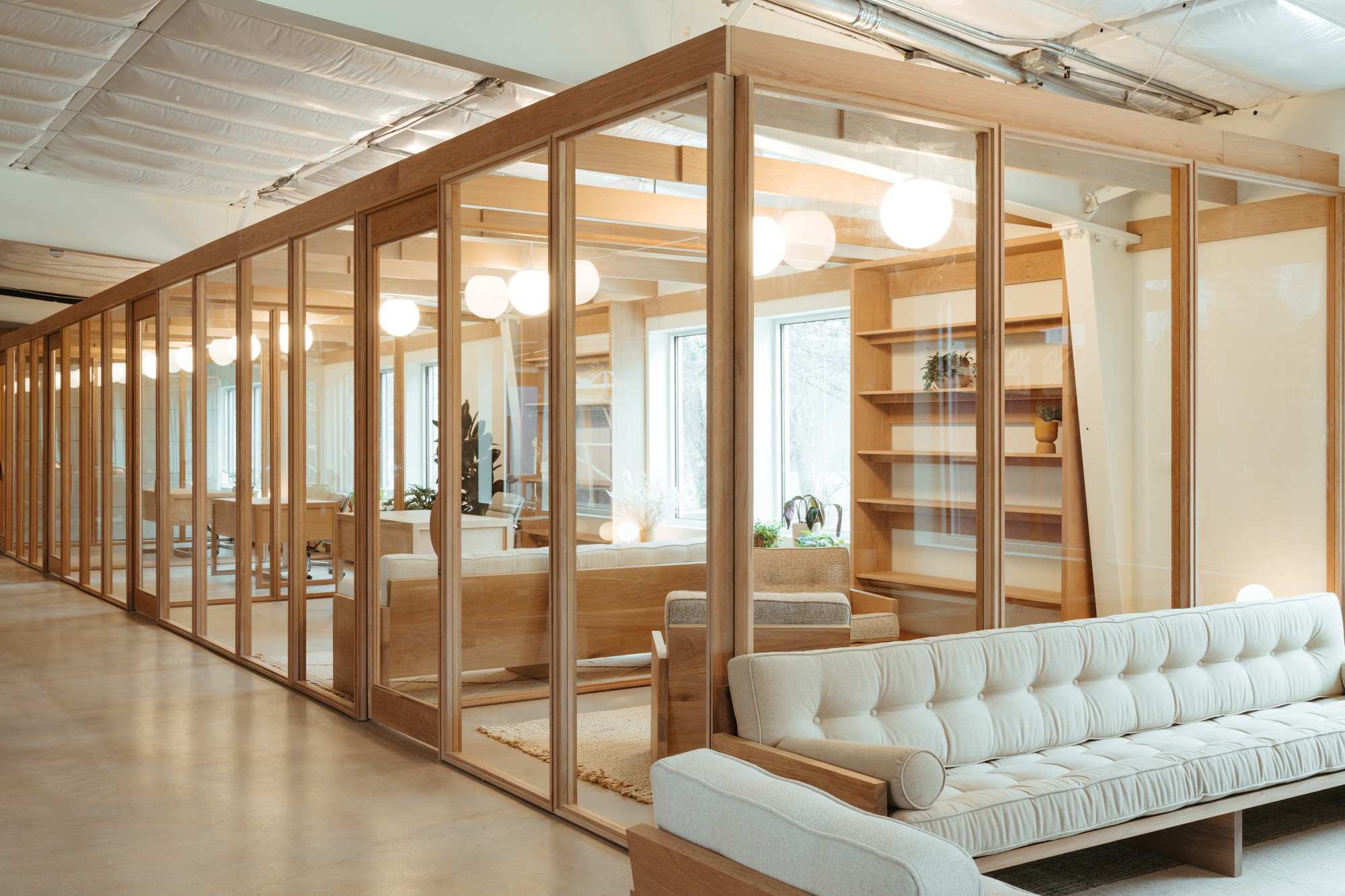 Inside a "bare-bones metal building," as she puts it, DeWitt crafted a versatile office and studio for the well-known yoga instructor Adriene Mishler, who has attracted some 12 million subscribers to her Yoga with Adriene YouTube channel. Mishler, co-owner of the local studio Practice Yoga, also launched the burgeoning Find What Feels Good yoga and meditation community, including an app and video library.
Fans resonate with Mishler's genial, lighthearted personality, and DeWitt was keen to translate that inspiring energy to the interiors. The former space "was so cold," she recalls. "The concrete floors had a yellow tint to them, and the walls were blue, so it felt closed off. But the bones were there. We came in, put a lick of paint on everything, brought in the furniture and fixtures, and transformed it. It was empty; now it's a home."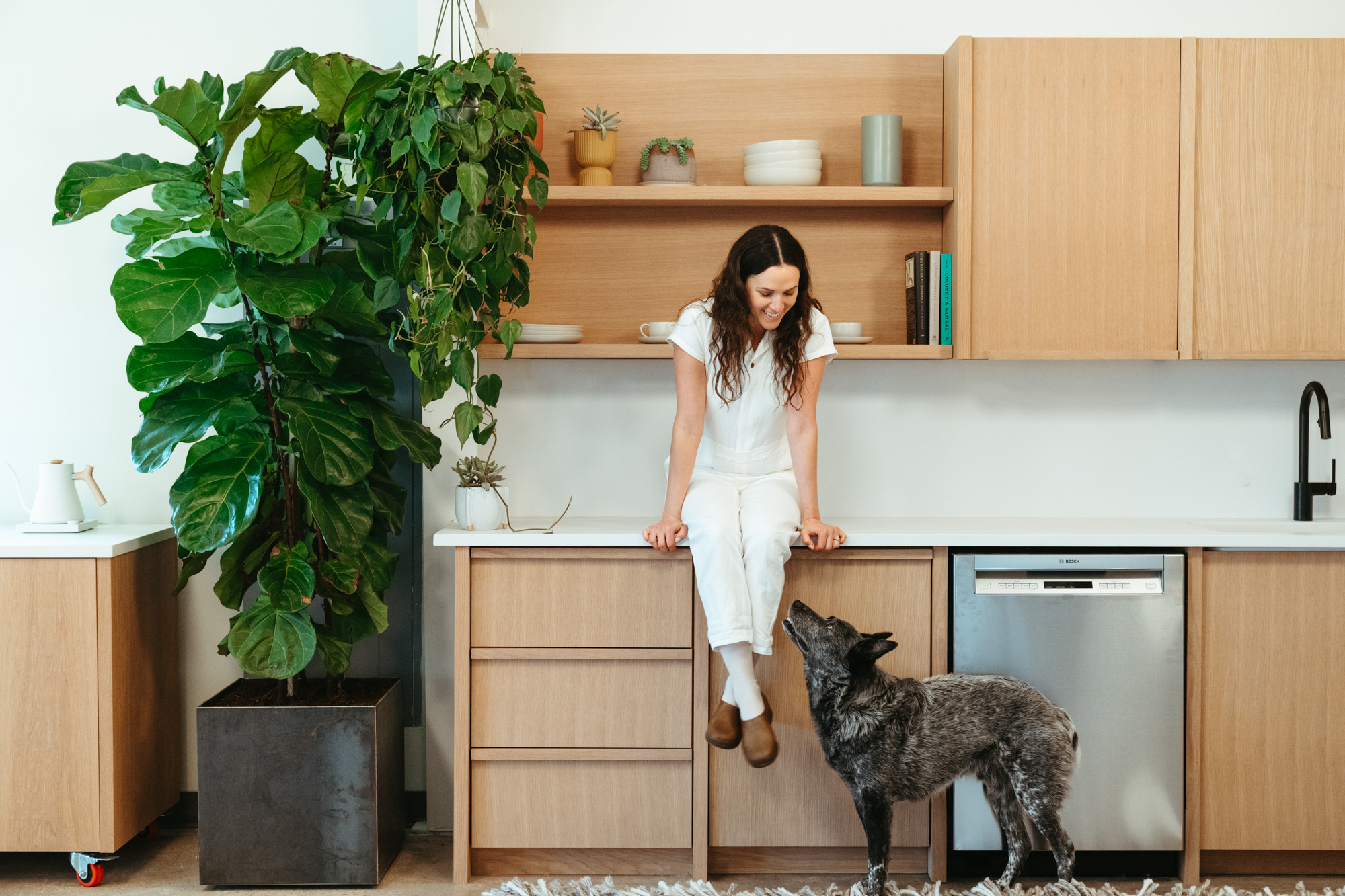 Flexibility guided the design of the offices, communal workstations, lounges, and library. Mishler and her team want to hole up here for brainstorming as much as for film and photo shoots (there is also a sound booth) so to accommodate this anything-goes mentality, DeWitt created a truly modular space, complete with retractable electric drops built into the ceiling. Everything is bolted or mobile, including a full slate of custom furniture like the kitchen island outfitted with wheels.
Throughout, DeWitt embraced large swathes of white oak. For the monolithic 80-foot-long focal wall (cleverly shorn of air ducts) that Mishler showcases in videos, ample time was spent on concocting a camera-friendly finish that glows.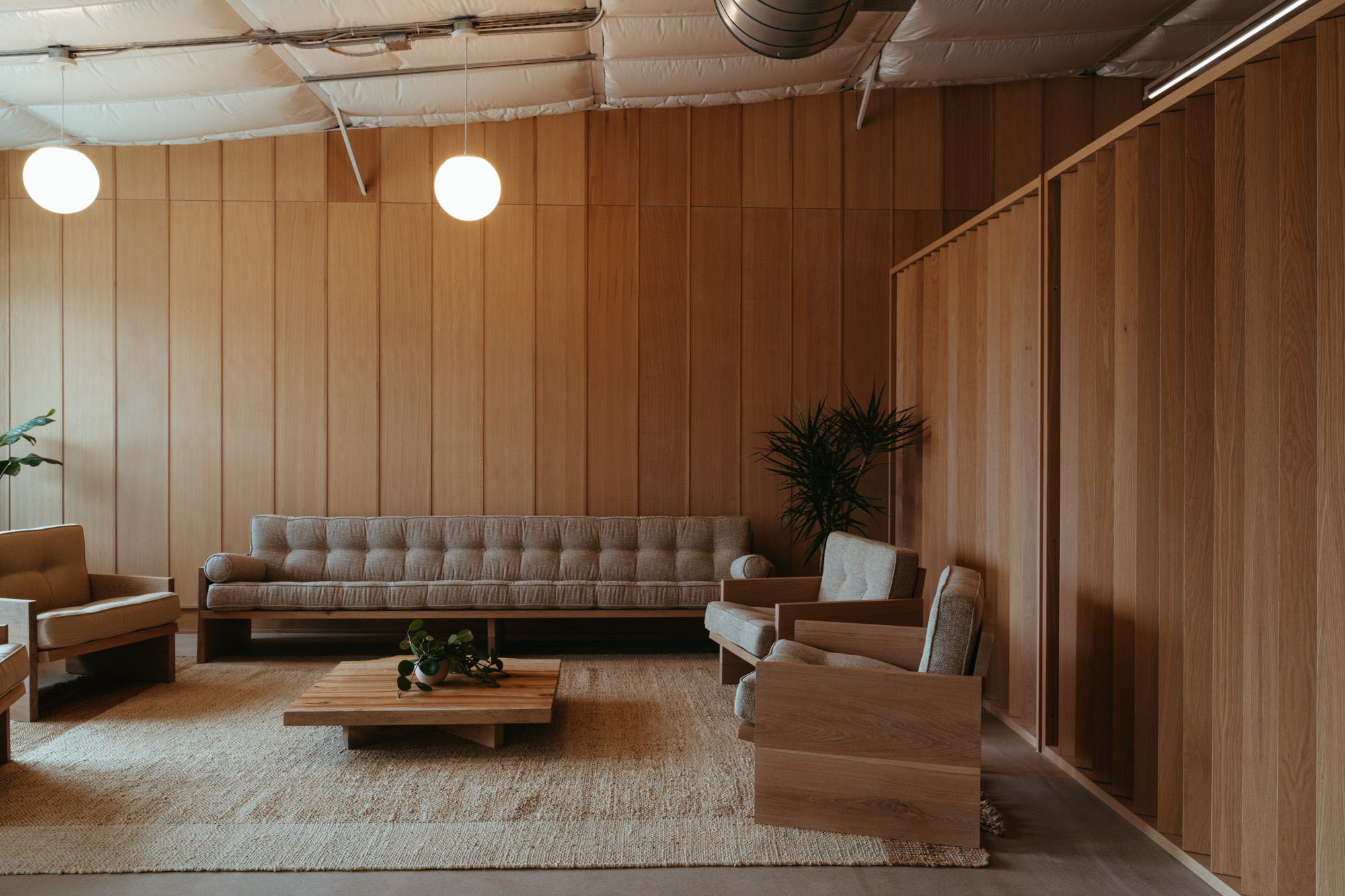 "The moments we went outside of white oak were intentional," points out DeWitt. Those once-stark floors, for instance, are now a soft matte grey, and two coffee tables are fashioned out of a reclaimed pecan slab sourced from a fallen tree in central Texas. Cedar furniture on the back patio shares the same design language as the pieces indoors and the fabrics, although neutral, "are interesting texturally," adds DeWitt.
Some 300 plants both heighten the restful allure and serve as lush props on Mishler's sets, so many of them are situated in easy-to-move steel planters of KKDW's design. "We kept the steel raw to show its natural character," says DeWitt. "It's beautiful to pair that hard, sharp material with the organic nature of the plants."
Images by Kelly DeWitt and Andrea Calo