The new range marks a style departure for the brand into a more restrained, toned-down aesthetic
Where Kirkby Design might be better known for colourful, graphic prints, including its Transport For London collaboration that was a viral hit at last year's London Design Festival, the brand has taken a new direction for its new season launches in 2020.
Image: This Speck Wool Blend and Terrain Bouclé Weave bring a natural textural appeal.
Leading the way for this more understated aesthetic is the Volume collection, an exploration of tactility in textiles, which looks to push weaving capabilities into exciting new forays.
"Created using innovative techniques that typify the experimental nature of Kirkby Design, Volume is a study of weaving capabilities that push the limits of normality and embrace individuality," says Jordan Mould, Kirkby's brand director.
In place of the striking woven geometrics you might expect from Kirkby, these are fabrics that add interest to upholstery through texture and three-dimensional pattern, inviting touch.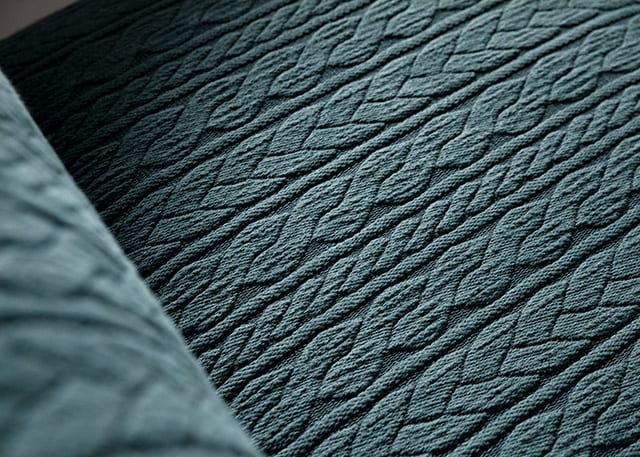 Image: This textured cable knit uses recycled yarns from the fashion industry.
Velvet, while a traditionally tactile textile in its our right, has been combined with quilting techniques to create a supersized fluted corduroy, as well as an ornate rose-patterned design. Chenille and bouclé fabrics bring a more subtle texture, while long piled materials recreate the sensation of furs and sheepskins.
Completing the collection, a cricket jumper-inspired textile, made using recycled cotton yarns originating from the fashion industry, mimics a classic cable knit.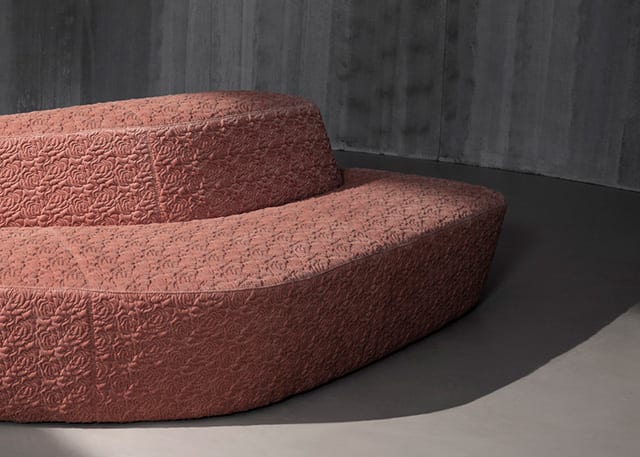 Image: An intricately stitched pattern both depicts a bed of roses and creates a deep cushioning.
The fabrics across the Volume range are available in a range of colours, from more subtle neutrals to flashes of on-trend neutrals.
All photography courtesy of Kirkby Design