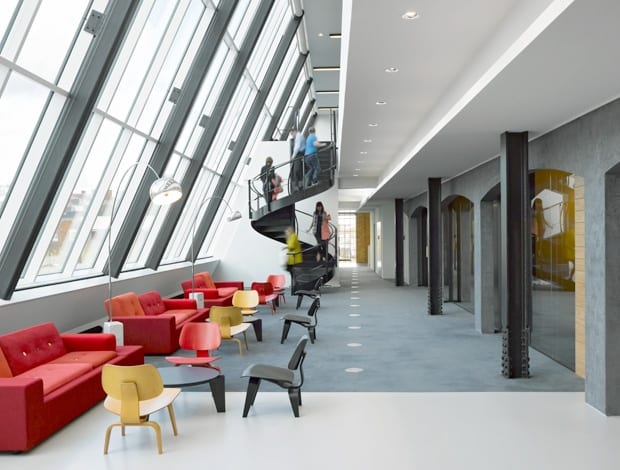 Vitra's DCW chairs and Polder sofas populate the impressive entrance space|A spacious walkway divides the workspace and the building's core|The mismatched tiles are also used in the enclosed meeting booths|Extra breakout areas have been squeezed in under the barrel-vaulted ceiling|Glass, steel and timber reflect H+K's serious corporate side|Brass lamps hang above the bar, which is clad in textural raw concrete|While mismatched tiles add colour and pattern it's not "cheesy branding"||
Avid readers might remember this space from onoffice 76, published last July, when it was fresh from being revamped by BuckleyGrayYeoman for Derwent London. The 1930s factory-turned-speculative office in Clerkenwell, named the Buckley Building, came with inherent base build details – vast windows, exposed brick and original steelwork, including a distinctive spiral staircase – that beckoned a tenant partial to industrial aesthetics and open-plan working.
One such company swiftly arrived in the form of global communications agency Hill+Knowlton Strategies (H+K), interestingly relocating from Soho Square after ten years, with a relatively young workforce and list of well-known clients. The firm enlisted architects BDG to make it home. Moving from a four-storey building in Soho, where H+K's offices had a street-level entrance, to a two-storey building accessed through a shared reception area, BDG's first priority was to instill continuity across the journey from front door to office. It also had to match their Soho-style expectations.
"It's got a West-End-ness to its design," says BDG creative director Colin Macgadie of the BuckleyGrayYeoman-designed communal reception space, with its palette of black, brass, concrete and steel. "It feels impressive, therefore it wasn't too much of a change for them. We took some of the [reception's] features and ran them through the scheme with our own twist, so when staff and clients arrive and come upstairs, there isn't that jarring feeling of coming into a different space. It feels fluid and familiar."
Via glitzy lifts, we arrive at H+K central, where a crisp and minimal double-height space lets the architecture sing. The first point of contact is a peg wall with colourful string spun into the word "Hello", which can be customised to welcome big clients, then a reception desk topped with polished concrete to match the one downstairs. The front of the desk is clad in a closely-packed series of irregular concrete profiles in varying tones of grey, giving the effect of a pixellated rock formation.
"I thought the space needed some texture and relief, so we designed ten profiles and arranged them in a random order"
"I thought the space needed some texture and relief, so we designed ten profiles and arranged them in a random order," says Macgadie. This surface appears again on the bar upstairs, and is representative of a wider theme for keeping materials raw and untouched. "We wanted to have the material as the finish, rather than apply anything," says Macgadie. "It's about the seriousness of H+K, but also avoiding cheesy corporate branding and not just sticking up vinyls and graphics; it's authentic and natural."
The lounge is a bright, open space framed by the black steelwork, and occupied by islands of colourful Vitra furniture beneath huge slanted windows and a mezzanine balcony. Here, the views over London take precedent, and staff can meet clients in a grand environment. "They're a professional but young crowd, so it had to be grown-up and global, mixed with fun spaces that were interesting for them," says Macgadie.
"They're a professional but young crowd, so it had to be grown-up and global, mixed with fun spaces"
Archways are coated in dark grey Armourcoat and left as is, to adhere to BDG's raw material theme, and interspersed with meeting rooms clad in timber and frosted glass. As Macgadie explains, H+K doesn't just work on 'celebratory' PR, but also highly sensitive PR strategies and damage limitation, so its offices had to reflect that. These meeting rooms are therefore completely private, with tinted, soundproof glass and fairly serious in aesthetic, with broadcast capability, "just in case they need to go on Newsnight; this room sets them up for their Jeremy Paxman moment."
Other meeting areas are more relaxed, such as the open archway linking the lounge to the workspace. Here, a long, bespoke-made timber table with brass detailing is where staff get away from their desks to eat breakfast or lunch, read through the daily newspapers and check emails. It's also home to the project's jazziest feature – a wall of mismatched patterned tiles supplied by WorkHouse, handmade in Morocco and bought as a batch of random designs. Conceptually, it chimes well with BDG's raw material approach, because the ceramic is pigmented throughout, and visually, it acts as a nucleus at the centre of the office, with elements of its design (including the tiles and timber) dotted around the rest of the interior.
Footprint-wise, BDG has got a lot of bang for its buck. Whereas in its previous office, 250 staff were segregated, here they sit together in one big space, where the office is divided into 35% desking, 45% shared/meeting space, and 20% circulation. "Apparently clients have walked around since they moved in, saying 'we didn't realise how big you were' because now they can see everyone," says Macgadie.
Open-plan workspace is spread around the perimeter, giving plenty of natural light, and designed to be agile – though that will only start to happen when the company has a larger workforce. "We calculated that they can expand by about 20% and not change anything. The idea is they can grow into it," says Macgadie.
The core of the plan houses closed-off, cellular spaces, such as meeting rooms, storage walls with lockers (to support the firm's clear-desk policy), tea points and printer rooms. This core is set back behind the original structural columns, creating a spacious walkway around the office. The second floor is more staff-facing, so private meeting rooms are replaced by booths. Some are comfortable and enclosed, with cushioned seats, the Moroccan mismatched tiles and power points, designed for employees to work in for longer time periods.
"We love choice – anything that encourages people to move around, grab a space that suits what they're doing or who they want to work with"
Booths in more open areas don't have cushions or power points, and are decidedly less cosy, to encourage workers to use them for quick meetings or as a touchdown work area. Above the booths and behind the feature bookcase, a clever use of space has allowed the architects to squeeze in a third floor, housing a couple of turret-like nooks in the rafters of the barrel-vaulted ceiling. At the end of the second floor, a large bar area filled with soft seating and canteen furniture, and a fully stocked drinks fridge, can be used for work and socialising.
"We set them up to push people around the space," says Macgadie. "We love choice – anything that encourages people to move around, grab a space that suits what they're doing or who they want to work with. So they really do use it all."