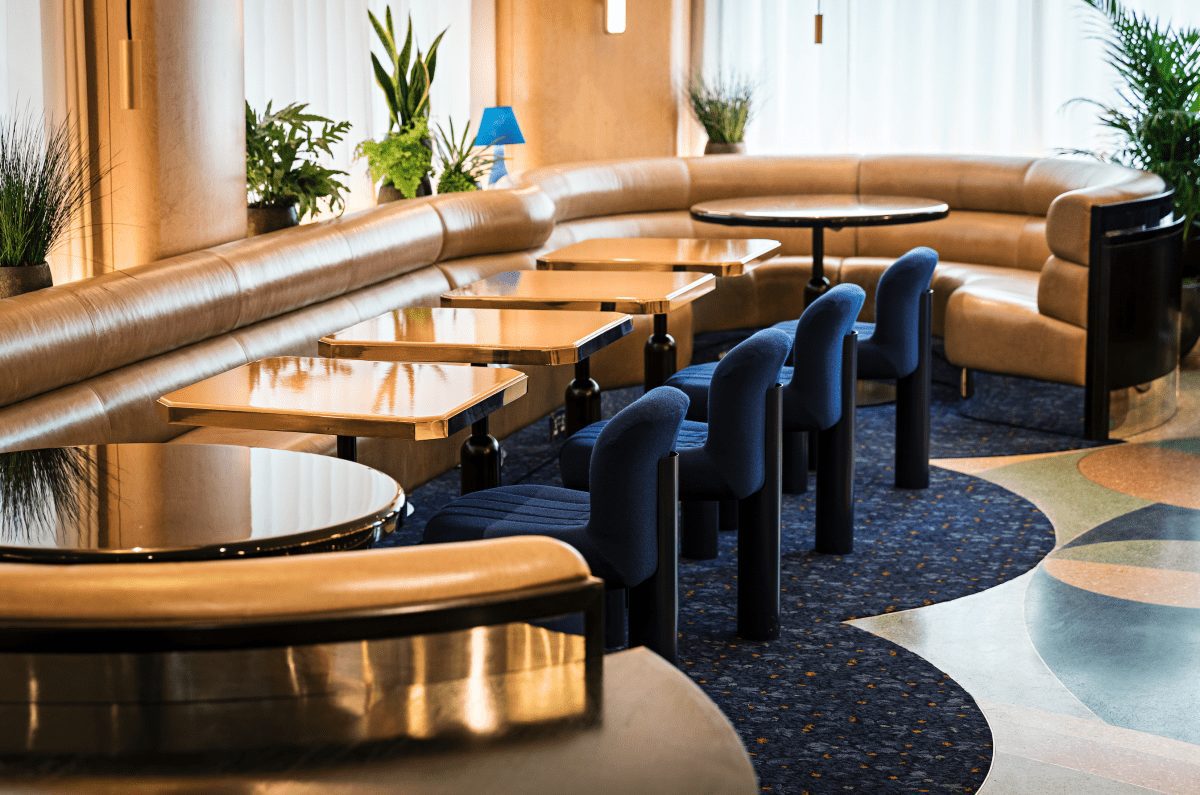 FOLIE aims to recapture the glamour and sensuality of the 1960s Côte d'Azur
From the artists' town of Saint-Tropez in the west to viridescent Menton on the Italian border, France's Côte d'Azur has long stood for a particular type of Mediterranean glamour, simultaneously low-key and luxurious, aided and abetted by gregarious restauranteurs and liberal quantities of pastis.
FOLIE, a new restaurant and bar run by front-of-house Guillaume Depoix and designed by Studio KO, aims to bring some of this sensuality to landlocked Soho. Depoix, who moved to London in 2014, has previously worked for Alain Ducasse, the Costes brothers and Terence Conran. FOLIE is his first solo venture.
Under executive head chef Christophe Marleix, FOLIE specialises in refined re-imaginings of the coastal cuisines of France and Italy, while championing seasonal ingredients from small-production British farmers and West Country fishermen.
Named for the hedonistic garden pavilions designed by French architects in the 18th century, FOLIE's design aims to recapture the glamour of the French Riviera of the 1960s and 1970s, the era of Bridgette Bardot and the rise of the international jet-set.
There are red-topped brasserie tables, tubular leather banquettes, and stripped-back, geometric hanging lamps. The golden-hued bar is surmounted by mushrooming lights, mirrors and floral bouquets. Studio KO create an aura of pleasure and jolity.
FOLIE launched with a distinctive logotype designed by the award-winning Yorgo Tloupas of Yorgo&Co. Centred around a series of circles and rectangles, it appears in an abstracted form on the corner of the restaurant's Golden Square premises.
Founded by Karl Fournier and Olivier Marty, Parisian-based Studio KO previously designed London's celebrity magnet Chiltern Firehouse. Other projects include the Yves Saint Laurent Museum in Marrakech and private houses in southern France, Corsica and Morocco.
Studio KO's design for FOLIE accords with a trend among London restaurants — especially the sort of all-day venture particularly popular for business diners — to modernise the aesthetics of a previous era. The Corbin & King group, which includes The Wolseley, the Delaunay and Fischer's, transpose the aesthetics of Viennese grand cafes and Parisian brasseries.
The Gilbert Scott within St Pancras recreates the scale of high Victorian dining, while Shoreditch's Gloria exhibits the chintzy pizzazz of a 1970s Italian holiday resort. FOLIE is a striking addition to this seam.
Photographs by Yann Deret