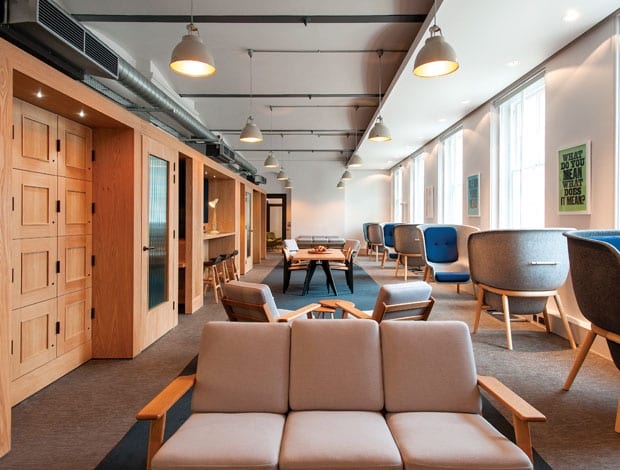 De Vorm's Pod chairs line the windows in one of the communal ClubRooms|A zigzag of fluorescent lights contrasts with Victorian brickwork|Formerly a ballroom, this space is now intended for a single tenant|Eastbourne Terrace, designed by Isambard Kingdom Brunel|Supports from the old railway shed have been left exposed in the corridor|Oak joinery houses lockers, bar-style seating and private booths|One of two reception areas – the building can be accessed off the platform|Single desks offer an alternative to the open communal areas||
dMFK revamps a Grade-I listed building with a contemporary twist for The Office Group's newest site
Crossrail looks set to transform travel across the capital when it opens in 2018, but until then, Londoners have to begrudge the crater-sized holes it is making across the city. One of these craters obstructs almost the entire south-west facade of The Office Group's latest site within Paddington Station, making the address – 19 Eastbourne Terrace – temporarily futile, as street access is impossible. Still, the inflicted nuisance outside is a necessary evil in the company's long game to have a spot in one of the city's best-connected travel hubs, and in the meantime, the alternate entrance is shrewdly used to create a sense of exclusivity.
Members (The Office Group runs a network of 'ClubRooms' for mobile workers) and visitors are guided from the tube exit via a line of blue vinyl on the floor, brandished with the address, up a set of stairs off the platform to a hidden door. Beyond lies a subtly modern interior by architects dMFK that melds beautifully restored details from the Grade I-listed Isambard Kingdom Brunel design with a sophisticated and contemporary aesthetic.
"Bold buildings require a bold approach, whatever their listing status," says Julian de Metz, director and cofounder of the practice. "[Listing] often makes people too reverential. We wanted it to feel fresh but still have historic gravitas."
The site is split over two tall, slim Georgian-style buildings, constructed in 1854, housing a mix of open-use workspace for individual members and permanent offices for companies of two people or more. There's meeting space in varying degrees of size and privacy, kitchenettes and bathroom facilities dotted throughout, and two reception areas – one at the current entrance, and another, more impressive one at the main (currently unused) entrance. With such a list of different requirements, the brief conversely called for a cellular layout within huge, industrial spaces. "We had to come up with clever ways to subdivide the space that didn't obstruct the existing features, but worked with them and flattered them," says project architect Joshua Scott.
"Bold buildings require a bold approach, whatever their listing status"
Most of the workspace is split over modestly sized rooms stemming off a backbone of central corridors; these areas display the project's most inventive retrofitting techniques. In one, the brick vaulted ceilings are exposed and the walls set back from the original cruciform columns to emphasise them and break up the space, with crisscrossing fluorescent lights laid across the wall tops – an economical way to light and add dimension above. In another, metal supports from the old railway shed roof are retained, juxtaposing the minimal white hallway. On the ground floor, a mirrored Barrisol ceiling stretches over the corridor to hide all manner of cables and gubbins, simultaneously creating the illusion of height.
Inside the rooms, dMFK has resisted the desire to contrast Victorian details with coarsely modern interventions. Instead, the aesthetic is more college library meets chic hotel lobby, with a hint at the building's railway heritage. "We wanted to complement rather than contrast, which is often the stock contemporary response, and avoid flexible working cliches of zingy colours and urban graphics. We don't see that as professional; work is serious but it doesn't need to be dull," says de Metz.
In one of the members' ClubRooms, pairs of Benjamin Hubert-designed Pod chairs from De Vorm frame the windows, quietly referencing a train carriage layout. In between sit Hans Wegner sofas and Vitra meeting tables and chairs, all in pale woods, with fabrics and Bolon floors in neutral greys and blues. The inside wall is lined in oak joinery (with some fluted panelling to dampen sound) housing lockers, bench desks for touch-down work and private work booths. "The atmosphere is calm and stately, relaxed but serious," says de Metz.
A 'quiet' ClubRoom across the hall allows for more heads-down working, with individual cubicle desks and more private booths. In the absence of period detailing, services are exposed in these rooms and some of the other offices and meeting rooms, but not everywhere, as de Metz explains: "The biggest challenge with listed buildings is always services, and one route people take is to expose them all. It's a look, but it doesn't always suit the space." Elsewhere, services are hidden by raised access floors and in cabinets, like in the ballroom.
"The atmosphere is calm and stately, relaxed but serious"
The ballroom is the exception to the cellular layout, and a striking example of how dMFK treated each space according to its inherent features. Initially planned as a ClubRoom, the Crossrail-inflicted change of layout forced this space too far from the temporary entrance to make sense in this guise, so now, it is a particularly grand office for one permanent company tenant. A vast, corniced ceiling has been painted white, enhancing the detail but "keeping it modern in spirit" explains de Metz, while huge Wever & Ducré pendants stand up to the scale of the room. Services are expertly disguised in cabinets and low bookcases along the sides of the rooms.
The architects' art for subtlety has also transformed the main lift lobby and staircase at the main entrance, formerly jazzed up by Network Rail. "It was a flashy patch-fitting glass design, a bit like a 1980s duvet cover, with token multi-coloured graphics, which we weren't keen on," smiles Scott. This has been replaced by a translucent reeded glass lift core by Reglit, which darts through the middle of an original Brunel staircase – which dMFK only lightly spruced up with a lick of paint – and bordered by pendant lights that dangle in the void.
The main lobby has an indoor/outdoor feel, created by resin-bound marble-chip floors, and some more oak joinery, adding warmth. The bathrooms have the most vivid colour palette, with rich, Victorian-inspired green tiling, oak beaded doors and large circular mirrors, again suggesting a vintage railway theme.
As for the building's energy performance, improvements were restricted by the listed status, but dMFK did all they could, installing heritage-approved secondary glazing, additional insulation, and features like sensor-activated lighting throughout. All in all, dMFK has succeeded in creating a refined, professional setting that plays to this prestigious building's strengths.