Established more than a century ago, as its first manufacturing base near the Swiss border, the office now houses around 1450 employees
As Christ & Gantenbein's third completed project on Roche's campus, following the completion of an office and technical building back in 2011, the architecture practice has recently revamped the workspace for the multinational healthcare company, transforming it into a contemporary office that's anchored in history.
Evident in the campus' architectural heritage, which reveals how collaboration has evolved over the years, Roche's headquarters features both functional industrial spaces, as well as human-centered environments, fostering interaction and teamwork. As such, Christ & Gantenbein reinforced the existing spaces with a series of public plazas.
Acting as a distinctive landmark and primary point of access, the spatial layout is designed to bring Roche's large community together in a so-called 'industrial palazzo'. Featuring crisscrossing beams which reference the building's manufacturing background, the stark interiors are complemented by simple yet high-quality materials to achieve an understated and elegant look.
For instance, there is a simple cube built from prefabricated, locally-sourced concrete elements which consist of aluminium panels and create multiple visual connections. Inspired to design an office that provides a generous, non-hierarchical workspace for Roche's employees to meet and work, the architects created a unique space designed for collaboration.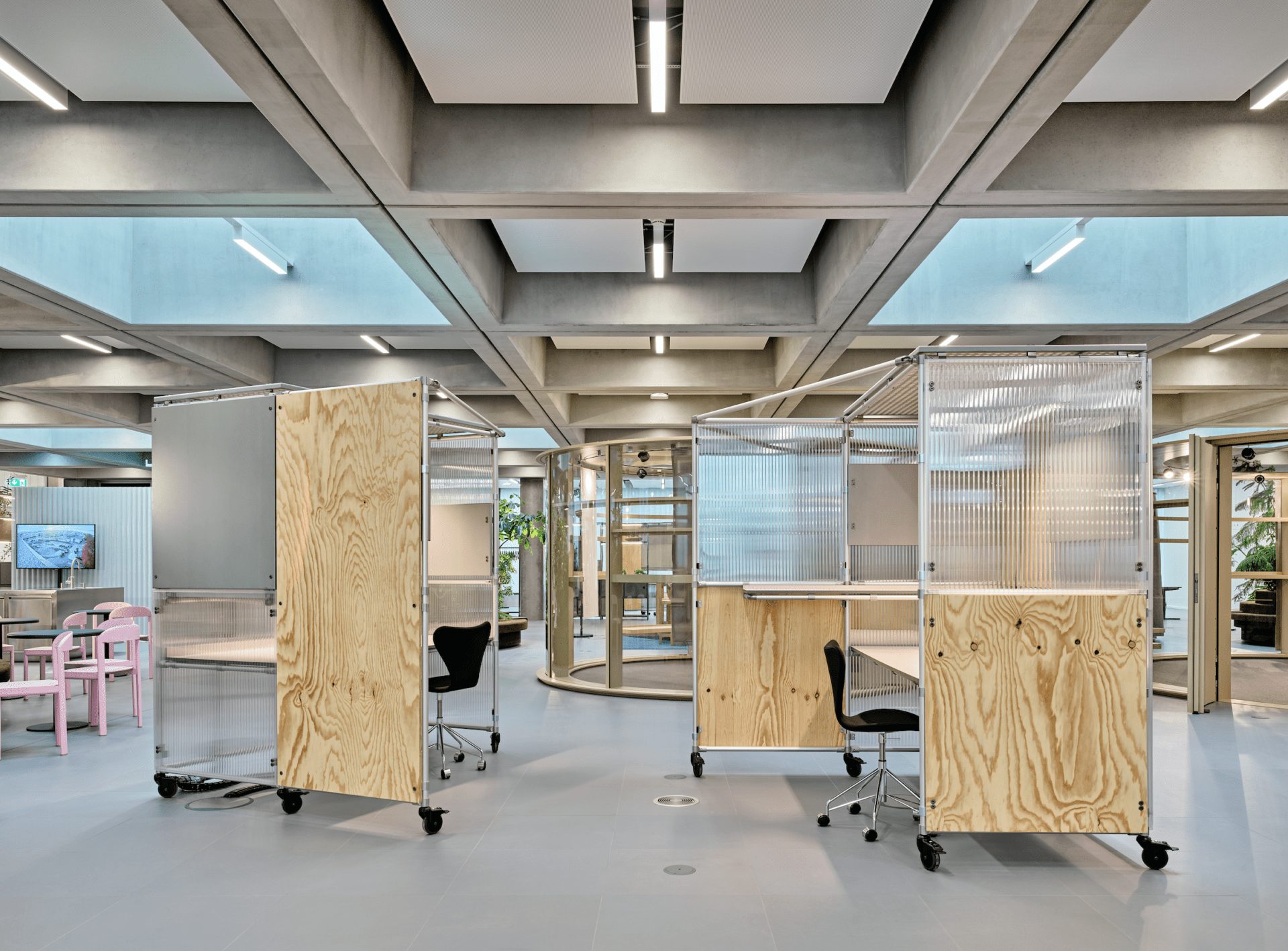 This idea is evident throughout the open-plan interior design that invites unrestrained movement with vast and column-free floors, providing natural light and vistas throughout. A publicly accessible entry hall on the ground level, which opens onto a double-story forum on the first and second floors with smaller-scale pockets, is followed by two levels of flexible spaces that create the foundation for a 'work-to-meeting' environment and new modes of collaboration.
All floors are connected via the building's four staircases which, while walking through the space, appear from unexpected angles and reveal views of the surrounding hills, Roche's industrial heritage, the neighbouring town of Grenzach-Wyhlen, and the city of Basel in the distance.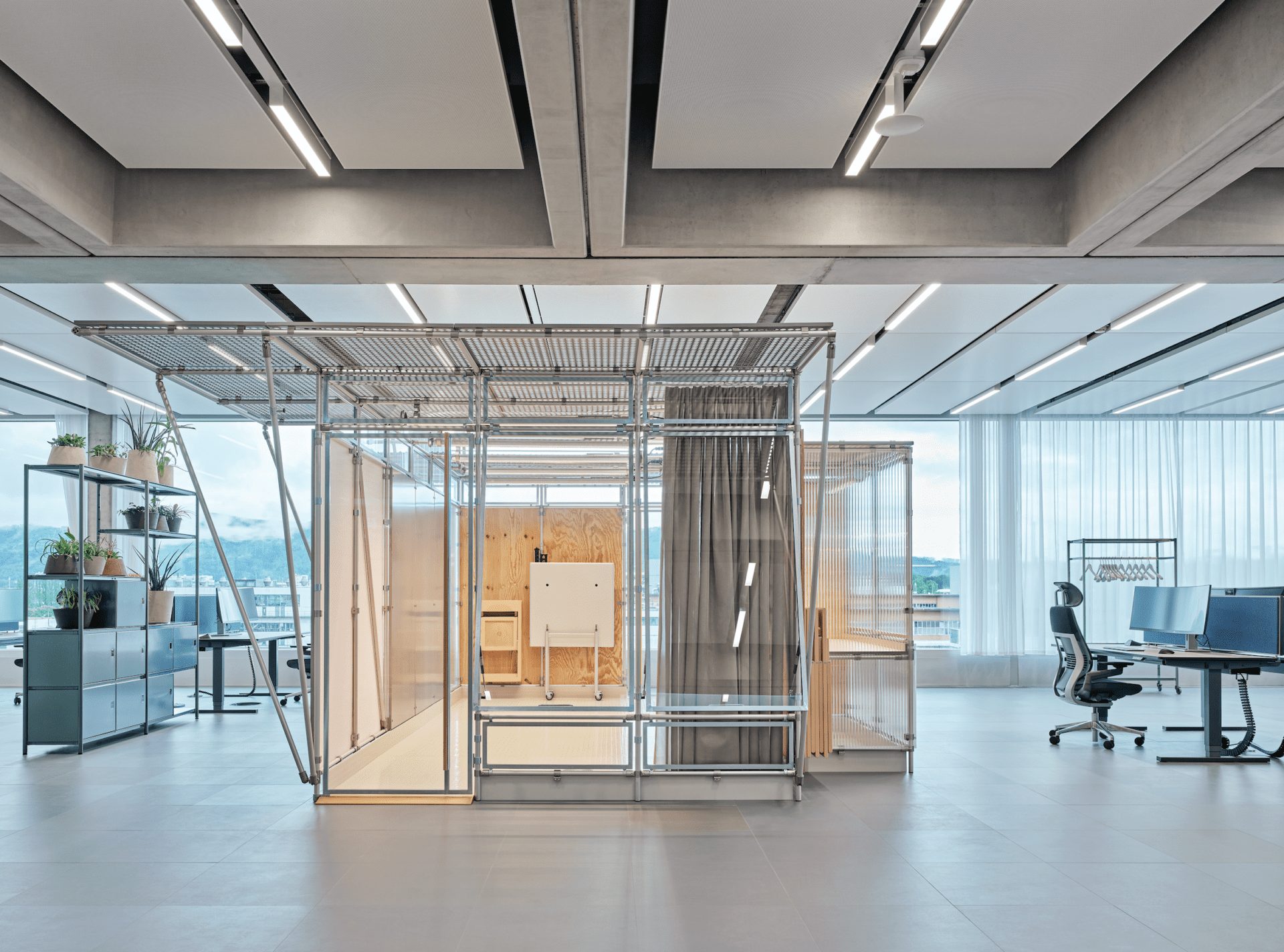 Furthermore, the functional interior allows for diverse gatherings. From the customisable 550-seat auditorium, which can be partitioned into three individual halls, to areas for hyper-concentrated and individual work, the office provides the perfect setting for exchange in an inclusive and non-hierarchical setting where everyone is welcome.
Meanwhile, furniture is custom-made and based on a unique concept developed by INCHfurniture in collaboration with Christ & Gantenbein. Flexible, modular, and adaptable were key words for the vibrant collection that comes in a range of colours, patterns and finishes. The rich and eclectic interior design beautifully contrasts with the more rigid and austere architectural features of the building by filling the space with colour and joie de vivre.
How can architecture offer an alternative to digital modes of working? Which type of space can offer practical and creative options that enhance these environments? These questions guided the architects to create a space that provides an alternative to traditional offices, as well as the home offices we have become accustomed to in the last year.
Instead, it brings people together in a new type of workplace that is more than a conventional office; it embodies the cultural shifts we have been witnessing in the last year and demonstrates New Ways of Working – a new approach to work involving a shift in control from employer to employee.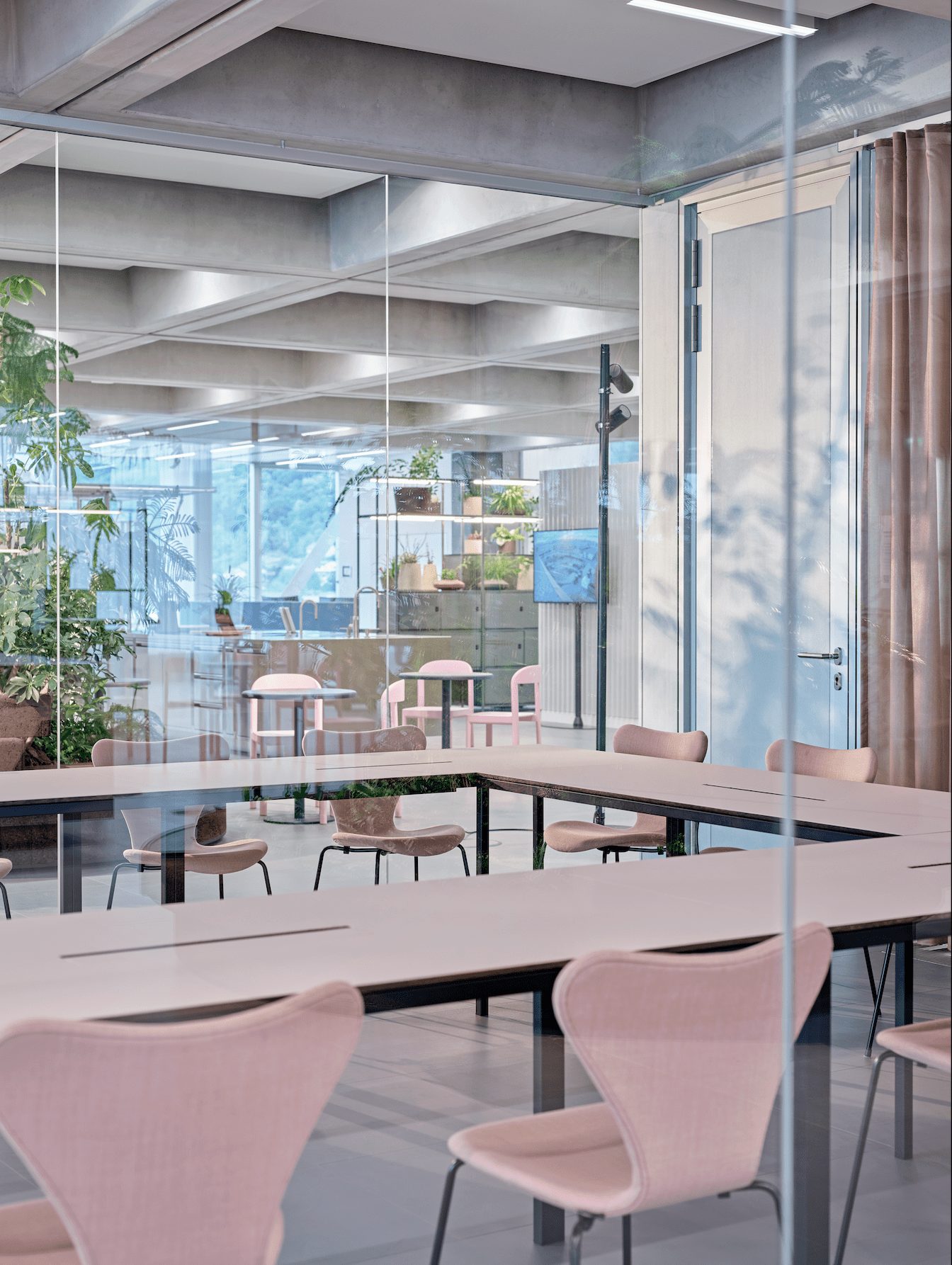 "Our multifunctional workspace building anticipated what is essential for both today and tomorrow. This was only possible through the incredibly ambitious goal pursued by all involved parties: to create something unconventional, to develop and propose something different, and to invent our own version and interpretation of contemporary collaboration", shares studio cofounder Emanuel Christ.
"We want to provide a space for what cannot be done remotely. We want to equip a workspace with personality, diversity, freedom, and flexibility in order to provide a positive experience for Roche's employees and invite the local community to participate. Christ & Gantenbein's architecture created the frame that allows all these special moments to unfold. This is what we have achieved here and this makes me very proud."
Images by Mark Niedermann