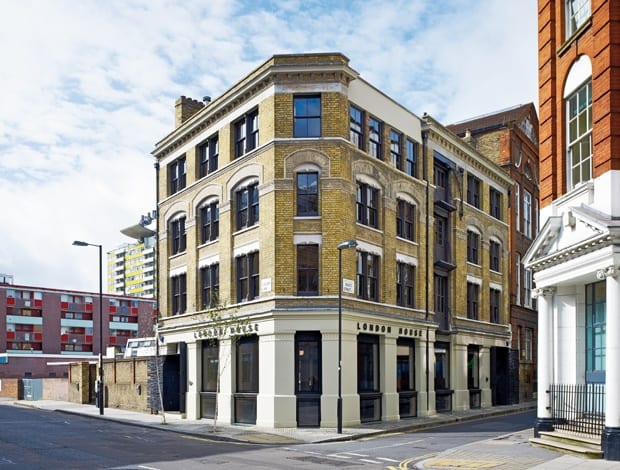 MAD London: Jefferson Hack's new venture|A large glass and steel bookshelf divides up the reception space|The plywood staircase, suspended from the mezzanine floor|DOSarchitects' plywood and tweed built-in seating|Plasterboard and carpet tiles were removed, and a concrete floor poured|The mezzanine level, designed to be flexible in case needs change|Desks are in either white lacquer and plywood, or steel and iroko||
Amin Taha and DOS have teamed up to transform a 19th-century building into the new offices of MAD London, Jefferson Hack's latest venture
Jefferson Hack, co-founder of Dazed magazine group, has a new venture. MAD London is a boutique creative agency specialising in advertising campaigns for clients such as Tod's, Chanel and Diesel. The eight-strong team has set up shop on the third floor of a buff-coloured brick building on Golden Lane, off London's Old Street.
Built in 1850 to house a clock-maker and a button manufacturer, the building is a neat microcosm of Clerkenwell's working history, from a hub of Victorian artisanal endeavour to the nerve centre of the capital's creative industries. Somewhere in the 1970s or 80s, there was the inevitable standard office fitout – plasterboarded walls, cellular partitions, grid ceilings with integral lighting and raised floors with blue carpet tiles – and this was what greeted local firm Amin Taha Architects when it came to renovate the building.
"Over a number of years, people had layered it with plaster directly onto brickwork or ceramic tiles; everything had been boarded up," explains Taha. When all the add-ons were stripped back, they discovered that building underneath had been preserved. "All the cast iron, all the joists, noggins, floorboards were fine, so we didn't need to do anything," he says.
Taha's aim was to turn it into desirable rented office space with the minimum of intervention, which meant working out how to leave these elements exposed while adhering to current building regulations. He says that "the standard solution is to cover things in two layers of plasterboard," but instead he used a clear varnish for the timber from Envirograf, which supplies fire-rated products including paints and varnishes.
However, acoustic, structural and fire regulations meant that the floorboards had to be covered with a more resilient layer, so all the heating and services were embedded in the floor and topped with polished concrete.
MAD London's space occupies the third floor and a mezzanine under the warehouse's pitched roof. It's dual aspect and roughly rectangular, though the corner opposite the entrance is blunted.
The pleasing industrial-chic finish revealed by Taha suited MAD London, so it brought in Lorenzo Grifantini and Tavis Wright of DOSarchitects to design the layout and much of the furniture. This was a first for DOS, as they had never designed furniture before, explains Grifantini. He adds that they not only designed the pieces but helped the joiner construct them.
DOS was recommended to MAD by an employee of photographer Mario Testino, whose Notting Hill office the young duo had redesigned and extended in 2009. Their brief, according to MAD's account director Christina Hardy, was to create a space that was changeable and furniture that was movable.
"We have different-sized teams coming in and out of here," Hardy explains, "and this flexibility would allow us to change our minds a lot."
DOS focused on the main floor, positioning the reception area opposite the doorway and in the three-sided corner. Between that space and the desking is a free-standing glass and steel shelving unit, which was bought in.
"So many artists come in and we have so many books," Hardy explains.
Beyond that are a succession of tables and desks, more shelving embedded in the brickwork, and to the left at the rear of the space, a kitchen area. As for the furniture, Grifantini says "there are two typologies: the self-standing tables in iroko with steel legs, and the plywood pieces with white lacquer."
"We have different-sized teams coming in and out. Flexibility allows us to change our minds a lot"
While the former picks up on the building's beams, dark-brown window frames and original ironwork, the latter relates to the boxing-in of the mezzanine staircase and the kitchen unit in plywood.
"This was a compromise between an industrial feel and something sleeker," he adds. So the long sofa (which sits against the three sides of the blunted corner) is in plywood, with the seating appearing to be dug out of the box-like form. It's upholstered in grey tweed, which was chosen by Hack.
On the other side of the freestanding shelving is a large square plywood table in two pieces, with integrated lacquered drawers and a shiny steel edge. This has been made to hug the column, so a crescent is cut out of either side for a snug fit. Other such tables are dotted about. Also in plywood is the rough-hewn kitchen unit and toilets. This style is interspersed with a few iroko desks, whose steel legs are designed as a loop (Hack's is inlaid with dark brown leather). The bookshelves on the walls are also iroko and have steel bookends.
The staircase has an element of playfulness, says Taha, as it's suspended from the mezzanine and doesn't touch the floor.
MAD is still working out how best to use this upper space, but in the meantime it intends to add a skylight for much-needed ventilation in the summer, and the upper floor's underside has been painted white, which gives their main floor a white ceiling.
The mezzanine itself was a prerequisite of the freeholder's bank loan, according to Taha: the loan was based on a certain square footage, which meant some extra floor space was needed. But it's been designed to be as simple as possible and hence removable if tenants' needs change.
The MAD people have sourced a few pieces for the space themselves, such as the glass pendant light over the reception area and the retro circular glass-topped coffee table.
The upshot is a really stunning office space with a mix of bespoke and vintage pieces in a building that – thanks to all that plasterboard – really was a hidden gem.