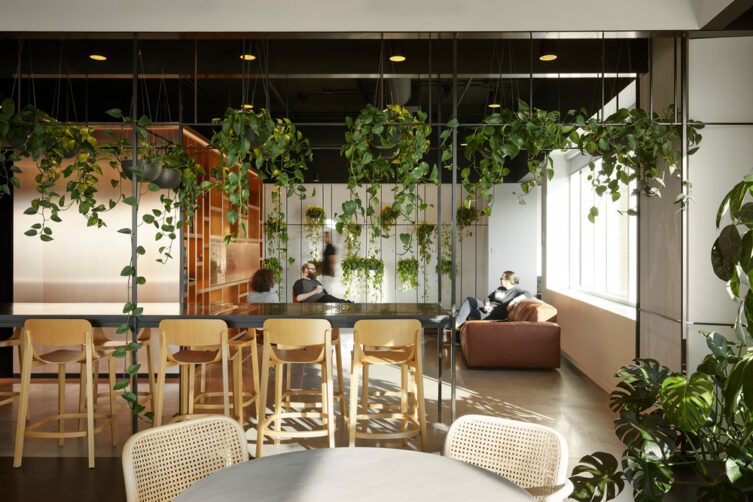 2K Games craved the warmth and sophisticated akin to boutique hotels for their new Montreal office with high end materials that created comfort
Years ago, when he was a university student embarking on a design career, Joan Renaud, partner at the Montreal atelier ACDF Architecture, spent much time surveying the city's buildings. One of them, in the Westmount neighbourhood, was, at the time, home to a data centre for a credit card company, and "it was like a bunker, with all concrete walls and no openings to the outside," Renaud recalls.
Since then, the structure has been significantly renovated, and one of its highlights is the fifth floor, where Renaud and his team have created the transporting Canadian outpost of California video game publisher 2K Games.
Although it had previously designed notable offices for the likes of software provider Lightspeed, it was ACDF's imprint on the hospitality realm, not technology, that captivated 2K Games. For Hôtel Monville in downtown Montreal, ACDF showcased such elements as a triple-height lobby, oversized columns, and a monochromatic palette, embodying the warmth yet minimalism that 2K Games craved for its Cloud Chamber studio.
 "They didn't want a basement or warehouse, but somewhere that felt as good as working in a hotel lobby," explains Renaud. "They wanted high-end materials that bring comfort."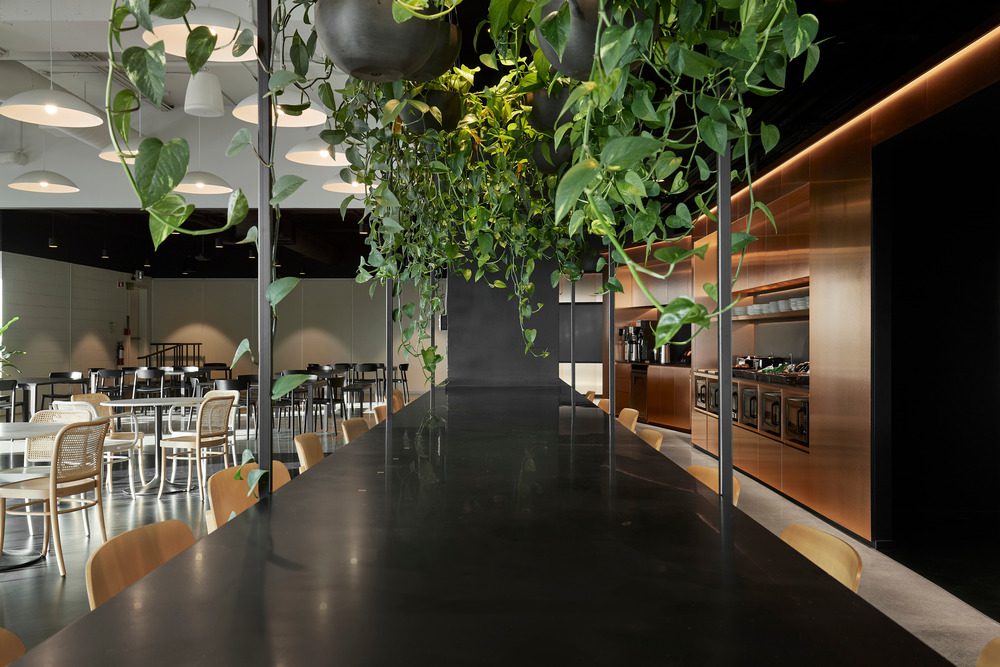 Across the 30,000-square-foot open-plan space, ACDF embraced an inviting, reflective, and unifying palette that would have just as much impact in a stylish boutique hotel. Expanses of tinted glass, copper panels, and wood veneers are buoyed by light oak cabinetry, concrete flooring, and industrial-style exposed ductwork,
Throughout, there is an interplay of dark and light, a mix of moody, muted areas where developers can burrow into their projects underneath restful swathes of black paint, and contrastingly bright ones dominated by white ceilings that foster connection and collaboration.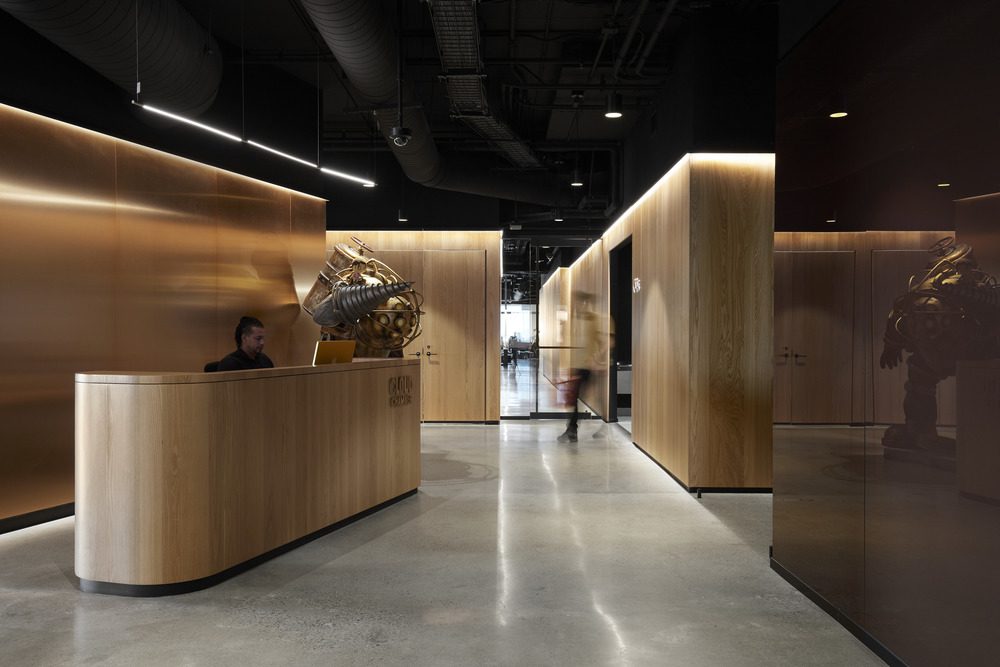 Instead of erecting new walls, ACDF took advantage of the nooks between existing structures to encourage spontaneous interaction. Each 2K team is demarcated into zones, with workspaces arranged as intimate clusters that are enlivened by bountiful "gardens" of hanging plants that encourage conversation breaks.
Replete with Zen wood decking and diaphanous curtains that adapt to differing privacy needs, they capitalise upon the windows that distinctively pop out from the façade.
These lush oases, as Renaud describes them, will continue to flourish over time, adding an unconventionally tranquil, organic layer to an "opaque envelope," he says. "The vibe changes as you pass through, from something gentle and silent to these pockets where it seems like you are walking outdoors."
Productivity, adds Renaud, cannot be the sole focus of employers who wish for colleagues to return to traditional pre-pandemic set-ups: "If you want people to come back to the office, you need to provide flexibility, security—and a beautiful space."
Images by Maxime Brouillet
Enjoy this article?  Read more: The Biosquare is a dynamic hub that draws on the creative energy of downtown Montreal