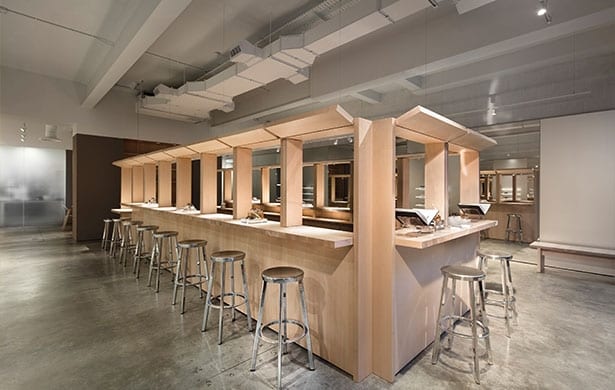 |||
Located on London's most fashionable street according to multiple style bibles, KITE opticians' east London outpost is taking buying spectacles out of the cold, clinical space and into something warmer and more contemporary, with an inject of high design by Asif Khan.
It was a reaction to the fact that "the eyewear industry is stuck in a timewarp. It's time to change that," explains KITE co-founder Adarsh Radia. The entrepreneur and his brother Amar had already disrupted the Indian restaurant concept, adding a dash of design-led cool while they were at it with the launch of Dishoom (the Shoreditch site is a minute's walk away from Redchurch Street).
Soothing wood and flattering light helps find the perfect frame
Forget your stark white interior, here there is soothing wood aplenty and – shock horror – flattering lighting to make buying glasses in the 'Eyebar' feel less like an essential purchase to save bumping in to a lamp post and much more like a fashion choice. "The space is like buying jewellery, not buying glasses," says Asad Hamir, a long term friend and business partner of the Radia brothers who together make up an entrepreneurial trio behind the brand. Of their choice of designer Hamir, who comes from a family of optometrists, adds: "Asif Khan has this ability to connect his vision with the brand."
Although Khan has his wow projects – the Beatbox pavilion designed by Pernilla Ohrstedt for Coca Cola that allowed members of the public to 'play' the pavilion like a musical instrument in the Olympic Park during the 2012 Games, or his Forests installation of places to work and contemplate for Mini Living during last year's London Design Festival, behind the glossy brand mantra is a thoughtfulness of approach. That was evident in the playground for Chisenhale primary school in Bow, which OnOffice reported on in 2016 that was functional, safe and fun. While there aren't any kids' slides in KITE – I'm sure the buoyant staff would be delighted if there were – it has many of the same qualities.
There are magnetic shelves, so displays can easily be rearranged and generously spaced, also assuaging the guilt of speculative visitors who might otherwise try and stuff more tightly packed rows of specs back where they came from as inconspicuously as possible. The service dovetails as neatly as the many wooden joints in the 2,000sq ft space. Even though there's no escaping the array of machines to calculate one's myopic failings, at least one of them, the optician excitedly tells me, is space-age grade accuracy, taking 1,500 measurements with one robotic purr, so one feels more astronaut than speccy git.
Signature drinks supplied by Bompas & Parr at the Eyebar
Customers wait at a large wooden table where they can browse through expensively produced look books before their eye examination. From there the short or long of sight customers move to a stool and have a style consultation in their own personal booth, with movable dividers for privacy to pick their shortlist from a tray of frames – in keeping with the jeweller's theme. Khan also took inspiration from ramen bars rather than high street eyewear retailers for how these interactions take place.
And this being Shoreditch, drinks are by the hippest food and drink brand on the block, Bompas and Parr. The interior plus the emphasis on staff genuinely helping the customer find the right pair of glasses based on their style, face shape and personality, rather than customers literally blindly trying on a few pairs on and hoping for the best must make this a much more productive (and profitable) workplace. And flattening the price point (no more overdraft-busting cost for prescriptions) helps with making the customer feel a bit more relaxed too. As well as an opticians, its founders hope the KITE Eyebar can host exhibitions, workshops and cultural events too.
Amar Radia adds finally, "There's a massive opportunity to see things differently and that's what we're doing with KITE. We believe that by fusing the best in design, engineering and optics with a truly inspiring approach to retail , we can make a hugely positive impact."
Customers are free to browse before their eye examination
East London's KITE is challenging the eyewear industry by turning its workplace into a modern spectacle