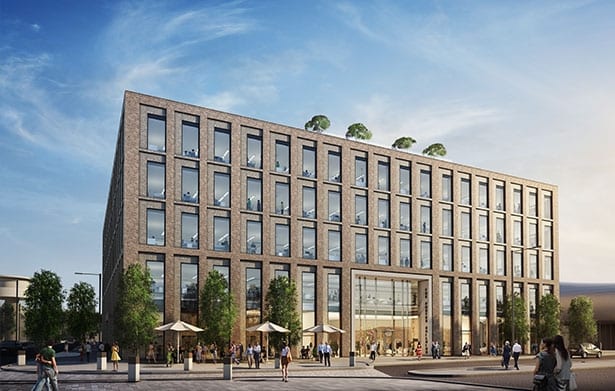 |||
Although we might like to picture ourselves as sun-kissed outdoor types frolicking in nature, the reality is that as a species we spend 90% of our lives indoors. This means that the built environment – especially the office, given we tend to spend more waking time there than in our homes – has a huge impact on our health and happiness. But with a recent study by Peldon Rose finding that 42% of UK employees feel that their current office environment has a negative impact on their happiness, there is a huge way to go in terms of making offices enjoyable spaces to work in. But wellness – largely split into physical health, mental health and social health – is not just for the benefit of the employee. A recent study by CBRE found that wellness initiatives in buildings can improve employee performance by up to 45%. Healthy staff also means healthy profits.
For architects and designers, the business imperative to embrace wellness is mounting too. In the UK the race is on to be the first building awarded with WELL certification, an international building standard launched in 2014 that covers the design and operations of buildings and how they impact on human behaviours related to health and wellbeing. The standard features guidelines on air and water quality, the provision of healthy nourishment, lighting type and quality, how to integrate stairwells and other elements to improve fitness, noise levels and thermal considerations. Landid and Brockton's The Porter Building, a 11,094sq m office development that's located directly opposite the new Elizabeth Line station in Slough, looks set to be one of the first to achieve WELL, having completed construction in September and due to receive accreditation some time in November.
"There's absolutely no question that there's a war for talent in this country and others like it," explains Landid director Chris Hiatt, on the business sense of WELL, both for now and in terms of futureproofing. "Millennials especially are very certain that they want to be in an environment that they find creative, engaging and fun, and that generation is far more aware of being well. We've got evidence already that [WELL-certified] buildings are trading at a higher level and all the major organisations seem to have wellness as an agenda item."
Natural light and roof gardens at The Porter Building
Fitted with a five-storey atrium that threads light and biophilic greenery through the heart of the floor plate, The Porter Building also features communal roof gardens, full-height glazing on all sides (meaning you're never more than 9m away from natural light), bicycle storage and showers, plus a floor height 10-15% loftier than a typical building of its type. But many of the features needed for its WELL certification are behind the scenes. As well as thoughtful stairwell integration, toxin-free materials and best practice heating and water filtration, the building boasts 100% fresh air displacement air conditioning. In fact 21/100 features in the WELL standard focus on air alone.
CBRE, which advised Landid and Brockton on WELL for this project, also led a comprehensive study into wellness and the office with the University of Twente in the Netherlands earlier this year. Its findings are numerous and fascinating: from the fact that those sat in window seats get 46 more minutes sleep a night than their colleagues and that having plants in the office ups your productivity by 10% to the idea that eating a green smoothie over a sticky bun can double your accuracy. CBRE sustainability consultant Hannah Scott says: "What's great about WELL is that it's completely performance based. As opposed to BREEAM or LEED, there aren't multiple versions of the standard for different parts of the property life cycle. They can't award certification unless it performs how it's designed to." Scott also notes that the uptake of WELL around the globe has been rapid. Having just signed up The Porter Building's first tenant – a tech company, which will rent the entire first floor – Hiatt has also noted its popularity. "To do a deal ahead of practical completion is pretty rare," he says. "We think that speaks volumes about the quality of the building and what we're offering."
But crafting an environment that brings employees better health is not just about core and shell, or even office design. It hinges on changing how employees use environments. On moving its head office from the Strand to Victoria in March this year, property company Landsec improved its score in the Leesman Index, a global measure of productivity (and also employee satisfaction) in the workplace, from 56.6/100 to a staggering 81.7 – the highest jump Leesman had ever seen. This result, suggests Landsec workplace director Carissa Kilgour, was down to Landsec's commitment to wellbeing when designing the new office space. As well as integrating circadian lighting into the deepest part of the floor plate, Landsec developed an activity-based workspace model that allowed employees the autonomy to choose what environment suited them (and their work) best. For example, there are traditional desks, quiet areas for concentrated work, small spaces for casual conversation, feedback or mentoring, booths for sharing presentations with a team, and larger breakout spaces for internal and external co-creation projects.
Rocking chairs are for relaxation and work at Aecom's HQ
One of the most important things for making this new approach to mobile working successful was also implementing the technology to back it up. As well as a strong wifi network that is fast and reliable everywhere in the building, all staff have switched their desktop computers for lightweight Microsoft Surface Pros. "It allows people to be agile, mobile, to walk around the space," explains Kilgour. "We've also moved entirely to soft phones so you can take a call from anywhere." Screens throughout the building allow staff to throw their work and ideas on to a bigger surface. "People can get in each other's space – in a good way. It's creating closer collaboration across the company," she says.
Aecom's staircases offer social spaces connecting floors
Collaboration was also a key consideration for Aecom, when it moved into its new HQ in Aldgate Tower in London. Designed by its in-house team, the strategy behind the new office design was based on objective research and the resulting data – something Aecom global practice leader – strategy+ Nicola Gillen says is essential for a wellness-inspired redesign. "We asked staff about what they did and their work processes," Gillen explains, "not about what they wanted – otherwise you get a wish list." Aecom also did a time utilisation study that measures what is happening in different spaces every hour on the hour for two weeks.The result – that employees spent most of their time collaborating – although not surprising highlighted how wrong a traditional desk-based setup would be for its staff. "Why would we bring 1,000 experts together to have them all sat on their own in rows," Gillen explains.
Based on its research Aecom sorted its employees into four work styles, from desk-orientated anchors (think PAs and payroll) right through to leaders, who spent most of their time in meetings or travelling. Around this it designed a neighbourhood system where each team has a mixed-use space featuring desks, collaboration spaces, project areas and quiet rooms, the number of which was calibrated to the team's needs.
Subscribe to OnOffice for the full feature
As UK developers race to build the first WELL-accredited building, we find out what wellbeing – whether mental, physical and social – looks like in the office