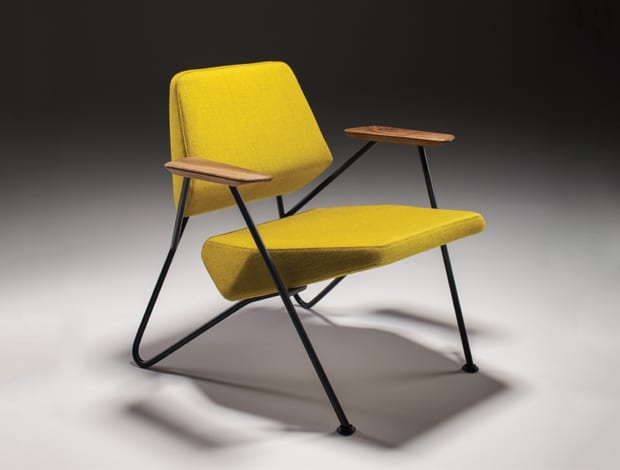 Polygon by Numen/For Use|Cassina's LC4 CP Chaise|Mario Milano's MM1|Nendo's Softer Than Steel for Desalto|The Pollock armchair|Joe Doucet's Sling Chair|Dualita by David/Nicolas|Galerie Kreo's Man Machine Chair by Konstantin Grcic|Lovell Easy Chair & Ottoman by Richard Neutra for VS|Eilleen Gray's Nonconformist Chair||
Reissued by the big manufacturers, and reinterpreted by new designers, modernism's legacy looms large
When the Bauhaus' modernist ideals infiltrated furniture design in the 1920s and 30s, its key purveyors – names such as Marcel Breuer and Le Corbusier – rejected the decoration of previous eras with such gusto they stripped away every detail that wasn't absolutely necessary. Instead, this minimal furniture celebrated industrial materials and process.
Today, a surge of contemporary furniture is showing more authentically modernist tendencies. Big brands like Knoll, Vitra and Cassina are reissuing classic designs from the era, and unmistakable references are being made to its style by smaller studios, albeit with a contemporary take.
In April, Italian brand Cassina focused its Milan events on iconic modernist designers Charlotte Perriand, Le Corbusier and Pierre Jeanneret, launching a limited edition version of the LC4 chaise longue (for the 2014 Louis Vuitton Icônes Collection) and the LC5 sofa. According to Barbara Lehmann, head of the company's historical archives, modernist works have almost become sacred cornerstones of design, and so are often referred back to in times of uncertainty.
LC4 CP CHAISE: This version of the LC4 was reissued in 2014 by Cassina in a limited edition of 1,000; it was first designed in 1928

"[Modernist designs] have inevitably become points of reference, especially during transition periods when there is fear of the unknown," she says. "For example, this current period is characterised by fast and important changes influenced by new technologies." Lehmann says the works were reintroduced because they have "universally recognisable values"; she also refers to more recently established designers Patrick Norguet and Jamie Hayon as having drawn inspiration from such classics.
"[They have] translated the dawn of modernity, when the concept of sobriety as a synonym of elegance began to spread, identifying distinctive elements to be developed in a contemporary context."
Meanwhile, two standout emerging designers are also channelling the clarity of modernism, with a more colourful, textural twist. Mario Milana, formerly a senior designer at Karim Rashid, launched his debut collection in Milan this year, a series of chairs formed of bold geometric shapes on a slim iron frame. His designs simultaneously draw from Bauhaus and Memphis, in form and colour respectively, but it's his motivations that are truly founded in modernism.
"[Louis] Sullivan's motto 'form follows function' underlines the fundamentals of my work," says Milana. "I tried to strip down the chair to its essential elements, achieving an almost abstract result." He professes that modernism represents the basics of design. "Their ideals laid a foundation for where all designers should start their process, even in 2014."
Likewise the Dualita chair collection by Beirut-based David/Nicolas (exhibited in Milan at Nilufar Gallery), is inspired by modernist ideals. "There is too much 'design' in the world," says the duo, in a statement to onoffice, "with the globalisation and the consumption society, but the true quality of design (Franco Albini, Finn Juhl, Carlo Scarpa) is in the details, and the honesty of design. The way you perceive materials, and feel them."
The chairs have a 30s-looking metal tubular structure with rich embellishments such as copper, and jewel-toned Alcantara upholstery, intended to be at once vintage and modern.
There is a paradox at work here. The original modernists didn't draw inspiration from historical movements – they applied new technology to materials and processes. One could argue that a contemporary modernist might 3D-print a chair rather than hand-craft it in tubular metal and leather. In that respect, designs may visually refer to the era, but implement its ideals to things like sustainability, cost-saving, multi-functionalism, and making objects more slimline for compact living and working spaces. Milana and David/Nicolas could better be described as nostalgists.
"Classic modernism is ultimately about reflecting the time we live in," says Christopher Wilk, keeper of furniture, textiles and fashion at the V&A, and editor of the accompanying book to the gallery's exhibition Modernism: Designing a New World. Wilk explains that modernist furniture was originally a by-product of the radical new architecture emerging at that time, as the old furniture just didn't go – "They had to design furniture that reflected the era; people used terms like 'the spirit of the age.'"
What we have today, he says, is a revival of modernism – something that has come in and out of popularity since the 30s – observable in the work of Jasper Morrison, Barber&Osgerby and any designer avoiding the overtly decorative or organic.
Wilk picks out Japanese studio Nendo as having translated modernism for the 21st century. "They push the boundaries of technology, and while it's certainly not just form following function, there's an aesthetic that embraces modernist principles," he says.
"The difference is that [Nendo designer Oki Sato] is more consciously interested in the poetics of what they do, in a way that Mies van der Rohe or Breuer would not be."
A swell in recognition for modernist designers, and studios that create minimal, architectural, structural forms, comes after a mania for crafted wood and mid-century-inspired furniture. Though that shows no signs of waning, the market seems to be reacting by reaching further back, to when, as Wilk puts it, "furniture was part of the architectural whole."
German furniture firm VS recently reissued a series of designs by modernist architect and designer Richard Neutra. Axel Haberer from VS believes that furniture by architects tend to remain valid for decades, immovable forces in a rapidly changing market.
"Clients are highly interested in classic furniture, perhaps more than ever," he says. "It might be the speed of change by technology around us and the thousands of new furniture designs every year. We launched the products because we saw that clients were looking for sustainability in the sense of relevance and longevity."
Similarly, Aram Store dedicates substantial square footage to the exclusive designs of a modernist icon, Eileen Gray, because of its timeless appeal.
"If you look at [Gray's] designs, none of them are dateable," says the store and gallery founder, Zeev Aram. "We happen to know [the products] were designed in the late 20s and early 30s, but when you look at it, it could've been designed three months ago. That's her genius." Modernism and Bauhaus, he says, have become shorthand for something simple and functional, because its impact was so potent it is still palpable now.
In a flooded market, it seems people long for authenticity, which is often validated purely by time. Seen as the founding father of all contemporary design, to hark back to modernism is to go back to a time when design was simple, honest and pure, and remains relevant to this day. "What modernist designers did," says Wilk, "was so powerful and influential, it's very difficult to shake off."