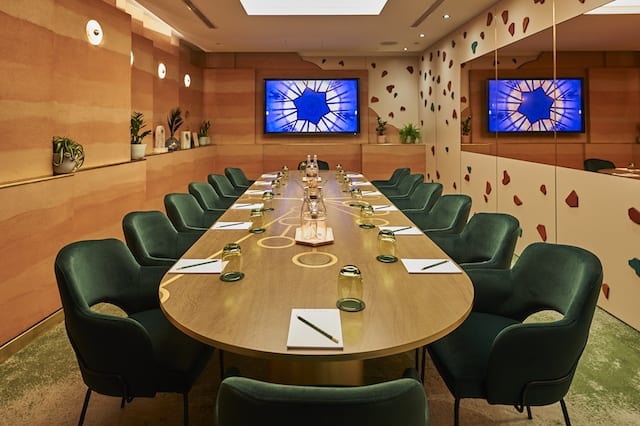 |||
The Hilton London Bankside hotel has just opened a new meeting room that aims to be the world's best, no less. And we think it's got a pretty decent claim.
The Agora (the name comes from the ancient Greek for "gathering place") was designed for the hotel by Bompas & Parr to provide a truly stimulating ideas space far above and beyond the usual chairs-and-table-and-flipchart ensemble.
Features include an emergency creative button that jets out cool air to get everyone inspired (or just to wake them up), a Crux of Creativity table complete with ley lines pointing out towards arty Bankside institutions Tate Modern, the Globe, the British Film Institute and the Royal Festival Hall, and a specially designed mood lighting function that bathes the room in a soothing blue haze for a five-minute mind break.
Getting creative in The Agora
The multi-sensory specialists have introduced elements proven to increase productivity and creative thinking, including scented air (lemon oil is very good for stimulating signals in the brain, apparently) and a sculptural wall providing bespoke mood boards, works by local artist Will Yates Johnson and a space where you can even have a good old scribble yourself.
There's all the usual interactive screen technology gizmos too, but the hot beverage selection is a bit special, including bee pollen tea, kelp and brahmi herb infusions.
One bud or two?
The Hilton are hoping the meeting room will slot right into Bankside's creative hub, providing a valuable resource for brainstorming sessions.
Harry Parr, co-founder of Bompas & Parr, says the agency were mainly influenced by their own surrounds: "Our chaotic studio is full of unusual and interesting sight, sounds and smells, so we already had a sense of the psychological value of the role the environment that surrounds you plays in idea generation."
The Agora is now available for bookings. For more info, contact [email protected]
The Hilton London Bankside hotel has just opened a new meeting room that aims to be the world's best, no less. And it might just have a pretty decent claim