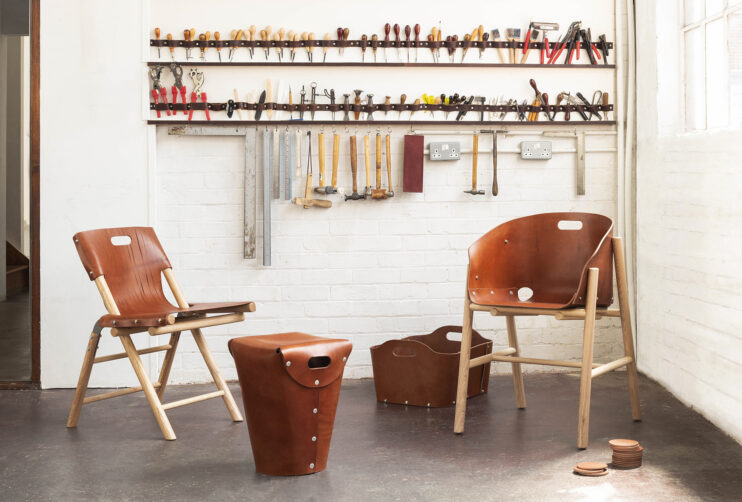 Inside London's renowned leathercraft studio, timeless design meets meticulous craftsmanship for contemporary offices, furniture and accessories
Leather, points out Bill Amberg, founder of his eponymous London studio, "is a sympathetic material to work with."  Soft, pliable, and sustainable, it wears patina well, and in the skilled hands of Amberg and his consummate team of craftspeople, exudes a certain graciousness.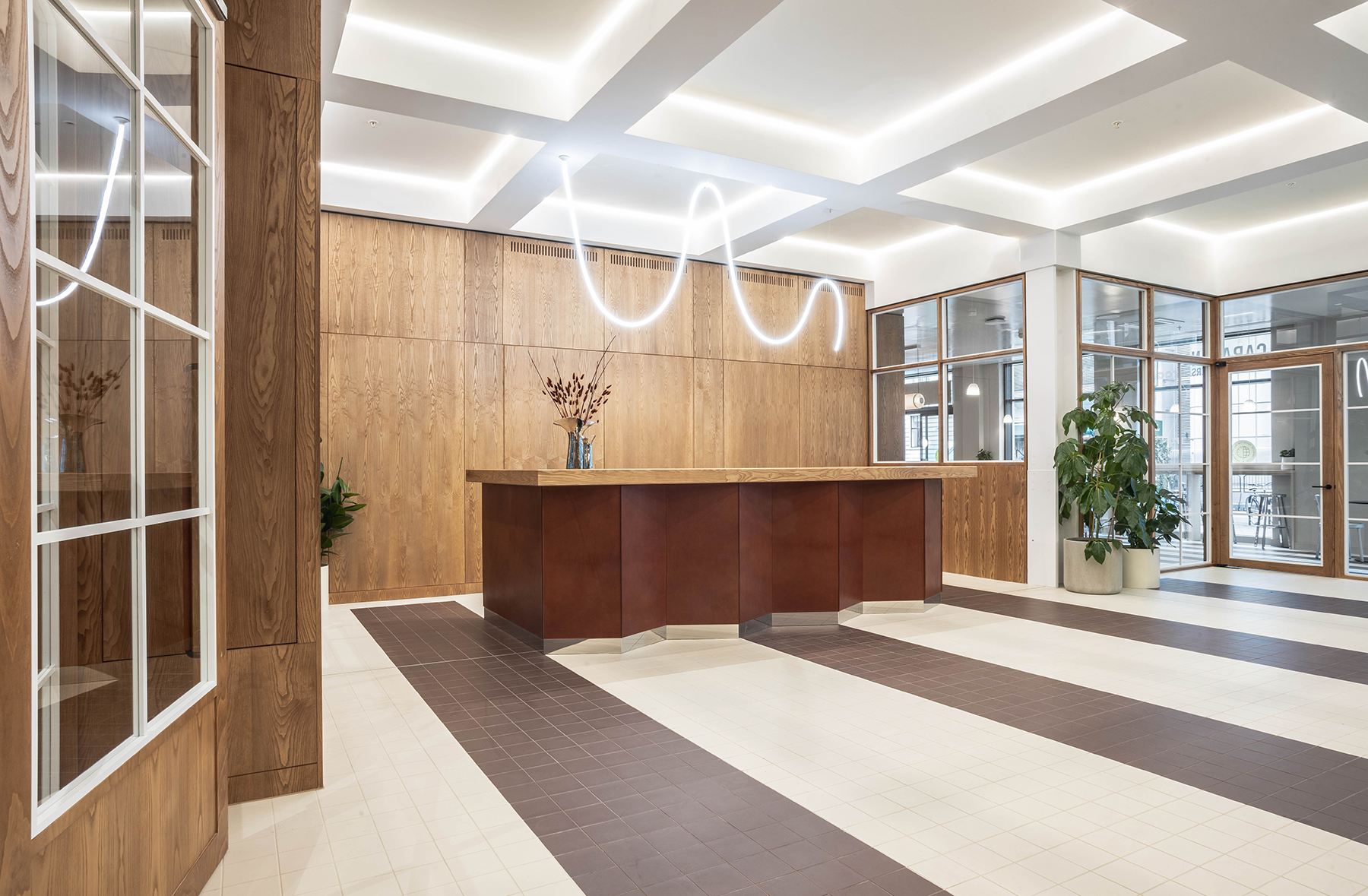 To see these poetic leather creations—whether a wrapped aluminium table for Heatherwick Studio, a digitally printed Bethan Gray chair, or a cleverly partitioned case that eases the everyday routines of Aberlour Scotch whisky's roving ambassadors—brought to life, Amberg invites architects and designers (by appointment only) into his atelier in the industrial Park Royal district, where another collaborator, Yinka Ilori, is a neighbour.
For Amberg, the gritty backdrop is part of the allure. "It's what makes it interesting," he says. "Park Royal is like old London, and we end up with a much more varied, creative mix of people. We always try to get visitors into the studio and witness the vibe and see how we how work."
Bespoke leather pieces from Bill Amberg Studio naturally elevate London offices, too. Derwent London, for example, is a longstanding client. Consider the developer's 80 Charlotte Street, a mixed-use project in Fitzrovia designed by Make Architects, for which the studio dreamed up a massive, cocooning banquette in the reception area that is fashioned out of vegetable-tanned shoulders and showcases restrained tufting details.
There is also the balustrade vertically woven in a triangular motif at Harella House, Piercy&Company's factory-turned-office in Clerkenwell, as well as the rippled front desk greeting guests at The Office Group's co-working outpost on Euston Road from Universal Design Studio.
In the commodious lobby of 160 Aldersgate, home to the law office of DLA Piper, there was no furniture when Amberg first laid eyes on it, "but it did have an interesting collection of art," he recalls.
These works, including Ewan David Eason's copper leaf world map, an expansive Tomo Campbell painting, and Adam Buick's moon jars, "inspired the shape and idea of what was possible," he adds. The result? Padded surfaces on a trifecta of benches, a reception desk, and a versatile console table, were stitched "all the way around the perimeters and sit on unusual bronze plinths."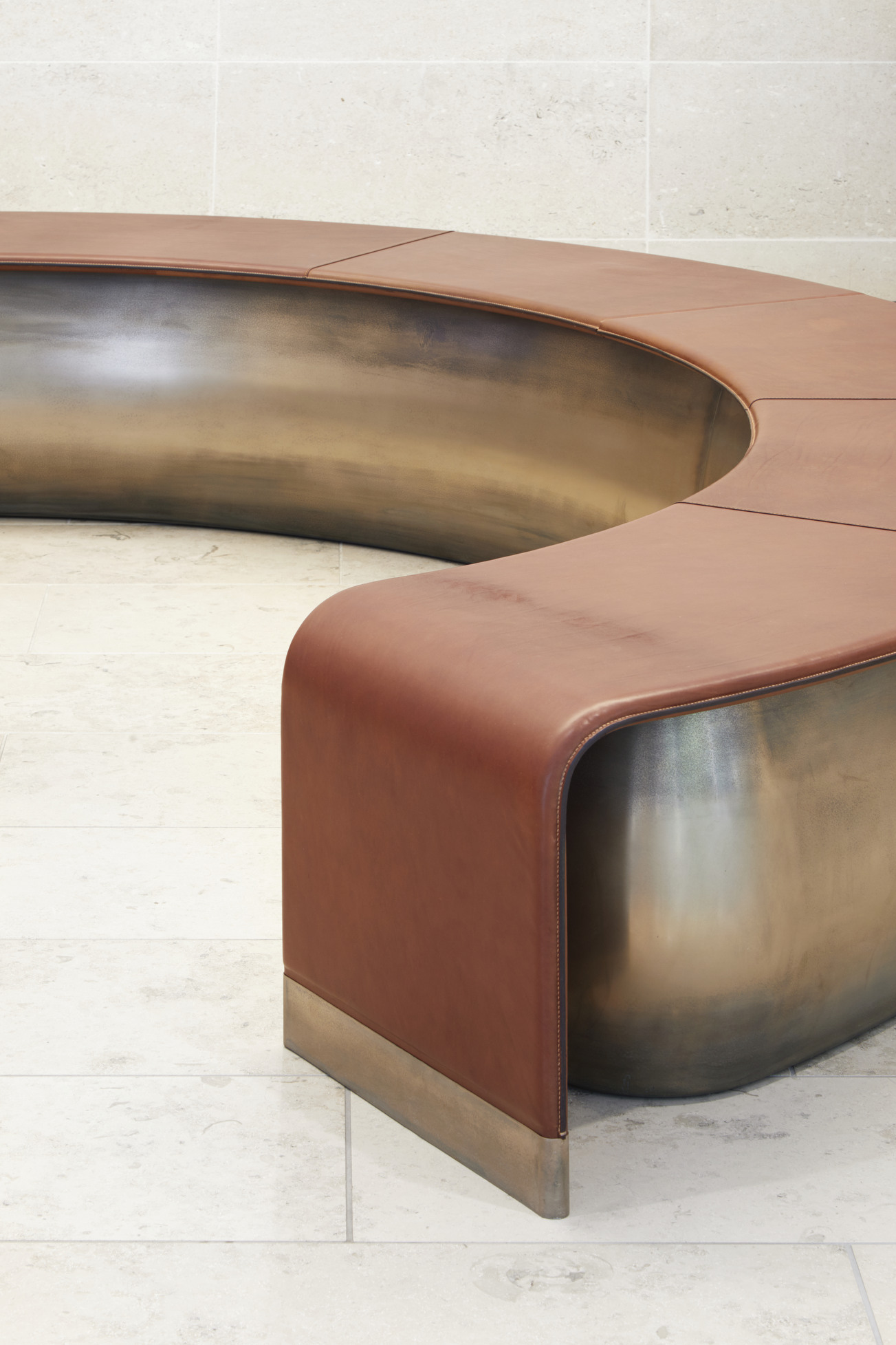 At nearby 22 Bishopsgate, a 62-storey building designed by PLP Architecture for AXA IM – Real Assets and Lipton Rogers Developments, Amberg was "asked to warm up the lobby because the existing designs were cold and needed some heart," he remembers. Bill Amberg Studio's solution was to both line the walls with leather panels and mould them into undulating ribbons that rise to and travel across the ceiling, descending to the other side, while light and air permeate through a Barrisol background.
"The foam that would have been used traditionally as a padding behind the leather wouldn't have passed regulations, so we developed an extremely thick leather that has a sensual feel and creates a padded feeling to the walls."
Offices were not part of Amberg's initial plans when he ventured into the world of leathermaking in his native Northampton, England. His mother was an architect who worked for Alvar Aalto, and his father was an engineer in the lift and escalator business, "so as a boy, I played in my father and grandfathers' workshops and my mother was always designing," he explains.
"As a consequence, I was encouraged to make stuff myself. Northampton was a shoemaking town and leather was freely available. I got hooked on it."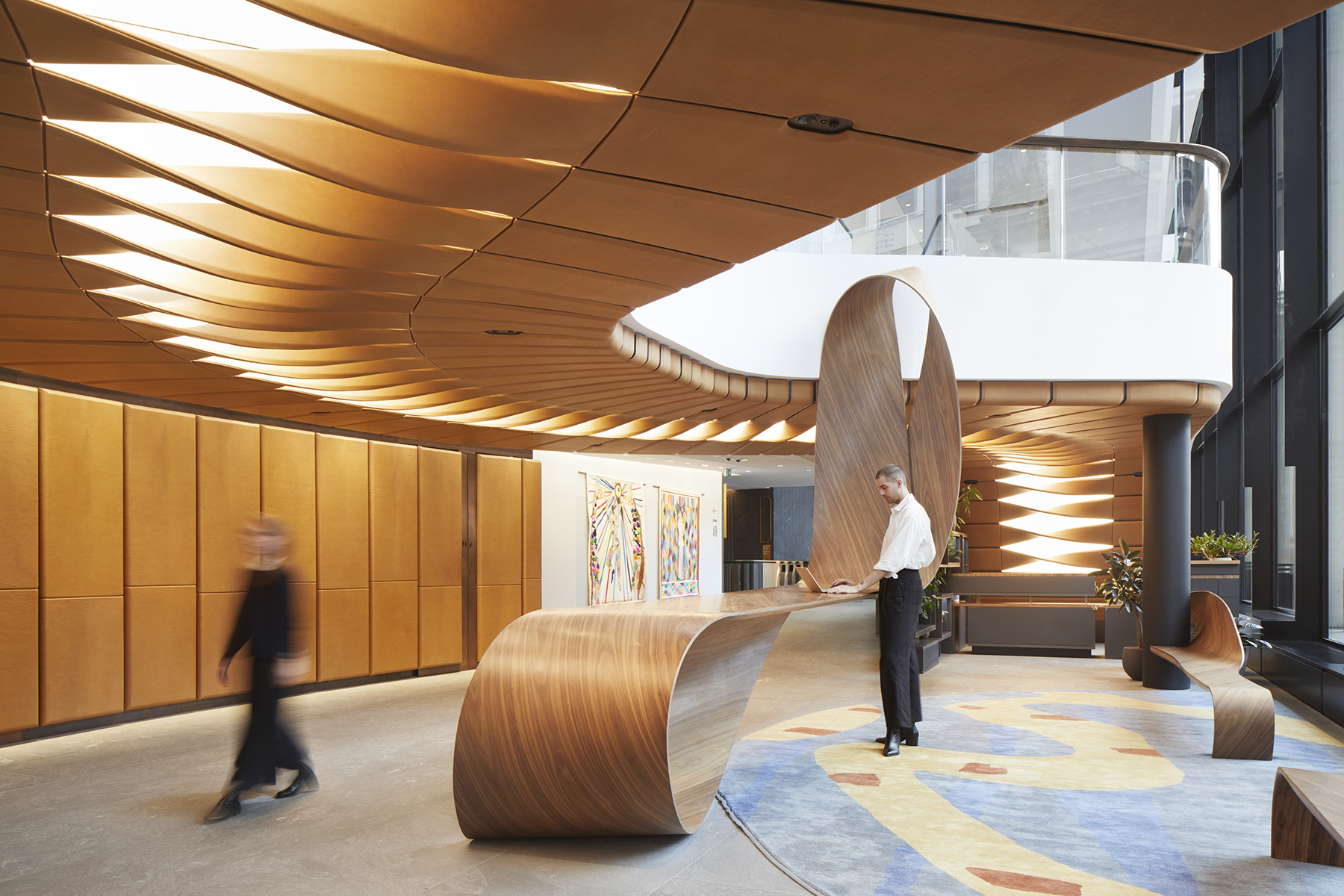 Over the decades, Amberg has found a certain freedom in his workplace experiments, heightened even more by the recent shifts in this realm. Bill Amberg Studio is hatching a new office product with Piercy&Company, for one, and will soon introduce a leather and black ash desk and chair set, an evolution from the studio's recent Knepp collection, starring textured water buffalo hide.  
"It's scaled for the home rather than the office and doesn't feel too corporate. No one wants a high-tech office chair in their home," says Amberg.
As for today's preponderance of lifestyle-driven lobbies, Amberg is appreciative of the flexibility, but believes they shouldn't stray too far from their purpose.
Just as the reception should always be striking "because it's the first thing people will see when they walk in," he elaborates, "seating needs to have visual impact, but it can't be too comfortable so that it becomes a coffee shop."
Images courtesy of Bill Amberg Studio & David Cleveland
Enjoyed this article?  Read more: Creativity meets craftsmanship in this curated collection by Malte Gormsen and Norm Architects