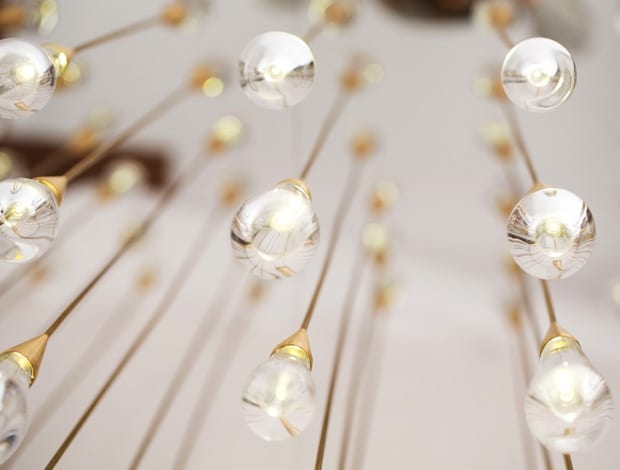 The teardrops are each hand blown|Each teardrop is a different size|A hand-blown crystal reflects the light to create puddles on the floor below|DH Liberty's Coca-Cola bottle installation for Analog Folk|Light pendants for Analog Folk made from jam jars and found objects||
Design Haus Liberty is making a name for itself as a specialist in sculptural lighting installations. The London-based interiors agency's most recently completed project, for a private property in Tribeca, New York, was entitled The Pour. Inspired by rain, it emulates the way each droplet magnifies light and creates ripples in puddles in a unique way.
The team collaborated with British glass blowers and metal engineers to create crystal teardrops. Each one is hand blown by artisans – no two are the same – and then engineered to house a hand-blown crystal that reflects the light to create puddles on the floor below.
"The name The Pour derives from the distinctive shape that the chandelier forms – an exaggeration of the dramatic motion of water pouring out of a carafe," says Dara Huang, founder of DH Liberty.
"Designed by forming a grid mimicking how puddles ripple outward in concentric circles, each teardrop is hung on brass pipes of varying lengths [and] placed strategically on the grid… the mirrored base reflects the teardrops endlessly into the sky above when lit."
In a very different project, DH Liberty created a range of glass installations and lighting for digital agency Analog Folk. Due to budget constraints, the firm needed to be creative and source objects from outside London. "We handmade a lot of things in my office and physically installed them ourselves," says Huang.
These included a twisting sculptural form created by Coca-Cola bottles individually suspended in front of a large window so they catch the light. Lighting solutions for the office included jam jars transformed into pendant lights with a mix of objet trouvé, such as a rusty old key and brass hand, contained within them.
"We are inspired by the client and the space, and [we like to] conceptualise something that moves and drives the space – whether it is a house or an office," says Huang. "Analog Folk was scripted off of a school of fish swimming in the same direction because [the staff there] are very team oriented. The Pour chandelier is all falling towards one end ¬– peace and serenity for a client with a stressful job in NYC."