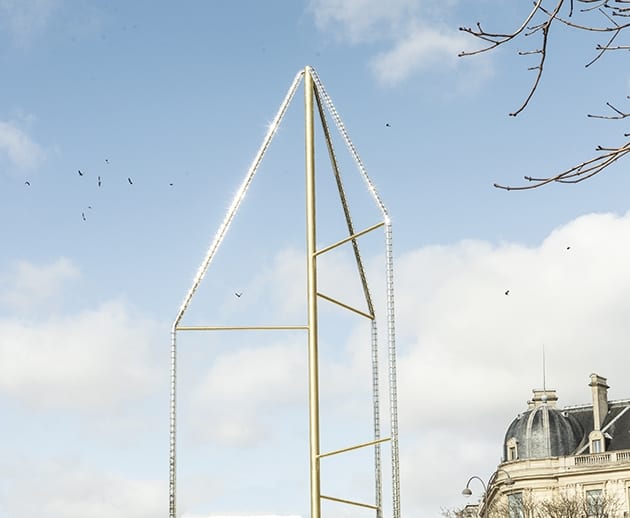 |||
With around 300 illuminated sites across the city and as the birthplace of the Age of Enlightenment, Paris has long been recognised as the City of Lights.
This month, its dazzling skyline will soon feature new, shining additions in the form of six fountains, designed by renowned design duo brothers Ronan and Erwan Bouroullec in collaboration with Swarovski.
Originally commissioned by the Fonds Pour Paris, the Paris Foundation, for its first project four years ago in an effort to revitalise the city's heritage, the Bouroullecs were tasked with creating six contemporary fountains to light up the Champs-Elysées.
Sitting on newly renovated basins originally from the 19th century, each fountain will feature a bronze central mast designed to support 258 custom-made Swarovski crystal elements, able to withstand harsh weather conditions and environmental changes thanks to their unique composition.
A symbol of past and present, the crystals were chosen for their similar quality to glass, the latter discovered in older fountains in the area. It is the crystals' distinctive LED element, however, which truly roots the installation in the 21st century – the creation of the illuminated crystals was a technically complex process that required a new patent. By incorporating 60 meters of LED strips, the fountains can generate a total light output of 50,000 lumens (517 watts), making them not only striking to look at as the crystals appear to be floating above the surface, but also surprisingly energy efficient and sustainable as a whole.
To add to the already beautiful geometry, the sets gently rotate, producing a waterfall and various lighting moods depending on the time of day and night or season. With circular motions and exquisite plays of light, the fountains alter our experience and perception with each turn. Like a clock, they mirror the passage of time, promising to keep Paris in the spotlight by preserving its rich history.
All photos courtesy of Studio Bouroullec. The fountains will be officially unveiled on March 21
The Bouroullec brothers created a new design that references Paris' heritage