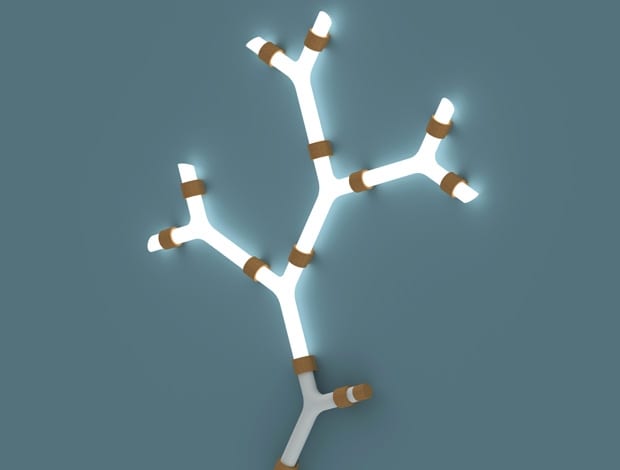 Peter Larkam's Branch lighting system|Tyrone Stoddart's Boxed project|David Marsden's Dobbie chair|Bungy sofa designed by Leala Dymond|Table for Two designed by Daniel Liss||
This year's New Designers show of graduate talent was packed to the rafters with fresh ideas, some remarkably professionally minded, others with more conceptual intentions. We'll be keeping our eyes on these five designers in particular.
Sheffield Hallam graduate Peter Larkam's wall-mounted Branch lighting system is modular, so the user can configure it to 'grow' organically across any wall, and adapt it over time. The system comprises plastic tubes containing LED strips, connected and attached to the wall via sections of cork.
National School of Furniture graduate David Marsden is definitely one to watch. Not only was his comprehensive product range immaculately presented, but his PR material would put many established companies to shame. He designed the Dobbie chair for the boardroom of hypothetical client BrandOpus, basing its aesthetic on the company's existing 1960s-style furniture. It is made from bent plywood and Formica.
Tyrone Stoddart from Edinburgh Napier University explored the idea of the nomad worker for his Boxed project. A wooden briefcase containing a series of connecting poles, two wooden seat planks and a lamp head can be assembled to create a desk for one person or a low meeting table for two, using the briefcase as the tabletop.
The Bungy sofa by Bucks New University graduate Leala Dymond is wrapped in elasticated cord that holds items such as cushions, magazines and remote controls in place. Dymond's original idea, teamed with a lovely materials palette of walnut, denim blue fabric and bright yellow cord, won her the 100% Design Award, which onoffice helped to judge.
Table for Two is a versatile item of furniture by Edinburgh Napier graduate Daniel Liss. The six-seater dining table turns into a desk for two people; using a simple mechanism, a middle section of the table slides up to make a central divider, which has a leather pouch on either side to hold stationery. It also has two storage drawers and a cable slot.