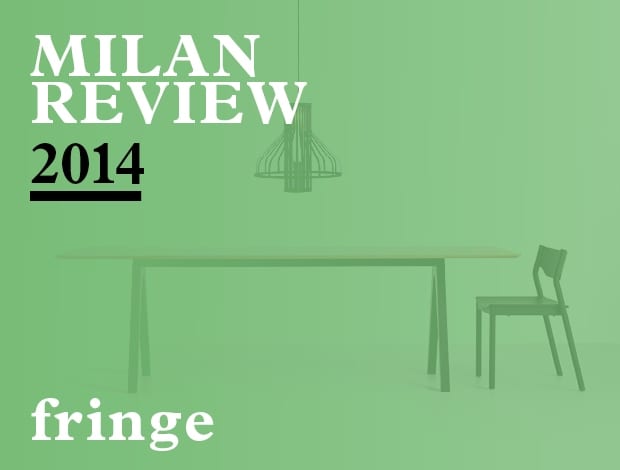 ||
Hundreds of other talented designers showcased their products away from the main venue. Many miles were walked by onoffice to gather the best bits for you.
Following a survey finding that 85% of Swedes believe their physical work environment affects their creativity, Kinnarps paired up with designer Luca Nichetto to show how offices that encourage innovation and creativity might look. The resulting exhibition of a prototype workplace featured a variety of colours and textures, islands of greenery and areas for play, concentration, meetings, relaxation and conversation. Nichetto believes that a growing "discomfort" with open-plan offices should influence the creation of different levels, rooms and paths to encourage cross-pollination of ideas between "micro communities".
French designer Jean-Marie Massaud's Downtown armchair bears the powerful profile of a classic executive chair. The three models – the President, Executive and Managerial – can be upholstered in micro-perforated breathable leather and feature a five-position backrest and five-spoke aluminium base with swivel castors. The design process took one year, which Massaud describes as "super-fast, because we used some existing engineered elements by Poltrona Frau. With the right technical foundation in place all we had to do was give a perfume to something that was highly efficient." The firm also launched the Jobs desk system, designed by Rodolfo Dordoni. A brushed-steel frame with lead-painted finish, along with oak veneer drawer units and work surfaces, give the range an executive feel. The desks – available in Easy, Executive and President versions – come with optional add-ons that can create mini meeting areas.
Seen together, the Button table range by BarberOsgerby for B&B Italia resembles a cluster of mushrooms. The design has curved lines throughout, from its circular or oval top and chunky cylindrical leg to its subtle rounded base. The slim tabletop comes in textured marble in black or light grey, while the base is a contrasting colour in matt or lacquer, in black, white, dark blue or red. The duo also launched new sizes of its successful Tobi-Ishi table for the Italian brand.
Danish brand Hay returned to Milan for the first time since 2008, setting up shop, literally, in a clean white exhibition space off Via Ciovassino in Brera. The pop-up mini market allowed visitors to buy textiles and accessories from Hay and the brand's new spin-off project with Sebastian Wrong, Wrong for Hay. The rest of the two-storey space was used to display new work from Stefan Diez, Nathalie Du Pasquier and Bernhard Willhelm as well as established pieces.
British furniture brand Modus introduced the Lily Chair (pictured) by Michael Sodeau, a compact lounge chair with a moulded shell featuring a high back and armrests. A variety of base options includes a timber, rod or swivel base, and the option to change both its interior and exterior fabrics further increases the design's flexibility. Modus also presented the Move Chair by Jonathan Prestwich: a hybrid product made with short-term working in mind, it is intended to blend the comfort levels of a chair made for relaxation with the functionality of a task chair. Move has a backrest that flexes to suit different shapes, and to allow stretching and reaching.
New Zealand design brand Resident presented lighting and furniture collection The Evidence at this year's Edit. Cameron Foggo's Scholar Table, made from a solid oak base and veneer top, joined Jamie McLellan's Fibre Light Funnel pendant (which is made entirely from carbon fibre) and Simon James' solid oak Tangerine high stool and Pick Up Sticks oak-framed armchair with removable seat.
Stands and showrooms in Milan seem to get more outlandish and artistic every year, and for 2014, Cassina came up trumps on both counts. A crowd-grabbing installation at the Italian brand's Brera showroom (above) showed furniture by the late modernist pioneer Charlotte Perriand and fashion by Louis Vuitton, in a dark room dotted with dramatic and colourful LED-lit gazebos – very high-fashion. Its stand at the Salone, Floating Forest, designed by Japanese architect Sou Fujimoto, was more ethereal, with mirrored cubes and foliage hung from the ceiling above the new furniture. The cubes reflected images of the furniture and the visitors, creating an effect that was slightly disconcerting, but totally immersive.
---
Among the products showcased on the French stand at Superstudio Più this year was the Feuilleté armchair designed by Lili Gayman and Julie Arrivé. A handy gap between the frame and the seat leaves room to stuff a magazine or newspaper. Also on display at France Design's second Milan outing was a range of school furniture and equipment – including a hexagonal tablet – from Eliumstudio.
e15's lighting range features five new collections, including a dramatic copper iteration of the North pendant light (above), designed by Hamburg-based design duo Eva Marguerre and Marcel Besau. German designer Michael Raasch contributed the slender Palo floor light (left), a powder-coated aluminium LED lamp with a visible cord, adjustable head and a marble foot in either white carrara or black marquina stone.
This range of furniture with integrated electronics was conceived by designers Claudio Larcher, Filippo Protasoni and Simone Simonelli with furniture brands Odone Marmi and Lilea Design. It includes Protasoni's Refill seating, which features wireless charging and storage trays, and Rochetto, a powered table (left).
---
TONONE
The bold, industrial-looking Bolt lamp range features signature wingnut fastenings to keep the head in position. The desk lamp version includes one with a clamp base and another with an articulated arm. Bolt was designed by Dutch designer Anton de Groof and his team at Tonone.