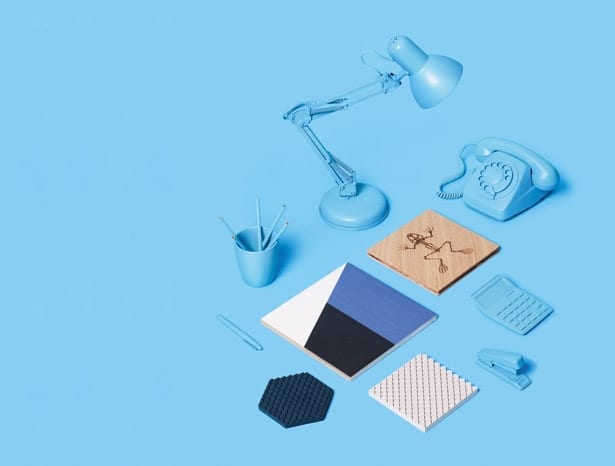 |||
Puzzle Game
British design studio Barber & Osgerby has turned their hands to a playful range of geometric patterned floor tiles for Mutina
Barber & Osgerby's Puzzle tiles for Mutina
The British duo Edward Barber and Jay Osgerby set up their eponymous studio over 20 years ago and in that time have been responsible for a diverse range of work from furniture and lighting to installations and limited edition pieces. One of Barber & Osgerby's most recent collaborations is with Mutina on a tile collection called Puzzle. Exclusively available from Domus, the tile showroom hopes it will be a great fit for most project environments, including workplaces. "It's a game with infinite outcomes," Barber and Osgerby say.
Puzzle was created by experimenting with simple geometric forms. By making a series of physical models, the two were able to research possible compositions and develop potential patterns on the tiles. The next step was adding in choices about colour and tone to bring the collection to fruition. Both plain and solid coloured tiles vary things up, creating a moment of calm to contrast with the energy of the abstract patterns.
During the design process the duo noticed that certain shapes created images that looked like an abstract map, which inspired the idea of using European islands as reference points for the colours of the collection. The eight chromatic families in the collection are therefore named after European islands. The neutral colours represent the isles of Faroe, Gotland, Aland, Anglesey and Skye, while the warmer, brighter shades take their cues from Mediterranean islands such as Crete, Milos and Murano.
There is a composition of six graphic patterns in three colours and a set of two symmetrical patterns in two colours called Edge with three variations in solid colours. In other words, no shortage of textural combinations. They say: "The geometric shapes become softer and more fluid as the puzzle grows, allowing patterns to ebb and flow. Objects emerge like maps, islands or clouds, with endless possible permutations, meaning that whenever Puzzle is used it will always be unique."
Designers Jay Osgerby and Edward Barber
Having worked with manufacturers from B&B Italia and Cappellini to Flos and Knoll, one of their best-known commissions is of course 2012's Olympic torch, where again materials were at the heart of the design. Eight thousand circles were made in the aluminium alloy, more commonly used in the aerospace and automotive industries, using cutting-edge laser technologies. The circles not only represented all of those who took part in the torch relay that year but let you see right to heart of the flame. The torch's materiality added to its usability, in that the whole thing weighed less than a kilo and, given the aluminium's robustness, could function in high altitude, sub-zero temperatures and high winds.
Aluminium, together with steel and composite materials, was also the material of choice for Forecast, Barber & Osgerby's contribution to last year's inaugural London Design Biennale. This 7.5 tonne structure, installed in the courtyard of Somerset House, consisted of a group of wind masts and rotating elements inspired by weather measuring instruments, with movement triggered as the wind blew.
More recently, Barber & Osgerby worked on a new edition of the B&B Italia Tobi-Ishi table on the occasion of the reopening of several areas of the Sir John Soane's Museum in London. The table was inspired by the simplicity and elegance of Japanese joinery and is constructed from three large pieces of European oak.
Touch Wood
Studio Job's Wood tile collection for Bisazza is a move into more accessible design
The Escalier design gives the effect of 3D cubes
Bisazza's Wood tiles from Studio Job were previewed at last year's London Design Festival before the full range was launched in October. The Antwerp and Amsterdam-based design duo's flooring accompanies Wood collections created by Kiki van Eijk, Edward van Vliet and Bisazza Design Studio for the Italian manufacturer's first venture into wooden products. Bisazza also introduced new Mosaic ranges from Alessandro Mendini, Ferruccio Laviani and Kiki van Eijk.
Studio Job founders Job Smeets and Nynke Tynagel, who first met at Design Academy Eindhoven, are best known for their rebellious and personal one-off pieces, interiors and installations. This tile collection showcases their playful, expressive approach, and it was important to them that the products were more more accessible than their earlier work.
Studio Job's tiles come in a range of colours and patterns, contrasting natural tones with bright colours and combining geometric-shaped elements to create a 3D effect. The mix of modern techniques and geometry makes for a timeless appeal and eccentric take on classic parquet. "We went back to history because you always see this pattern a lot in tile floors," says Tynagel. "I always loved the three-dimensional effect."
Job Smeets and Nynke Tynagel of Studio Job
The collection includes Cannage, Plissage, Bloc, Zig Zag, Escalier and Gingham – the latter featuring multicoloured checkerboard squares that can be laser-engraved with Studio Job's iconic animal skeletons. In this way, the collection expands on the duo's past work for Bisazza, which included tiles decorated with imagery inspired by the Industrial Revolution.
The skeletons have featured in tiles, wallpaper and furniture from the studio, and adding them to the floor creates an effective fossil-like effect."They are our identity, our bread and butter. We have a huge library of icons and we wanted to make a link to previous collections that we did for Bisazza," Smeets says. "Also to make it not too innocent – to make it a little bit bold."
They see the tiles being used in domestic interiors and offices: "They're such complex patterns, but still very simple," says Smeets. "It's the grains of the wood and the shapes of the parts that are very interesting and different."
The tiles can be used in domestic and office interiors
Colour options ensure the collection remains accessible: "With this collection we really wanted to create a usable flooring for a larger audience. It's quite commercial," he explains. "And they really stand out because of their different way of using colour." The Wood tiles were originally available in five colour options: Cuoio, Marron Glacè, Moka, Naturale and Nottepalette and Bisazza has introduced five new colours – Sugar, Cherry, Pearl, Denim and Mint – for 2017.
The collection is the latest mark of Studio Job's 10-year relationship with Bisazza, with five collaborations including the recent Perished and Industry mosaic patterns. The duo tell me that they are open to working with any brand that is passionate to create products with them. "We wait until brands come to us – it's a better way of doing things, when they really want something from us in their collection," says Smeets. "And once you have that relationship with a brand it's really nice when it goes on, you build a connection and keep working together," adds Tynagel.
Working with Bisazza allows them to share their work. "It's really good to show your identity, because a lot of people will see [the work]," she says. "Our more art-like pieces are very limited because very often they are in a museum or a gallery, but this is for a wider audience."
Extra Texture
Giles Miller Studio is constantly looking for new applications for its innovative surfaces
Hex textured tiles in Jesmonite from Heliot & Co
Giles Miller's London-based studio is at the top of the surfaces game. The studio creates an impressive array of innovative surface, material and sculptural works, from individual mosaic tiles to artworks and murals on an architectural scale. Miller's interest lies in the manipulation of materials and he has a passion for playing with light, reflection and texture.
Giles Miller Studio's work is created with a focus on the subtlety and detail of hand-crafted design; surfaces are typically built from small components that are designed and fabricated in-house. A strong knowledge of branding lies at the heart of GMS and projects include one-off commissioned surfaces for international clients and strong brand partnerships.
Scale tiles create a multi-textured effect
One such relationship is that between the studio and Clerkenwell Design Week. Miller and his team clad one of Clerkenwell's historic archways in 20,000 wooden hexagons in 2012 and positioned a giant sculptural target of reflective pixels in front of its medieval gate in 2013.
In 2016, the studio partnered with British Ceramic Tile to navigate design lovers through the festival's new layout. The Billboard series of four glass-tile sculptures were created with over 8,000 vibrant, hand-crafted tiles and decorated with a swoosh to direct visitors between key venues. The sculptures were illuminated when the sun set, fulfilling their role into the night.
Giles Miller has built strong brand partnerships
Projects for a variety of venues have added function and adventure to spaces, including the Sheraton Hotel in Edinburgh. GMS created a feature wall for the main reception using the studio's popular hexagonal Alexander tile. The motif features five stag silhouettes to reference
the local culture of the Highlands and the positioning of the tiles in opposing directions is a good example of the studio's clever manipulation of reflection and light to beautiful effect.
Another workplace to enjoy some GMS flair is Aldermary House in the City of London, where the studio arranged its hexagonal Walnut tiles to give four shades of imagery by altering the pivot angle of the pixels from the surface.
Miller's inspirational work with materials and leading international brands means that the studio's name that is synonymous with luxury. Recently, GMS branched out to create its own upcoming surface brand, Heliot & Co, to provide some alternative tile options.
Heliot & Co says that it aims to offer a diverse range of surface designs, with creativity and quality finishes but which are also suited to various budgets and applications. The new range is a playful collection and has been designed with ease of application, accessibility and value in mind. Titled Hex and Scale, the feature tiles are made in Jesmonite and can be used to draw bespoke patterns on to a wall or surface to a client's design.
"Jesmonite is a wonderful material that we chose for this particular design because of its readily available supply in the UK and easy tooling process," Miller says. "This means we can create new designs without huge tooling costs, which is great for producing new shapes and textures easily."
Coloured Scale tiles can create a variety of patterns
The Scale tile is a classic square shape, while the Hex is the contemporary hexagon shape often used by the studio. The combination allows the collection to fit into a wide variety of schemes. And, thanks to their highly detailed surfaces, both tiles can create a striking textural feature and illustrate various patterns depending on the directions that they are laid.
"The functionality of the tiles is in their ability to be adaptable in the pattern they create, so they can be bought straight from us in batches, but used to create a totally unique surface every time," says Miller. "We envisage them being used in a variety of contexts, where only the imagination limits the potential for creativity and individuality. The tiles could be used to create patterns, graphics, logos, text or illustrative imagery, and much more."
GMS is constantly looking for new applications of its core work, as its done with Hex and Scale, says Miller."We have also launched a range of framed precision-engineered artworks that can be used as a central wall feature," he says of another recent project, this time providing an alternative to the GMS surfaces that typically cover entire walls.
Applications might change but GMS continues to draw inspiration from the "composition of materials" and explore new projects. As Miller says: "We are interested in how texture and material can interact with a viewer and our work is now pushing on the realms of sculpture and architecture, as well as interior decoration and artworks."
A workplace materials special with inspirational tiles from a trio of high-profile practices: Barber and Osgerby, Studio Job and Giles Miller