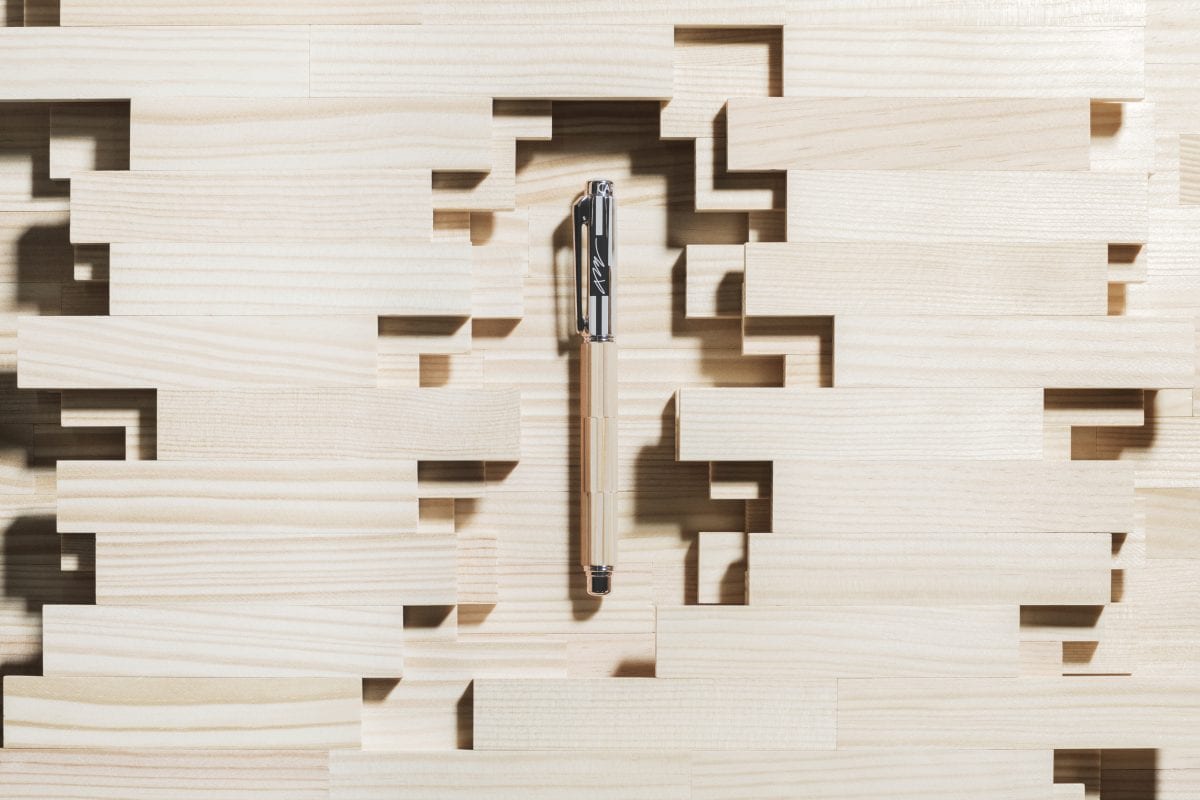 The duo designed a limited-edition contemporary icon from the Caran d'Ache Varius collection
Presenting its first ever collection with notable Japanese architect Kengo Kuma, the latest iteration by Swiss writing manufacturer Caran d'Ache, Varius Kengo Kuma, comes in the form of a limited-edition writing instrument from the Caran d'Ache Varius range.
Inspired by chidori, a traditional Japanese toy based on the ingenious interlocking of pieces of wood, a recurring motif in Kuma's creations, the pen is crafted from natural materials and unifies the architect's preferred combination of steel and wood.
"The Chidori motif is often used in architectural projects and is very characteristic of Japanese aesthetics", said Kengo Kuma of the collection. "For this collaboration with Caran d'Ache, I wanted to reproduce the Chidori rhythm on the body of the pen. I chose wood as the main material because it is particularly compatible with the hands and very pleasant to touch. Finally, the combination of metal and wood offers a balance of textures that is essential for me."
Carved from the sacred wood of Hinoki Cypress, the pen is delicately sculpted by the hands of the renowned craftsmen of the Caran d'Ache Maison in Geneva, Switzerland. The body of the instrument is engraved at different depths to create elegant superimposition to support grip and enhance the writing experience.
With a combination of blonde polished wood and silver-rhodium-plated attributes, the Varius Kengo Kuma also features the artist's stamped signature, while a spectacular wooden veneer case completes the collection.
As Kuma vividly recalls drawing with the Swiss-made pencils as a young artist, the creative encounter has been years in the making. Since then, beautiful writing and drawing have been the spontaneous vectors of the artist's emotions and gestures and are at the heart of his practice.
"I see architecture as a kind of music. Music inherently links up to the inner rhythm of the body and handwriting is the best way to express it", said Kuma. "When I write, I connect to the rhythm of architecture. Lines are also an essential part of my work. The Caran d'Ache writing instruments that I discovered when I was in college allow me to draw clear and precise lines and express the rhythm of architecture with fluidity."
The Varius Kengo Kuma edition is available in 1,000 pieces and is entirely designed and made in the Geneva workshops of the Caran d'Ache Maison. carandache.com
All photographs courtesy of Caran d'Ache