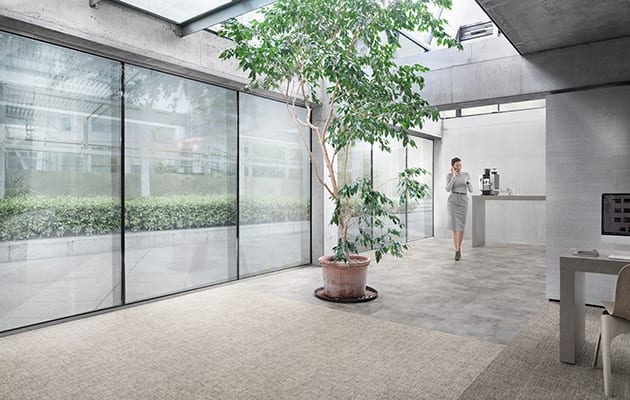 |||
Tarkett, global industry leader in innovative and sustainable flooring solutions, has this week launched DESSO Linon, the commercial carpet tile collection inspired by home-comfort and design irregularity.
DESSO Linon seems set to be the answer to our modern workplace demands; blurring the lines of modern workplace design by marrying the natural world with function and comfort to bring you closer to home in the place you likely spend most of your time.
Intrigued? So are we…
From the Ancient Greek word for Linen, Linon is available in eighteen colours, offering you total design freedom and versatility. The collection takes inspiration from the timeless appeal and tactility of irregular woven fabrics, unifying colour and texture to create a soft, homely canvas for modern workplaces, making the dream of a home away from home an achievable objective for the world's most forward-thinking designers.
Nine of the shades stay true to the raw and natural simplicity that makes this textile application so dynamic in a commercial setting, while the remaining palette, in hushed, dusky pink tones, mauves and light blues, sits alongside greys and other near neutrals to encourage more playful and homelike concepts.
The collection's characterful use of colour and texture perfectly combine to create a gentle canvas which feels welcoming and balances a smart-casual aesthetic, that hints at the outside world.
Ludwig Cammaert, Design and Technical Development Director for DESSO carpets at Tarkett described the collection in his own words: "It is the intricate detail and appealing neutral colour palette that really bring this new carpet collection to life. It offers a softness and tactility to commercial spaces, creating a 'home away from home' in the workplace."
Created as 50 x 50 cm structured loop pile tiles, Linon benefits from the structure to serve as a truly dynamic interior design tool that respectfully and creatively challenges tradition without losing an ounce of functional integrity, music to the ears of any modern designer.
DESSO Linon's versatility mean it also combines seamlessly with Tarkett iD Square LVT, enhancing the overall creative design experience. Together, the two collections assist designers in making playful yet functional workspaces that perfectly balance the feel of home and office with expertise, and certainly adds volume to the conversation surrounding modern workspace design.
Crafted from 100% ECONYL® yarn, a regenerated nylon made from recovered waste materials such as fishing nets and carpet yarn from Tarkett's Refinity® recycling facility and featuring Cradle to Cradle® Gold Level certified DESSO EcoBase® backing as standard, the new collection not only hits exceptional design expectations but conscious sustainability credentials too.
For more information about the Linon collection and to order a sample, visit www.desso.co.uk
As we all increasingly become aware of how important it is to have truly fulfilling and beneficial workspaces, creating a 'home away from home' in our office spaces has never sounded more appealing…