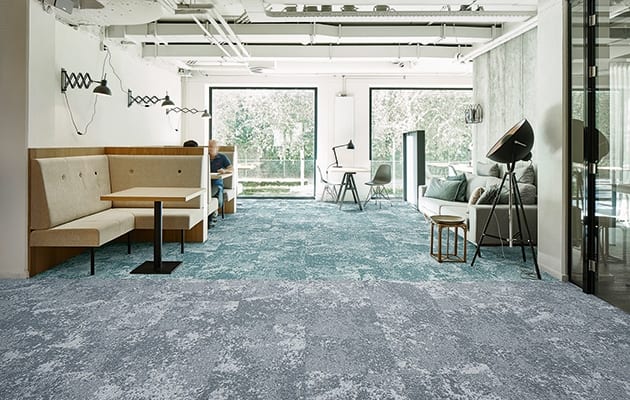 |||
The thing with creativity is, you can't pencil it in for next Wednesday, you can't make it an action, get ready to take the minutes or book the meeting room. It happens when it happens.
What you can do though is create the right environment, the context for it and provide the resources needed.
This is true no matter what you are designing, and if you add to that the right brief the rest will fall into place. Our latest Tessera range Cloudscape, is a testimony to this.
Within the sphere of carpet tile design, the office segment gets a lot of our attention. Probably because it is fast moving, trend aware and always open to new thinking, with the people who specify in this area some of the most informed in the world of commercial interior design. Consequently, we spend a lot of time researching and studying the key trends influencing workspace design.
One of our main observations recently is the continued de-formalisation of commercial space. This gives a more people focussed flexible and healthier working environment and is closely linked with a move towards a more sophisticated colour grouping of modern combinations of hues and tones, rather than bright individual highlights. There is also less evidence of linear and obvious geometric patterning and a greater move towards embracing nature in workspace design.
These key trends together with our more general research into the broader commercial interior design field provided the context for the Cloudscape product brief, but not the inspiration. That required a bit more thinking.
For me the idea of natural design and bringing the outside in is a difficult concept to realise in offices, as in today's busy crowded urban environment we can so easily lose touch with nature, spending days on end with no real contact other than with the houseplant on the desk.
For many of us, our only real connection is to the sky when we gaze out of the window, look outside to see how dark it is or check out the weather to decide if we need an umbrella today. And yet the constantly changing vista of cloud formations and the rich spectrum of light and colour can provide a real bridge to the outside and help us to relate, at least in some way, with nature.
That idea became our inspiration and fuelled the design development bringing with it the challenge of how to communicate that essence in the medium of yarn.
Designing in 3 dimensions takes great skill and experience and, as the end result is composed of individual tiles, only when the floor is laid is the true picture revealed.
In the case of Cloudscape that picture is of a soft textured and atmospheric pattern achieved by the clever use of a multi-height loop design and 16 unique naturally inspired tonal colourways that help contribute to the creation of a more relaxed and reflective environment.
For more information visit www.forbo-flooring.co.uk/cloudscape
This is an advertorial feature
Creative flooring solutions fuelled by design can bring the outside into every office, says Jason Holmes, Head of Textile Design at Forbo Flooring Systems