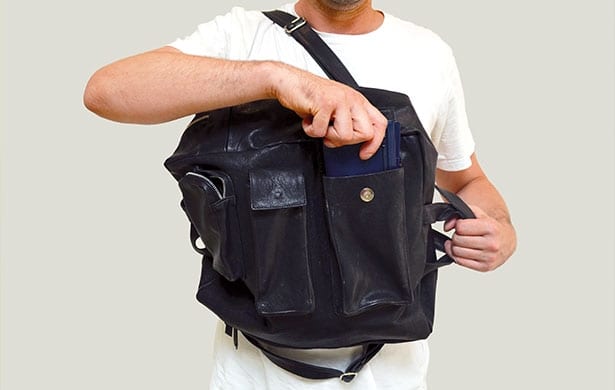 |||
It seems that every major city on the planet now has a design festival. In the past this column has been critical of the homogenising effect this has had on the industry, with one international event looking much like another and superstar designers – or the permanently jet-lagged, as Deyan Sudjic once memorably described them – flown in to to add Instagram-worthy sparkle. However, I'm writing this from the Jordanian capital Amman, having just spoken at a panel discussion on the role craft is capable of playing in overcoming seemingly intractable social issues as part of its second annual design week… and it's rather wonderful.
The main site is split into two areas – a curated exhibition of the best of the country's work, including products, graphics, technology and film, held in an old power station and a craft market with food and demonstration areas. In between the pair is a four (or possibly five, it's difficult to tell, lanes are a fluid concept out here) carriageway road. Attempting to cross it with the aid of a man armed with a whistle and a high-visibility jacket as traffic fizzes obliviously past adds a certain (and unexpected) frisson of excitement to the event.
Importantly, it is imbued with a youthful energy and a discernible lack of cynicism. There's a sense of provenance too, with several installations addressing the nation's problems on both a macro and micro scale, so while a few pieces attempt to illuminate the nation's chronic water shortage, for instance, caused by a combination of a creaking infrastructure and huge population increase, others tackle the lack of play areas for the city's children.
I stumbled across the Checkpoint Bag at a satellite event by Disarming Design From Palestine. The not-for-profit organisation brings together Palestinian makers in the West Bank, Jerusalem and Gaza with contemporary designers and artists, both locally and from abroad, in annual workshops to create what its Dutch co-founder Annelys de Vet describes as "useful" products using existing processes. Essentially the idea is that the pieces stimulate debate within Palestinian communities about their political, social and economic realities, while at the same time are attractive and practical enough to find an international audience.
At a glance the black, leather shoulder bag – designed by Areej Ashhab, Florian Mecklenburg and Monika Grütze and made by Yehya Al Herbawi in Jersualem – looks anonymous. It's only when you examine it more closely that the acuity of thinking behind it is revealed. As its name suggests, the piece tells the story of the grind that thousands of Palestinians are forced to endure daily as they go about their business, passing through checkpoints that have been created to make travelling unpalatable.
As the Disarming Design website (www.disarmingdesign.com) adroitly puts it: "The bag is not simply adapting and giving up control to the system but challenges it by empowering people." Its cushioned back, for instance, makes it more comfortable to carry in cramped spaces – the parallel indentations are designed to mirror the railings that pen people in.
According to de Vet, as travellers approach security they're asked to hold their bag up by their chests, so the three horizontal compartments on the front make it easy for them to throw in the detritus from their pockets as they're checked. So far, so practical. However, the bag also has a political point to make.
As it passes through the X-ray machine under the watchful eyes of Israeli soldiers, a hidden pattern produced using printed aluminium foil is revealed, the Right of Return keys – a potent symbol of the Palestinians' desire for freedom of movement. According to de Vet: "The product is aimed at people who want to make a statement and allow products to let them think, while at the same time use it for 'useful' reasons." At €175 (or around 30% less for the domestic market) it won't break the bank either.
At this stage it's important I point out that I didn't have the opportunity to test it out by going through a checkpoint myself, so I'm not going to critique this on a practical level. However, what I will say is that in a world full of stuff we often don't really need, here is a functional piece which has something to say. And I can't tell you how refreshing that is.
Subscribe to OnOffice for the December issue
This product designed for Palestinian communities mixes practicality and politics