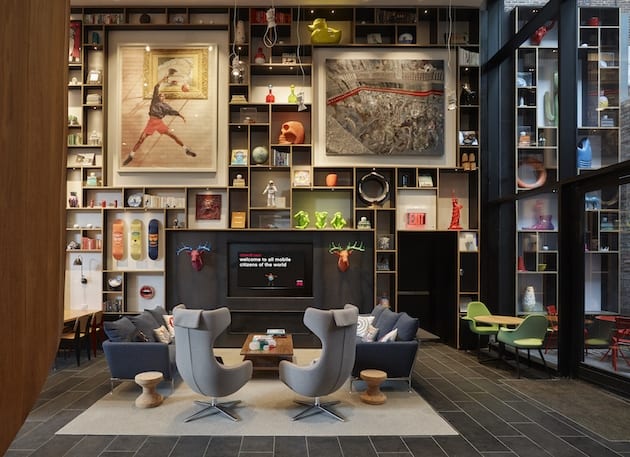 |||
As you enter the building, the immediate impression is of a flamboyant, busy interior. In the common areas, the message is more is more. As guests spill out of a revolving door into the lobby, they are greeted by funky, wall-to-wall contemporary art, monumental sculptures – including one of King Kong – and acid-hued pop furniture by Verner Panton. Young, enthusiastic, uniformed staff – CitizenM's so-called "ambassadors" – smile from behind computer terminals used for checking in and out, and preside over a coffee and patisserie counter.
Yet, paradoxically, the philosophy behind this fast- expanding hotel group, which opened its first hotel in Amsterdam in 2008 and defines itself as "affordable luxury for the people", is to strip away superfluous elements as it seeks to differentiate itself from the traditional hospitality industry.
The spacious lounge area is aptly named the Living Room. Photograph: Richard Powers
"One inspiration behind CitizenM was my experience working for fashion label Mexx, established by my father Rattan Chadha," says Robin Chadha, co-founder and chief marketing officer of CitizenM. "His colleagues had about $150 to spend on a hotel room and could only stay at hotel chains like Holiday Inn. I thought, 'Why aren't there any good affordable hotels?' One reference point for us was the way luxury fashion labels successfully collaborate with high-street stores like H&M. The name CitizenM came from our vision of mobile, well- travelled, tech-savvy citizens who enjoy travelling by train and drinking champagne."
Chadha enumerates several conventional and, in his books, antiquated features found in hotels that CitizenM Bowery – like its sister hotel on Times Square, which opened in 2014 – have dispensed with. "We've got rid of double sinks, bidets, bathrobes, slippers." Although the rooms are small – space capsule- like, in fact – they are designed to feel much bigger. "We've achieved this with all-white walls and wall-to-wall panoramic windows spanning one side of the super king-size bed," explains Chadha who has also vetoed "big desks against walls", replacing them with slimline versions.
The hotel abounds with Pop-inspired artwork. Photograph: Richard Powers
Rob Wagemans, founder of Dutch architect Concrete, which has designed all CitizenM hotels to date – there are 13 so far and in the US alone there are plans to open more soon, including in Boston, Seattle and San Francisco – concurs with Chadha over simplifying guest rooms. "Forget presidential suites.The rooms are egalitarian. And it annoys me when rooms have five remote controls – at CitizenM there's one that controls lighting, the TV and day and night blinds."
CitizenM takes inspiration from the domestic sphere: the rationale behind its compact guest rooms – priced from $219 per night at the Bowery hotel – is that at home we only use our bedrooms to sleep in, while we socialise in living rooms and kitchens. Hence the importance CitizenM Bowery places on its double-height, lower-ground floor which, tellingly, it dubs the Living Room.
On one side, this has amphitheatre-like steps descending towards a cavernous open space occupied by communal tables and 24-hour bar CanteenM.The 75m-high hotel, the tallest building in the neighbourhood, also has a roof terrace and bar called CloudM.
At 75m, the hotel is the tallest building in the Bowery neighbourhood. Photograph: Richard Powers
Another part of CitizenM's ethos is its belief that we are innately social creatures: it reasons that even when beavering away on laptops – as many guests do in its Living Room – we like to be surrounded by others in an animated environment. In this sunken area, reached by a theatrical staircase, there is a strong sense of see-and-be-seen spectacle.
Kitsch ornaments and book- lined shelves smother one wall; the furniture and other homeware are largely from Vitra, which Wagemans likes for its "playful, youthful" vibe. It's no surprise to hear him reveal that CitizenM's style is inspired by Ian Schrager's legendary 1990s boutique hotels and their theatrical, surreal Philippe Starck interiors.
White walls and large windows give bedrooms a sense of spaciousness. Photograph: Richard Powers
"We also looked at the frustrations guests face," continues Chadha. "Number one is the check-in and check-out system. I once saw people at the Hilton hotel in Rome queuing half an hour to check in. At our easy-to-use, self-service terminals, this takes seconds. And there are no hidden costs – there's no wi-fi charge, while on-demand movies can be watched on the rooms' large TV screens for free."
Chadha sees restaurants as another unnecessary encumbrance – CanteenM sells food to eat on the hoof (salads, sushi): "We don't need one as we can suggest good places to eat in the area." In fact, the CitizenM concept is outward-looking: the Bowery hotel, which is made of prefabricated modular units, giving it a sharply geometric structure, is fronted by a public plaza furnished with picnic tables that connects with the street in a bid to be part of the urban fabric.
The canteen offers salad, sushi and the like, rather than formal restaurant cuisine. Photograph: Richard Powers
Like many other CitizenM establishments, the Bowery hotel has partly achieved this goal by championing local art, in this case by collaborating with street-art collective Five Pointz Creates.
A 21-storey stairwell has been transformed into its own Museum of Street Art, open to the public and guests, where cult graffiti artists, among them Lady Pink and Meres One, have each left their mark on a designated patch of wall. Lou Reed, Beat poet Allen Ginsberg and RuPaul, who performed at nearby nightspot Pyramid Club in the 1990s, are just some Manhattan luminaries they have immortalised.
While forging links with local culture, CitizenM has an unapologetically bold corporate identity – underlined by its liberal use of red – that is arguably at odds with its maverick self-image. With the hotel group expanding at its current breakneck pace, it remains to be seen if it can maintain a balance between commercialism and individuality.
The hotel chain's second New York location goes for domestic warmth and affordable glamour.