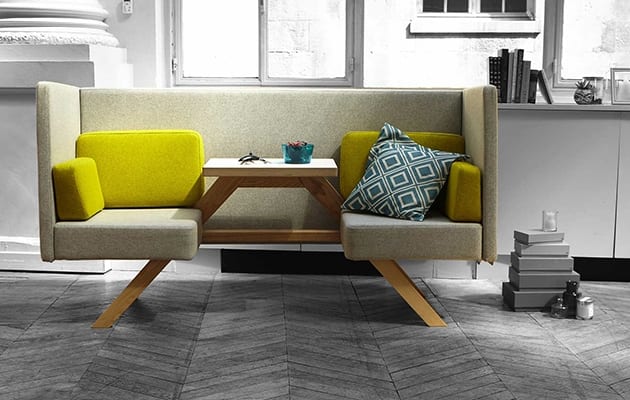 |||
Clerkenwell Design Week 2018 attracted over 30,000 visitors, who dutifully pounded the pavements of London's key design district for three days of product launches, installations, and inspiring talks. OnOffice spent a collective 80 hours at the festival this year, and these are some of the most memorable products we came across.
The modular DADO sofa by Alfredo Häberli for Andreu World.
DADO by Andreu World
Launched at Clerkenwell Design Week, the new Alfredo Häberli designed DADO collection for Andreu World is clean and effective. The modular pieces are refreshingly simple yet comfortable and stylish. Häberli went all in with bright colours and a pleated contrasting trim for the four-piece line.
Foster + Partners OVO dining table and benches
OVO by Foster + Partners
Foster + Partners has launched a collection of solid wood furniture that is designed to be passed down through generations. Made in collaboration with furniture manufacturer Benchmark, the OVO collection is appropriate for both domestic and commercial spaces, and includes two variants of dining table, accompanying benches, sideboard, shelving unit, high table, stool and occasional tables.
Agilita's TOO the ZOO workstations are vibrant and custoisable
Agilita's new TOO the ZOO collab
Agilita's new partnership with TOO the ZOO has brought an exciting series of workstations and break-out stations in vibrant colours, all manufactured locally in the Netherlands. The seating units' unique design allows the user a variety of choice, it can be used individually with the workstation supporting a laptop or tablet and within the office.
Deadgood's Working Girl lounge chair is a play on classic lines
Deadgood
Deadgood's Working Girl lounge chair is vibrant and was displayed in an exciting installation at the British Collection exhibition in Crypt on the Green. The chairs combine utilitarian styling with a robust material choice to create a very functional product with a flair.
The rounded lines of Stellar Works modular Infinity sofa
Infinity by Stellar Works
Stellar Works brought the soft forms of its new Infinity sofa range to Clerkenwell Design Week. The modular sofa designed with a minimum of edges and near-invisible detailing results in a seamless and rather sculptural piece.
Morfus creates a variety of truly modular and completely adaptable plywood pieces
Morfus
The British Collection exhibition in the Crypt on the Green was conceived to showcase the work of UK designers, and Morfus is the embodiment of classic British design: clever, functional, and stylish. The modular interlocking birch plywood display and storage system is as clever as they come, and it's all designed in London and manufactured in Derbyshire.
Named after the eponymous Japanese mount, Fuji is a characterful lampshade
Fuji by Hand and Eye
Hand and Eye Studio make delicate terracotta lampshades and fittings. The standout piece from their CDW showcase was the Fuji lamp. Named for its shape, the terracotta pendant lamp combines a traditional ceramic shade with a modern translucent silicone top to hold the light fitting and emit a subtle warm glow.
Have you subscribed to the OnOffice newsletter yet? You totally should!
The ninth edition of Clerkenwell Design Week has wrapped for another year, with over 30,000 visitors and hundreds of new products launched.