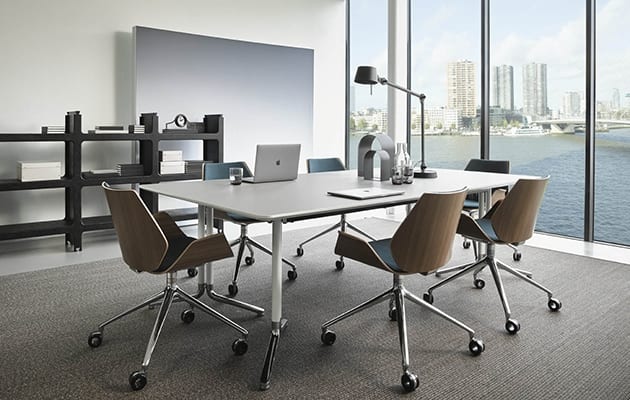 |||
Casala specialise in the production of stylish contract furniture that excels in both design and functionality. Offering solutions for various spaces and occasions.
2018 has been a fantastic year for Casala, it marks their 100th anniversary year, the opening of a new showroom right in the heart of Clerkenwell, along with the recent acquisition of Palau. Palau is complimentary to the existing Casala collection, completing the product portfolio with modular soft-seating systems and acoustic solutions, a unique mix of new products.
Centuro – designed by Andreas Ostwald
Casala is committed to constantly enhancing the solutions offered to their partners and customers across the world with a high-end customised and innovative design approach. One of their key priorities when developing products is to further reduce the impact on the environment.
Casala focuses on providing timeless design and long-life products, using high-quality materials and production methods.
On Thursday 4th October from 6 pm Casala is hosting an Orgatec Preview Party in their Clerkenwell showroom. Two brand new products will be represented: Centuro, the 100th-anniversary model designed by Andreas Ostwald, along with Capsule from the soft seating collection of Palau, designed by Kateryna Sokolova.
Centuro – designed by Andreas Ostwald
Centuro – designed by Andreas Ostwald
Centuro has been specifically designed for conference, meeting, and lounge settings. If desired, the seat, whether or not in combination with the backrest, is provided with upholstery. For ultimate comfort you can opt for an upholstered seat or fully upholstered chair. This gives the chair excellent sitting comfort and still retains its characteristic lines. It is delivered as standard in high quality whitewash oak and walnut veneer. Its aluminium 4-star base is state of the art design and features many options, including seat height adjustment for optimum ergonomic sitting comfort. With its many variations Centuro is a beautiful addition to the Casala portfolio.
Capsule – designed by Kateryna Sokolova
Capsule – designed by Kateryna Sokolova
Designer Kateryna Sokolova has designed Capsule to offer a stylish solution for the increasing need for concentration and privacy in office environments. The shape and function of Capsule is inspired by a cocoon, which guarantees security, comfort and innovation. Capsule creates a quiet space for undisturbed phone calls, reading and waiting. Privacy is created without being completely disconnected from the environment.
Capsule – designed by Kateryna Sokolova
An additional advantage is that Capsule absorbs ambient noise, which benefits the acoustics in open spaces. Capsule can accommodate 1 to 3 people. The duo upholstery, where the inside and outside are made of different fabrics, means Capsule's versatility is unlimited. This makes Capsule easy to integrate into both new and existing interiors.
Meet Centuro and Capsule along with some other exciting premieres during Orgatec in Hall 10.2 stand M010 from 23-27 October in Koelnmesse Cologne, Germany
Or come to visit the showroom:
2 Sycamore Street,
Clerkenwell
London, EC1Y 0SF
0203 958 0058
www.casala.com
This is an advertorial feature