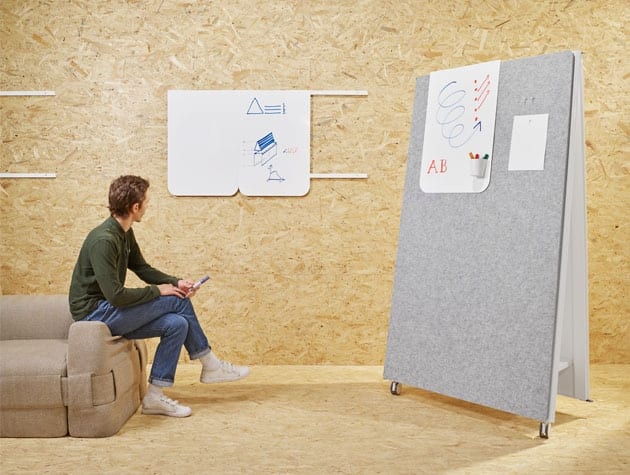 |||
Phusei introduces a new generation of mobile magnetic writable surfaces
Always on the hunt for the best in design in the corporate world, Phusei are delighted to be representing Moving Walls exclusively in the UK. Moving Walls is a new generation of mobile magnetic writeable surfaces, designed to encourage collaboration and creativity in modern work environments.
Awarded a gold award by the International judging panel at Designers Saturday in Switzerland, Moving Walls have already been specified for a number of high profile Phusei projects in the UK.
Moving Walls collaborated with designer Jorg Bonner in 2007 to create a tool that encourages teams to come together, break down silos, visualise their thinking and to work collaboratively on problems. The result Moving Walls is a highly functional, intuitive and easy to use tool that seamlessly blends into any environment.
Moving Walls offer visualisation space on both sides, with each wall provides 4m2 of collaborative surface to use. Their discreet, rounded profile finish hints at a surprising feature: connect the different sides of the walls to create a straight or curved configuration of extendable canvases. Simple snaps enable the walls to be combined seamlessly and easily to create straight lines, curved plenums or even serpentine canvasses. A huge canvas wherever you need it, easy to write on and equally easy to clean. Moving Walls are equipped with wheels, making them flexible and easy to move from one room to another.
Two fold away trays in between the two aluminium walls magnetically lock down, adding extra stability to the walls as well as offering space to neatly tuck away cleaning materials. The sloping surfaces on both sides allow for maximum legroom when working on the walls. Three sturdy, lockable casters and an optimised weight allow you to work on both sides simultaneously without the walls ever starting to shake.
Moving Walls feature a simple yet highly functional design. The absolute reduction of all details together with a white coating underline their practical elegance. Formally discreet and highly sophisticated in their functionality, Moving Walls seamlessly blend into any environment.
Phusei are a well-respected high end furniture dealership that provides intelligent solutions that are tailored to meet the needs of their clients.
Moving Walls is available exclusively through Phusei in the UK.
01442 285410
This is an advertisment feature.