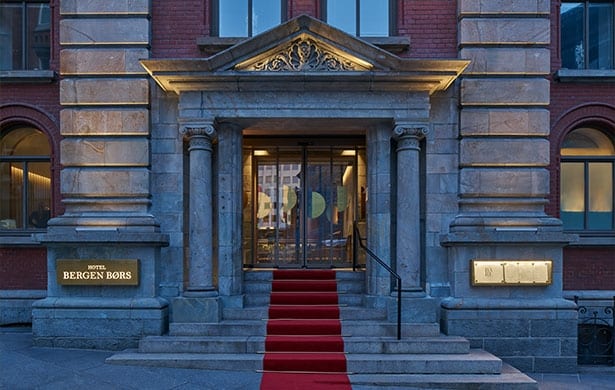 |||
It's clear when talking to Swedish architect Eero Koivisto that his firm Claesson Koivisto Rune had a lot of fun when transforming Bergen's neo-Renaissance former stock exchange in a 127-room luxury hotel. With inspirations that range from stripe-loving fashion maverick Paul Smith to psychedelic landscapes from Beatles film Yellow Submarine and the work of Brian Eno, it displays some imaginative creative thinking.
But if you're expecting something kooky, think again. Bergen Børs – which has been named after Børshuset, the Norwegian word for stock exchange – feels every bit the sophisticated luxury hotel. The interior is understated, but the tactile material palette and high level of finish gifts it a grandeur. "You enter a room and it kind of feels old, but it doesn't really look old," explains Koivisto. "It's a weird feeling."
A marble cocktail bar is the focus of what was once the boardroom
The project is the third hotel Claesson Koivisto Rune has designed for local family hotelier De Bergenske and the third to open this year. Whereas Zander K is a sleek new-build and Villa Terminus the remodelling of an elegant baroque villa, Bergen Børs required redeveloping three former workplaces – the 1860s stock exchange, an adjacent bank dating from several decades later and the 1960s HQ of Norway's DNB banking group – into a seamless whole. Integrating the three contrasting architectural styles was one of the core challenges of the project, especially as Claesson Koivisto Rune was keen that guests wouldn't be able to tell whether they were staying in an old room or a new one.
"I really don't like hotels that look like classicist rooms in modern buildings – it's a little bit fakey," explains Koivisto. "We thought a lot about how to combine interiors that would work together, so it had the feeling of old grand hotel even if some of it was new." Claesson Koivisto Rune did this largely through establishing a cohesive design language across the trio. It retained or relocated as many of the historical details as possible (from lamps to door surrounds) then, where that was not a option, developed contemporary takes on features that defined old hotels for them, such as wood panelling, wallpaper and patterned carpets.
A high level of finish gives the interior an air of understated luxury
For example, to complement the listed wood panelling in the bank's old board rooms, Claesson Koivisto Rune designed "modernist" painted wood panels with edges of 30, 45 and 60 degrees that catch the light. Keen for Bergen Børs to feel sharp and sartorial without having the air of a gentlemen's club, Claesson Koivisto Rune took cues from detail-orientated men's tailoring – specifically Paul Smith – most obvious in the pinstripe wallpaper, herringbone parquet and argyle bathroom tiles.
"He's a guy that that in my opinion invented the idea of combining a suit with an inner lining in a very strange pattern or, say, pink socks," says Koivisto. "It's very subtle, not in your face. We thought about Bergen Børs almost like tailoring – something that people could trust but still had these little joyful moments."
Subscribe to OnOffice for the full feature
Claesson Koivisto Rune has turned a former stock exchange building into a Norwegian luxury hotel with a few surprises