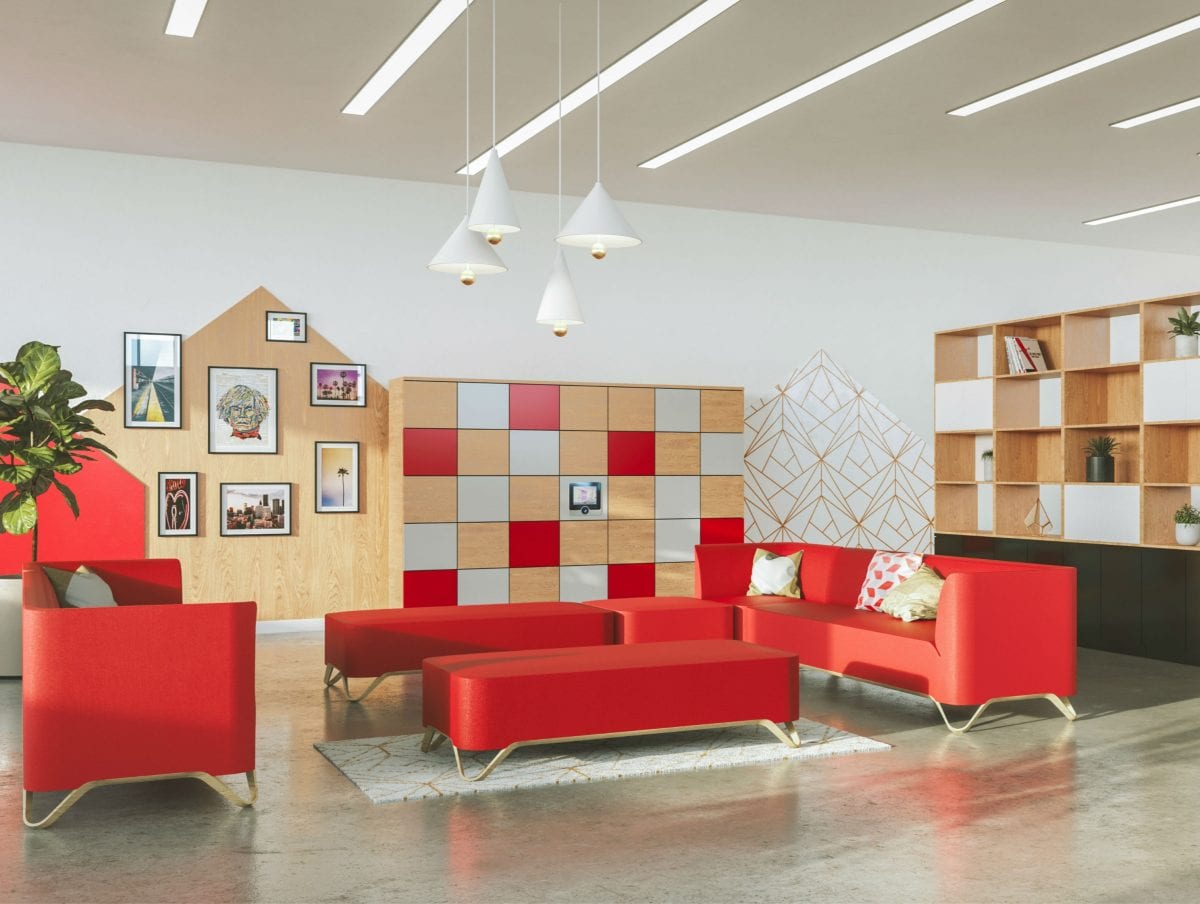 Palisades – the customizable modular zone-divider|||
Open plan or individual space? It's not that simple – top talent needs both. In addition, today's workforce has become more transitory. Teams grow and shrink according to demand and so modern workplaces are having to become complex, multi-functional environments that provide the right mix of private and shared space in ever-changing proportions.
Palisades offers the solution with a customizable modular zone and room divider in a mid-century modernism style. Available in wood or metal grid style, this product allows simple and attractive division of space into zones and neighbourhoods using dividers, not walls.

Palisades creates distinct neighbourhoods
A choice of accessories including plants, acoustic panels, lighting and storage create a highly attractive visual and acoustic barrier. This system delivers the needed level of privacy between different work areas whilst maintaining a connection with what's going on.
Palisades Grid is the lighter and more open version of this product. With design roots in mid-century minimalist modernism this style gives the most flexible choice in construction with a wider choice of accessories.

Ply shelves, plants, lockers, cubbies and lights accessorize Palisades
Palisades Wood is the warmer and more natural version of this product. Built on the classic open shelving look, this style offers a more solid look with a bias towards storage capacity and shelf strength.
When individual space is required for undistracted working, the acoustic Railway Carriage is the perfect solution – an innovative new meeting pod reinventing the modern workspace. Customizable online, the Railway Carriage fosters efficiency, creativity and a feel-good factor in your workspace.

Customize your own Railway Carriage at Spacestor.com
Designed to provide an area that can satisfy a range of purposes and briefs, it acts as both an ideas hub for collaborative work as well as a relaxed, focused space for concentration.
The Railway Carriage is fully modular, available in a large choice of materials and features that are customisable to create an extension of your brand. All tech-enabled, these meeting pods come with optional features such as a booking system, Bluetooth speakers and integrated screens.
This is an advertorial feature