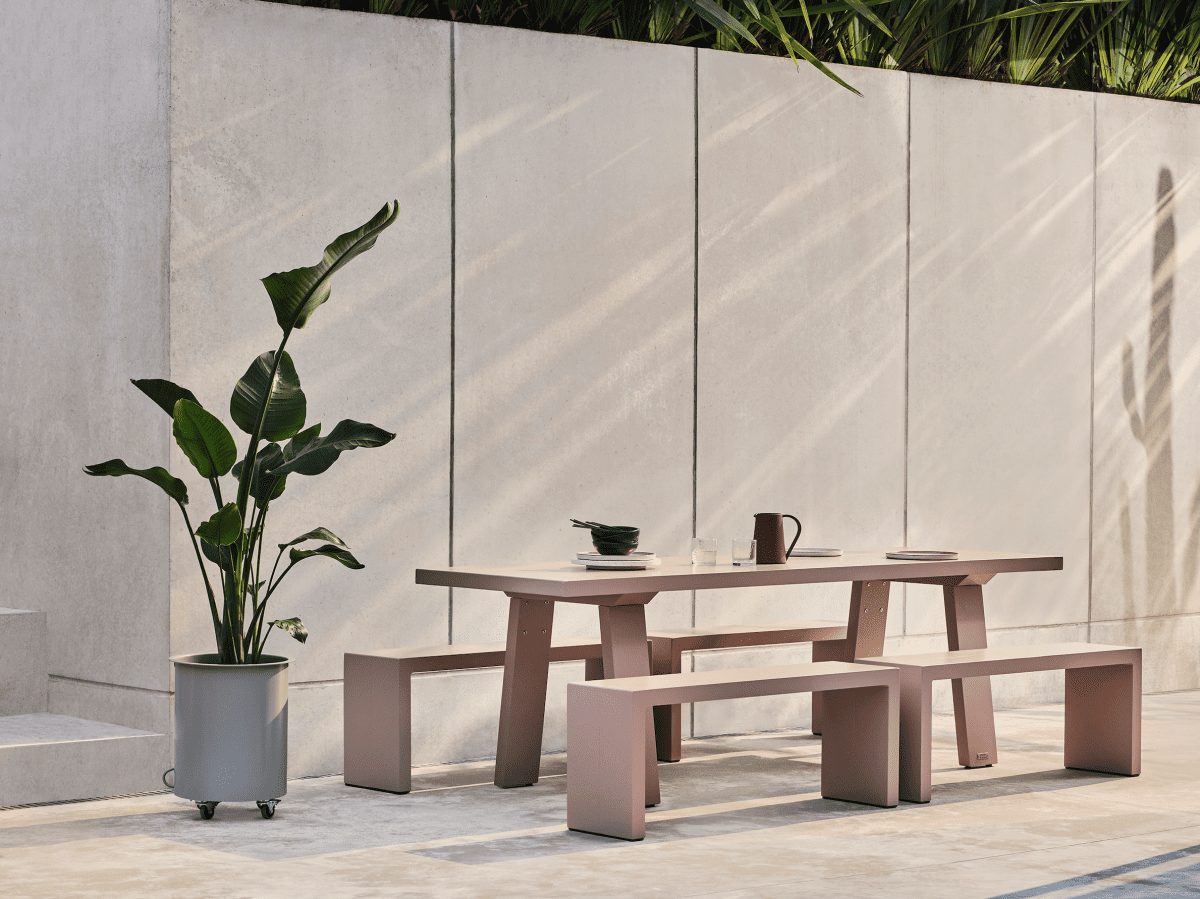 As the days are getting longer and the flowers are blooming, we asked London-based designer Jennifer Newman to share her top working-from-garden tips
Award-winning designer of outdoor and indoor furniture and planters, Jennifer Newman, explains how to create a no-fuss 'working from garden' space. Find out why aluminium is the material of choice when updating outdoor spaces and why yellow is here to stay.
1. Find inspiration in current WFG trends
Both 'working from garden' and outdoor workspaces are on the rise. In the last year, we've seen people starting to utilise previously neglected outside areas in response to social distancing.
Outdoor boardroom options and external socialising spaces are top of the agenda for many businesses as summer is on the way, while prefab home offices for those WFH, have become more popular than ever before.
As such, consider the space you have. For coworking spaces and offices, we suggest opting for oversized table designs, which can seat up to 12, as these allow for greater distancing. Furthermore, an outdoor table also continues an interior aesthetic from inside to out, which allows for brand continuity.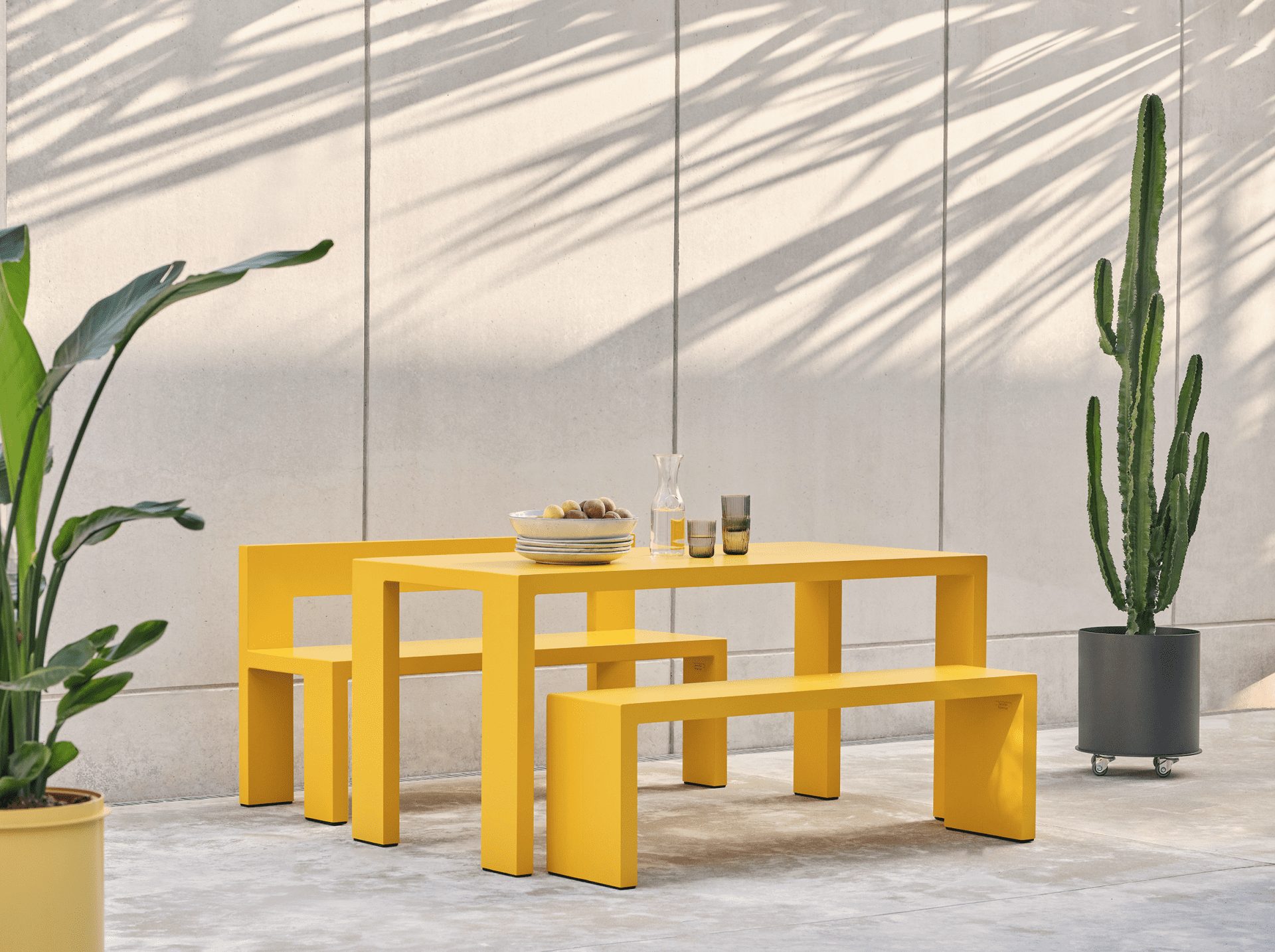 Those working from home, should consider what small area outdoors can be used to create a dedicated garden office to allow for a healthy boundary from your home life. How much space do you have? Who will be using the space and how much seating space will you require?
Whether at home or the office, in terms of colours, bold and bright are in demand. At Jennifer Newman, requests for yellow designs is up 250% YOY as both brands and those working from home are looking to inject greater creativity and stimulation into their workspaces.
Elsewhere, our all-metal planters have also been popular this year, demonstrating that the biophilic trend shows no signs of slowing down. A greater use of plants within workplaces helps promote a calm yet productive environment as we've seen many people using plants in creative ways, for instance as natural dividers for indoor and outdoor spaces.
Try incorporating easy-to-move indoor/outdoor planter designs to change up a workspace layout and to help adhere to current social distancing measures.
Alternatively, double height planters which elevate plants up to eyeline level have been in high demand as a way to 'zone' outdoor and indoor meeting spaces by acting as natural walls.
Read more: Four key tips for introducing mood-boosting plants to your workspace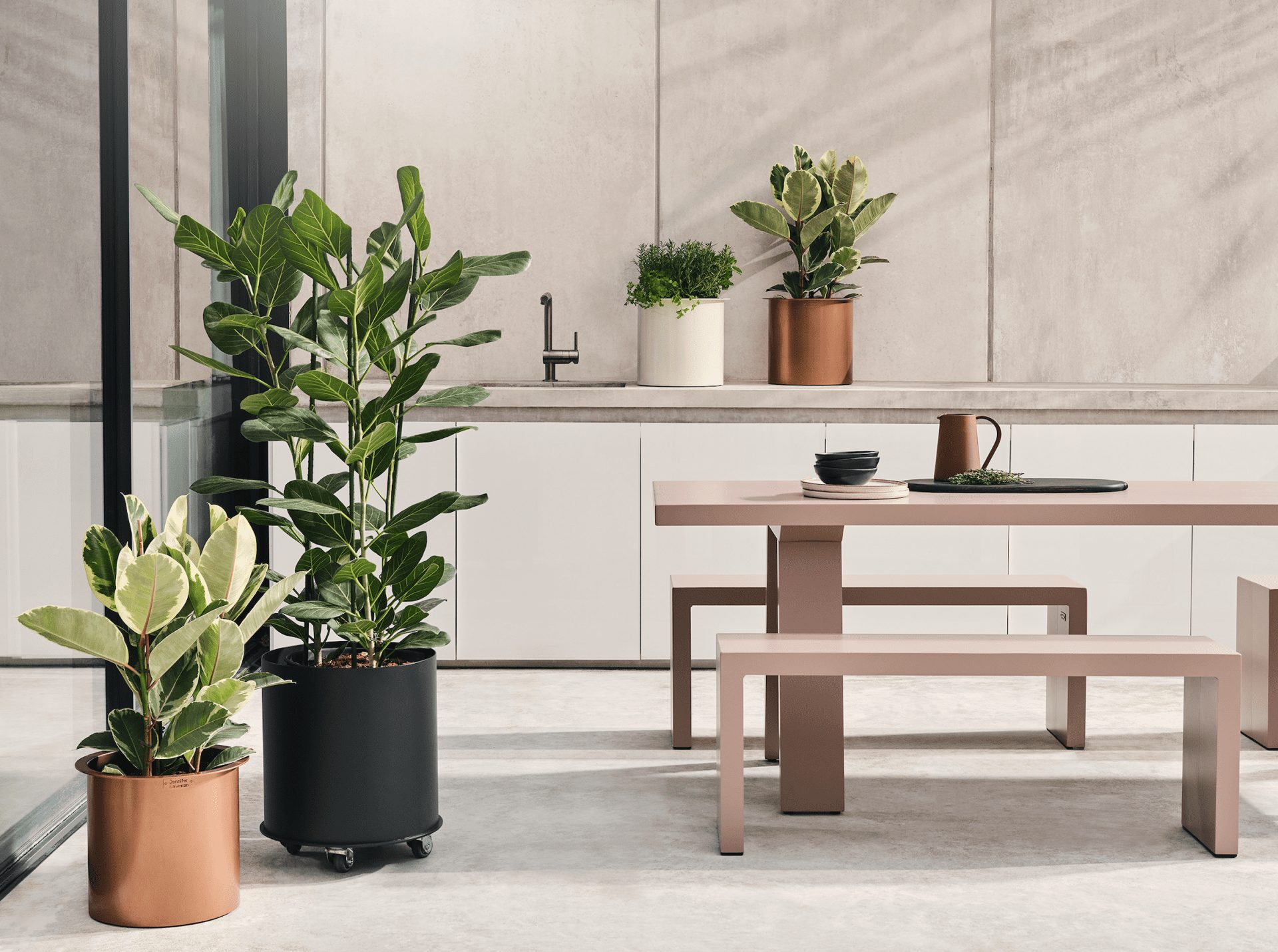 2. Consider materials 
When talking to our clients about outdoor furniture, the deciding factor is often around durability of materials. In the residential market, the last year has seen record sales of high-street outdoor furniture designs. However, lower lifespan materials, such as rattan, steel and wood, means that many lower cost products can be unsuited to all-year round exposure to the English climate, especially on balconies and terraces.
What workplaces need are designs that will withstand constant use and – most importantly – require the absolute minimum of maintenance. This is why aluminium-based designs, while premium in price point, are a suitable option if you're looking at revamping an outdoor workspace. While outdoor furniture does not need to be waterproof, like a roof, it does need to keep water from being absorbed into the surfaces.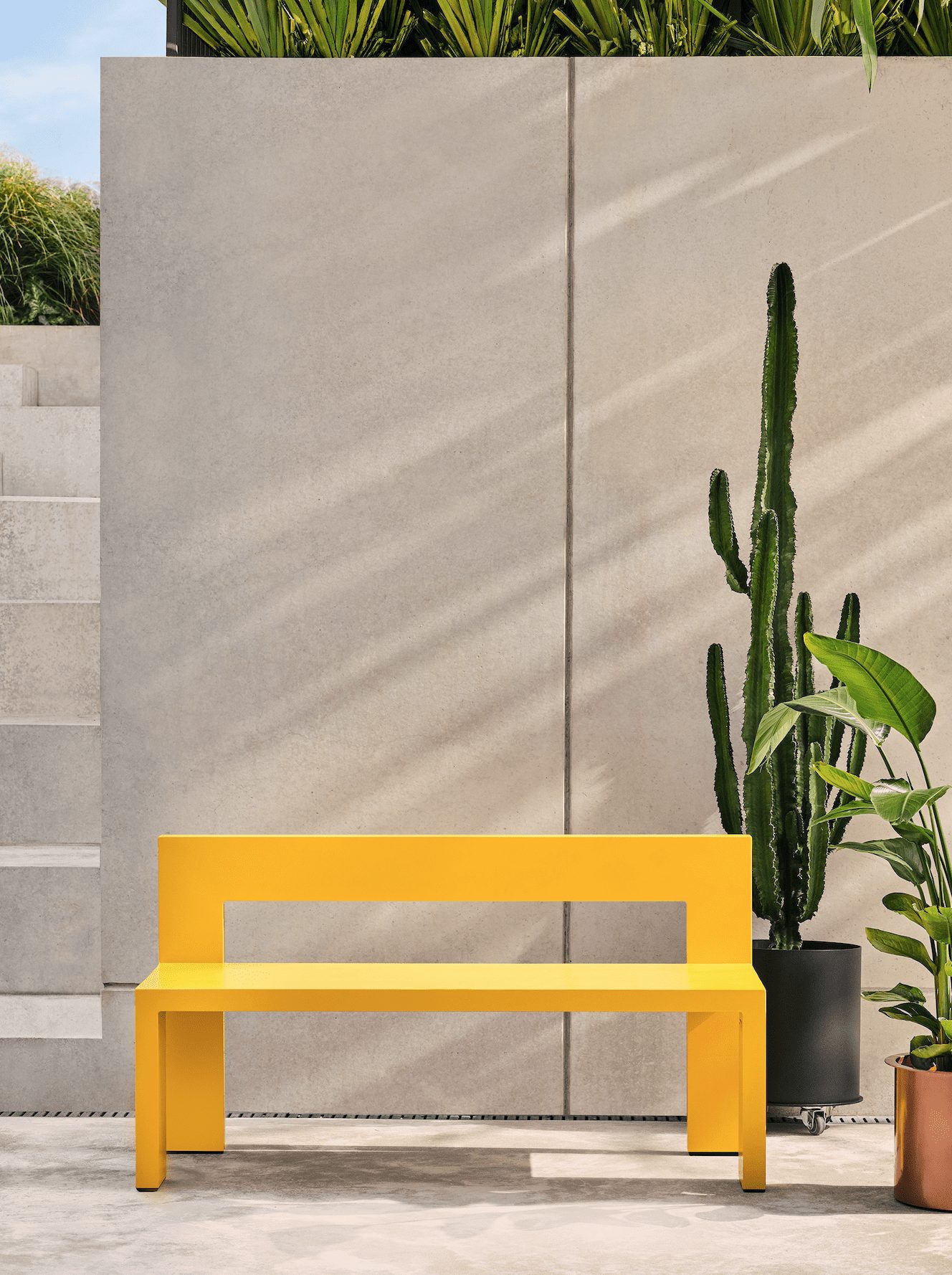 Tropical hardwoods, such as teak, do not absorb much water but they can be both an expensive and often unsustainable option seeing as tropical forests are often overexploited by unsustainable logging. On the other hand, softwoods need permanent protection and regular re-painting to avoid infestation, rotting, staining and cracking.
Therefore, affordable metals including steel and aluminium can be better alternatives as these do not absorb moisture but oxidise when wet. Steel oxidises (rusts) continuously until all the base metal is gone, with the rust many times thicker than the original metal. The rust can quickly disfigure a product if the protection breaks down, which is why steel needs permanent protection.
Aluminium, on the other hand, forms a thin layer of oxidised material, which makes it suitable to being left outside without protection. As well as being extremely strong, aluminium-based designs are lightweight meaning that you can easily move their location when you need to with very little effort.
These qualities are what makes aluminium a stand-out material for outdoor furniture and why we have made it the base material for all of our furniture and planter designs at Jennifer Newman.
Read more: 6 garden offices for working from home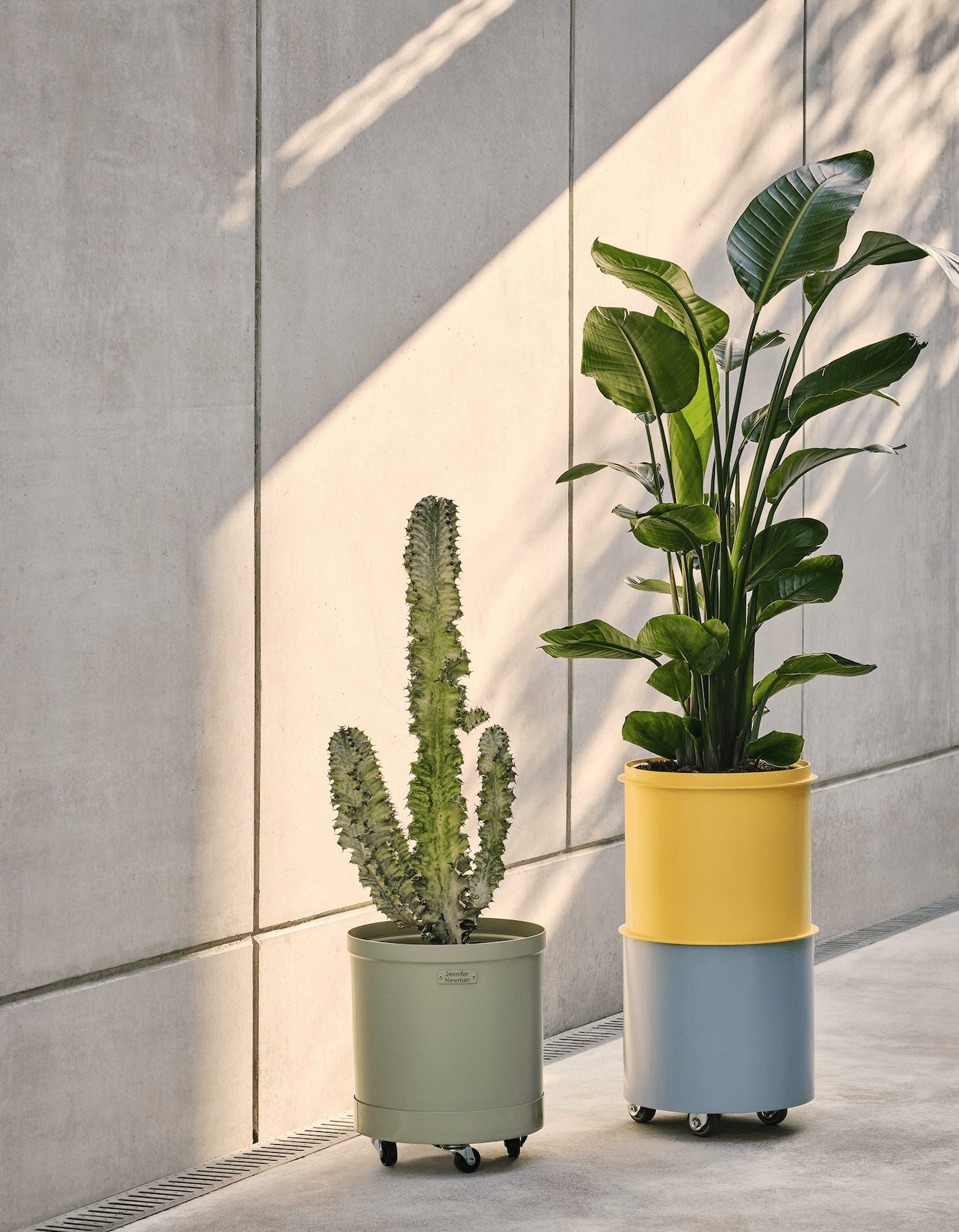 3. Think long-term
Initial investment in aluminium outdoor designs is, admittedly, significantly higher than other materials, however, this is due to the strong, premium materials and engineering that goes into creating them. While many cheaper designs may initially look good and do the job, these will need to be stored away over winter to keep them that way.
All welded aluminium furniture is built to last for a long time. Unlike other wooden, metal and plastic designs on the market, aluminium furniture does not need any maintenance and cleaning could not be simpler. A lack of screws posing potential dirt trap, rust points or structural weakness points, as well as powder-coated finishes, will ensure that colours remain vibrant, looking just as good over winter – important if your office spaces look onto a courtyard or balcony.
Finally, from a responsibility point of view too, investing in aluminium-based furniture means that you won't have to continue re-buying cheaper, lower quality designs and contributing to landfill. Buy once and buy well.
Images courtesy of Jennifer Newman