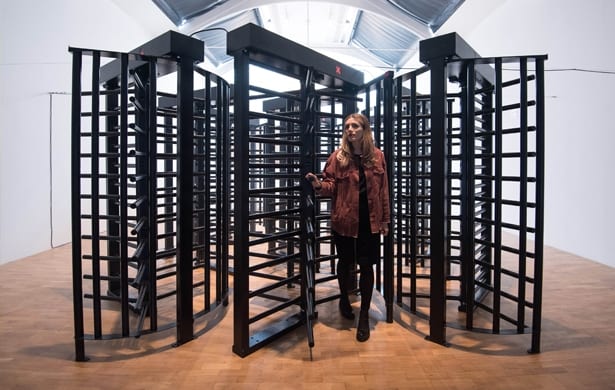 Borders Inclusivity by Farshid Moussavi and Zineb Sedira|||
The Whitechapel Gallery in London's East End has launched a new exhibition titled Is This Tomorrow?, where a group of 30 renowned artists and architects share their visions of the future.
Through a curated selection of experiential installations, environments and pavilions – brought together and conceived by the collaborating artists and architects – the exhibition presents 10 projects that have responded to the critical issues resonating today.
Phoenix Will Rise by Rana Begum and Marina Tabassum Architects
Exploring topics such as borders, migration, privacy, living space and technology, the exhibition features the likes of 6a architects, Adjaye Associates, APPARATA, Rachel Armstrong, Rana Begum, Tatiana Bilbao Estudio, Cao Fei, Mariana Castillo Deball, Andres Jaque / Office of Political Innovation, David Kohn Architects, mono office and many others.
Sankofa Pavilion by Kapwani Kiwanga and Adjaye Associates with Kapwani Kiwanga
Is This Tomorrow? follows suit from a landmark exhibition titled This is Tomorrow – which was held at the Whitechapel Gallery in 1956 and featured 37 British architects, painters and sculptures, including Richard Hamilton, Eduardo Paolozzi and Alison and Peter Smithson. The new exhibition takes the same model from its ancestor but looks at the new challenges faced by humanity – be it big data, bioengineering and climate change. "It's been an incredible journey of risk-taking… and of trust," says Lyda Yee, chief curator at Whitechapel Gallery.
The Salvator Mundi Experience by Simon Fujiwara and David Kohn
As such, the exhibitors have imagined scenarios in which queer desire, house music and fracking meet on a mountain top; where visitors can peer into a model museum for Leonardo da Vinci's Salvator Mundi; visitors can emphasise with animals by entering a farming pen – or put themselves "in someone else's trotters", explains the artist Amalia Pica; or consider how a machine could in fact equip us for the future. In essence, the question posed is: is this tomorrow?
999 years 13sqm the future belongs to ghosts by Rachel Armstrong and Cecile B Evans with creators
Is This Tomorrow? will run at the Whitechapel Gallery from 14 February – 12 May 2019
In a new exhibition titled Is This Tomorrow?, Whitechapel Gallery has invited ten groups of artists and architects to offer their visions of the future.