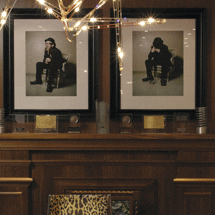 Virgin
Slash has defaced Debbie Harry. Every thirtysomething male's first crush is now sporting a daft moustache and beard because the hairy one from Guns N' Roses ran amok with a black marker.
Debbie is one of several rock star portraits hanging on the wall of Virgin Radio's green room, depicted in the style of an old master by Precious McBane, as part of its redesign of the station's Soho head office. Although they are deliberately hilarious – John Lennon in Ray-Bans as Byron is a real winner – they are still accomplished artworks, and if they were my handiwork, I would be more than a little pissed off to discover that they had been vandalised, even by a rock legend. Not Precious though. "It was amusing to hear that Slash had graffitied our Debbie," laughs one third of the design team, Ali McCulloch. "It seems only fitting that our rock star's home should be defaced in this way."
It is not a rock star's home really. This is Virgin Radio's corporate HQ, but Precious thought it would be more fitting to approach the project from a residential perspective. "They wanted us to create an environment that would represent the Virgin brand and create a suitable venue for 'the home of rock'n'roll' – a place that would impress guests, while being a stimulating working environment with material longevity," says McCulloch. This they have done by imagining how a "fantasy rock star" might kit out their own home. "The inspiration was kind of Supernova Heights," she adds with a grin.
With no previous experience in office design, Precious was an unexpected but inspired choice for the overhaul. Established in 1993, the company is known for its eclectic style, which has been applied to a mixture of projects, mostly residential (they've done out Alison Goldfrapp's house, no less) and various commercial ventures including the interior design of the Zetter hotel, in the Clerkenwell district of London. "For us, every project is a visual story," says McCulloch. "We don't regard ourselves in a conventional sense as decorators, despite being most usually
involved in interior projects. This is why we are able to extend our practice to anything we get excited about."
It would be difficult not to get excited about working for Virgin Radio. Precious received no formal brief (staff requirements were gauged at a series of informal meetings) and was pretty much allowed to run riot with their rock star's abode concept, which hits you as soon as you enter what from the outside looks like a fairly unprepossessing office building on Golden Square.
And what a reception. Gold-painted floorboards, finished by Based Upon, have been applied to the floor and walls. The effect is suitably ostentatious, but so stylish that you can't help but love it. The furniture was clearly a joy to specify, from the giant Anglepoise lamp that stands in the window to Gaetano Pesce's cartoonish masterpiece Donna Up5 and Patricia Urquiola's Tufty Time sofa, specially made up in plush purple velvet for that decadent 1970s vibe. Then there are the custom-made items, including the reception desk – "an old- fashioned table interrupted by a modern box", as McCulloch describes it – and a gold flight case, which is a witty storage solution that has become one of the team's favourite items.
Home to recording studios as well as on-air studios (incidentally, as we walk through, it's "The 1980s hour with Russ Williams") and office and administration space, the building is a hive of activity. Virgin was keen to build on the buzz and play up to its image as a truly rock'n'roll organisation. As proof of its outrageousness, the
staff room is called "the zoo", as it is apparently where everything and anything can happen (although it's hard to imagine to a soundtrack of Nik Kershaw). Obligingly, Precious has provided the area with an impressive array of furniture and fixtures including Frank Gehry's cardboard tables, a huge squashy sofa to collapse on/vomit over, and a walnut-effect kitchen with pendant lights from Heal's for that authentic domestic touch.
Leading off from the zoo is the main meeting room. Imagine yourself in the home of one of the Rolling Stones circa 1967, around the time that all self-respecting rockers were setting themselves up in country houses and playing at being the landed gentry (spliffs in hand). "We though that if Mick was signing a deal, this is the kind of room he would do it in," says McCulloch. But instead of a priceless antique table, there is a glossy, red (Virgin's brand colour) retro-style conference table surrounded by Eames Soft Pad chairs re-upholstered in patterned textiles, from leopard print to paisley. There is also a fireplace – where better to show off the station's numerous awards than on a mantelpiece? And just to reinforce the Stones aesthetic, there is an embroidered fireguard featuring the iconic lips logo.
It is humorous details such as these that make the project. Take the lift instead of the stairs and you will miss some of the best. All the way up the stairs (lined with a custom-made candy-striped carpet and faux wall panelling to echo the look of a Georgian townhouse) is a series of iconic album covers recreated in needlework. Made through a company called Fine Cell Work, which teaches embroidery techniques and tapestry skills to prison inmates, they are outstanding works of art. And you can't get much more rock'n'roll than crafts done by "the incarcerated", as Amy Winehouse might say.
So where do the office floors fit into this of picture of divine decadence? Well, they don't really. Precious was commissioned to work on the public areas of the building. The work floors, meanwhile, were masterminded by architects The Rennie Partnership.
Precious arguably got to work on the more glamorous aspects of the scheme, which also included the green room, situated in the basement along with the recording studios. The period townhouse theme continues by
way of panelled walls, this time painted in a pleasing shade of heritage green. More like a corridor than a room, there wasn't much space to work with. But they have made the most of it by turning the wall into a gallery for the all-important rock portraits and specifying uber-comfortable Toad chairs upholstered in a fabulous Tudor-inspired fabric. Having trained as a textile designer, McCulloch had a special interest in the fabrics and textiles used in the project. Precious McBane co-founder Meriel Scott has a background in fine art (she did the portraits), while design associate Sophia Wimpenny studied furniture design.
Together, they make for a supremely creative team. You can tell they have had fun with the project, but the attention to detail is such that you don't feel overwhelmed – just very at home (with Mick and the boys circa 1967). It's just a shame that some of Virgin Radio's guests don't appreciate fine interior design when they see it.
But more than a little rock'n'roll itself, Precious doesn't seem too bothered. "I think it shows
that the building is being used and abused in the way we expected," says McCulloch with a shrug, before adding: "Sophia and I are big fans of Gun N' Roses, so if it had to be done, I'm glad it was Slash!"