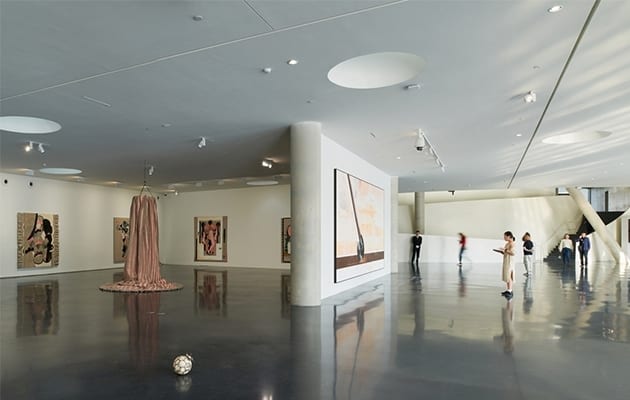 Tank Shanghai encompasses five fuel drums from a decommissioned airport|||
In recent decades, adaptive reuse – the process of converting a disused structure into what is effectively a new building – has become a perennial feature of a heritage-fixated world. Power stations have become museums, gasometers have been turned into flats and sugar refineries have been revived as climbing walls.
The public park around the art centre aims to attract locals to picnic. Photo: INSAW Image
The literally-named Tank Shanghai is among the creative of such revivals. Designed by OPEN Architecture, it sees five aviation fuel tanks on the Huangpu River — previously used by the decommissioned Longhua Airport — turned into a contemporary arts centre and public park. Since opening last year, it has attracted several million visitors.
Each tank has a different interior set-up. Photo: INSAW Image
Aiming to dissolve conventional ideas of limits and demarcation — in contrast with the Chinese business capital's preponderance for exclusive, fenced-off cultural projects — Tank Shanghai aims to attract both art-lovers and those who simply wish to bask on the land. The tanks have so-far hosted art exhibitions, an art festival, a book fair, a fashion week and an AI conference.
One of the tanks, which terminates in a specially designed oculus, serves to display large-scale artworks. Photo: INSAW Image
Each tank is surrounded by undulating parkland, which reconnects the site to the riverbank. This clusters around the Super-Surface, a 5-hectare belt of vegetation that connects the structures and sits atop the art centre's main entrance. While two of the tanks sit above the surface, the other three are part-submerged in it.
The project reclaims a riverbank as public space. Photo: INSAW Image
The tanks' interiors have been designed to fit different functions. One is a performance space and bar, and another a restaurant. Another two are for the display of art but have vastly different configurations: one is a single space with an oculus skylight for large-scale installations, and the other a three-level cube for more conventional gallery displays, with the fifth tank serving as a stage.
Two smaller galleries and several public art installations are scattered across the park, allowing even those who decide not to enter the main structure to experience art.
The riverside cultural centre is housed within five former aviation fuel tanks and is surrounded by parkland