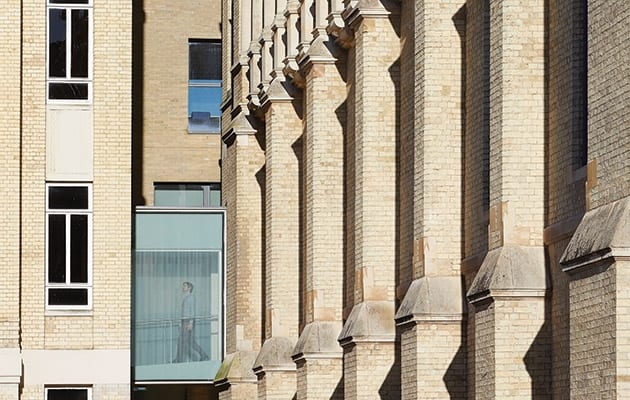 The building adjoins the Old Addenbrooke's Hospital|||
On the River Cam, about 50 miles north of London, Cambridge has sat with status and pride since receiving its town charter inthe 12th century. As the home of the world-renowned University of Cambridge, it shares many similarities with its educational counterpart Oxford. It's clear that both of these historical towns have their feet firmly pressed on academic turf, yet Oxford presents a hopeful future for its students, long-time residents and newcomers alike. Can Cambridge claim the same prospects?
Recent Spotlight research (2017) from Savills, the global real estate services provider, suggests that the city is building a global future, although there is some potential for a few bumpy roads ahead. "Cambridge is already a globally successful city. Yet its success risks being held back by looming shortages in the commercial and residential markets, and by infrastructure bottlenecks," says the report.
Interiors at the Cambridge Judge Business School extension
The commercial development pipeline is undersupplied, with only 1.3 years of office and lab space remaining, which means the government has a crucial role to play in reassuring its lifeline. Despite rising rents – up by £12 per sq ft since 2009, twice that of "regional competitor" Edinburgh – and pressures on office and residential space, it's not all doom and gloom, according to Savills. Cambridge continues to flourish with educational talent, and is a hub of global importance for bioscience and technology research and development.
As mentioned in last month's Oxford feature, the East West Rail connection will play a major part in the Cambridge awakening. Adam King, communications manager at East West Rail, explains how the Western Section route will "drastically" reduce journey times within the region, and act as a catalyst for bringing communities together.
Neubau's shipping container porters' lodge for Hughes Hall
"The Western Section route is located partly on existing lines and partly on a section of mothballed railway between Bedford and Oxford, Milton Keynes and Aylesbury Vale," he says. "The section between Bedford and Cambridge should be complete by 2030."
With this prospect for transport in motion for the near future, Cambridge's current offering is destined to thrive. But what's interesting is that the region seems to be less focused on new builds, placing more emphasis on extensions and renovations.
Pigeonholes for students' post at the Hughes Hall lodge
For example, award-winning London-based practice Stanton Williams has recently completed a £21.5m expansion for Cambridge Judge Business School at the University of Cambridge. As a new hub for postgraduate and executive business education, the extension adjoins the business school's Grade II listed Old Addenbrooke's Hospital – a "group of buildings which has undergone almost continuous transformation over the past 200 years," says Gavin Henderson, director at Stanton Williams.
When asked about the project's brief, Henderson explains that there is a huge demand for further educational facilities. "At the heart of this brief was the requirement to provide world-class facilities, while enhancing, consolidating and expanding the school's amenities on its existing site. The project also brings faculty, staff and students together in one location, so that the school could operate more collaboratively and support future growth," he continues.
Niall McLaughlin's new link building at Jesus College
"The school had several steeply raked lecture theatres suited to didactic teaching styles: there needed to be more flexible and collaborative teaching spaces. The school already had successful social spaces, but these needed expanding, with the addition of dining and 'milling' spaces – essentially breakout areas for the executive education programme."
Hughes Hall, another college within the university, has also seen a recent expansion. Until now, the college was the last without a porters' lodge – a small booth at the entrance that serves as a base, a reception for visitors, storage and a collection point for the students' mail. Its recently added porters' lodge was designed by Cambridge-based design studio Neubau, which proposed a bespoke conversion of a shipping container for the project. The result responds to an underperforming reception and serves as a dedicated space for all porterage-related functions.
Housing in the North West Cambridge Development
Another development sees an extension to the university's Jesus College. After commencing work in 2014, London-based practice Niall McLaughlin Architects has now completed phase one of its work for the college, including the refurbishment of a 1970s building, adding a new facade with a vertical tower of stone and timber elements. The project was delivered in sequential parts over 18 months, with the renewal of the Grade II listed Webb Building handed over first, followed by a new cafe and bar, and lastly the remodelled Rank Building and new entrance.
The building provides offices, social spaces and student accommodation, and pays attention to its predecessor; the existing buildings are linked by a new extension, highlighted by lightweight glazed timber, and feature various traditional materials including oak, stone, brick and quarry tiles. According to the practice, the extension has been a huge triumph: "The success of phase one might be measured by the extent to which it has drawn this disparate collection of buildings back into the vital life of the college community, while also providing an outward-looking public presence in the centre of Cambridge."
Solar panels on the North West Cambridge Development
Besides these glorious additions to the architectural history of academia, there is also progress in the realms of new builds currently in development. Mole Architects, an award-winning practice based in Cambridge, and architectural heavyweight Wilkinson Eyre are in the first phase of the £1bn North West Cambridge Development, which sees plans for 150ha of university farmland to be transformed into new residential and commercial uses. The designs include a supermarket, retail, 177 key residential units, a healthcare centre, police station and an energy centre.
Evidently, this will aid the progression of Cambridge as it steers towards office and residential improvements, but will it ever fully move beyond its university heritage? It seems there's always a hint behind every design that steers towards the world-class educational facility, influencing its progress in some way or another. Should Cambridge keeps its firm grasp, or is it perhaps time to let go?
Following on from OnOffice's Oxford focus last month, we take a punt in its historic counterpart to take the temperature of another flourishing city built around academia