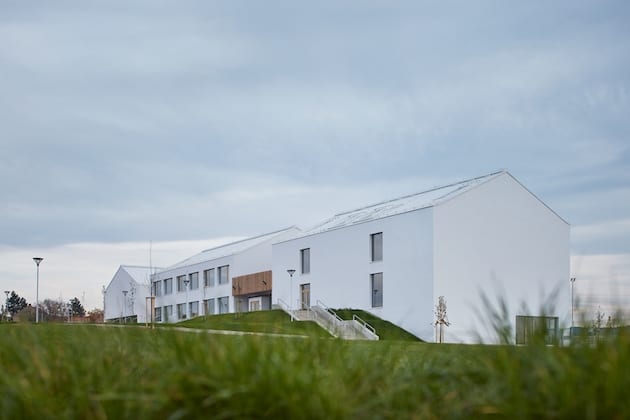 The new school serves two villages to the southwest of Prague.|||
Prague-based architecture studio SOA architekti have completed a new elementary school in the village of Psáry, some 20 km to the south of the Czech capital.
Serving children in both Psáry and the neighbouring settlement of Dolní Jirčany, the school campus consists of a series of discrete buildings, which largely share a unified aesthetic of white walls, gabled roofs and wide, light-embracing windows.
A wood-clad structure, housing the canteen and gyms, contrasts with the white classroom buildings. Photo: BoysPlayNice
Balancing the dimensions and form of traditional Czech rural architecture with a contemporary cleanness, these structures house classrooms and administration offices. They are built using a reinforced concrete structure, with sand limestone bricks for the interior and exterior walls.
Inside, there are numerous colour-coded areas. Photo: BoysPlayNice
A pair of these are connected with a lower, flat-roofed building containing shared areas such as the canteen and gymnasiums, which is cladded with larch slats in contrast to the other compliments. The double-height canteen, which functions as the campus' core, can be transformed into an auditorium by connecting it to an adjacent gym, while an outdoor terrace extends teaching space into the grounds.
Wooden elements reoccur throughout the campus. Photo: BoysPlayNice
SOA's design aims to create a 'learning landscape,' focusing on natural light, fluidity and areas suited for different levels of privacy. Clusters of classrooms are connected to central halls. Walls with writable and magnetic surfaces allow children to manipulate the building's design.
Wood is a perennial feature, in roof grids, wall and facade cladding, window sills and built-in furniture. Alongside visual motifs based on children's' drawings, it gives the school a domestic warmth.
The school has a clean interior, dominated by white. Photo: BoysPlayNice
Working from Wenceslas Square at the heart of Prague's New Town, SOA architekti was established in 2015 by Stefan Sulek, Ondrej Pihrt and Ondrej Laciga. Their name, SOA, is an acronym standing for Sons of Architecture.
Classrooms and other teaching spaces are organised in clusters. Photo: BoysPlayNice
A successor to the trio's previous work as RAP Partners, SOA originally focused on interior and residential projects, before branching out. Recently, they have been developing a specialism in school and educational structures.
The new school campus has a variety of customisable spaces, and is comprised of several interlinking structures