The architecture and design firm's concept represents a winning dialogue between the building and North Dakota's National Parks
Amidst the backdrop of a global pandemic, a competition to find a design architect for a new Presidential Library in the US has come to a close – with international architecture and design firm Snøhetta selected unanimously from a pool of 40 applicants.
To be located in the North Dakota Badlands and abutting the Theodore Roosevelt National Park, Snøhetta's design for the Theodore Roosevelt Presidential Library traverses this unspoiled habitat, with a series of small pavilions punctuating the diverse landscape to meet a brief of conceptualising the former president's legacy into the new structure.
The design is informed by Roosevelt's own environmental stewardship, with Snøhetta's vision for the library branching out from its core site, where a curved, grassy roof creates a sympathetic extension to the landscape, via a looped walkway. The paths connect to the nearby Maah Daah Hey Trail, with each pavilion both offering contemplative spaces and vistas to better educate on this environment.
"When designing a new project, we think about how we can more give to the site or community more than is initially asked of us," said Craig Dykers, founding partner architect at Snøhetta. "We integrated the Theodore Roosevelt Presidential Library into the landscape of the North Dakota Badlands. We still have much to learn about President Roosevelt, and we're looking forward to working with the Medora community and the broader project team to translate this knowledge into an immersive place to learn about T.R.'s life and legacy."
Though Roosevelt was born in New York, after visiting the area in his youth, he later spent his time split between his birthplace and two ranches he homed in North Dakota.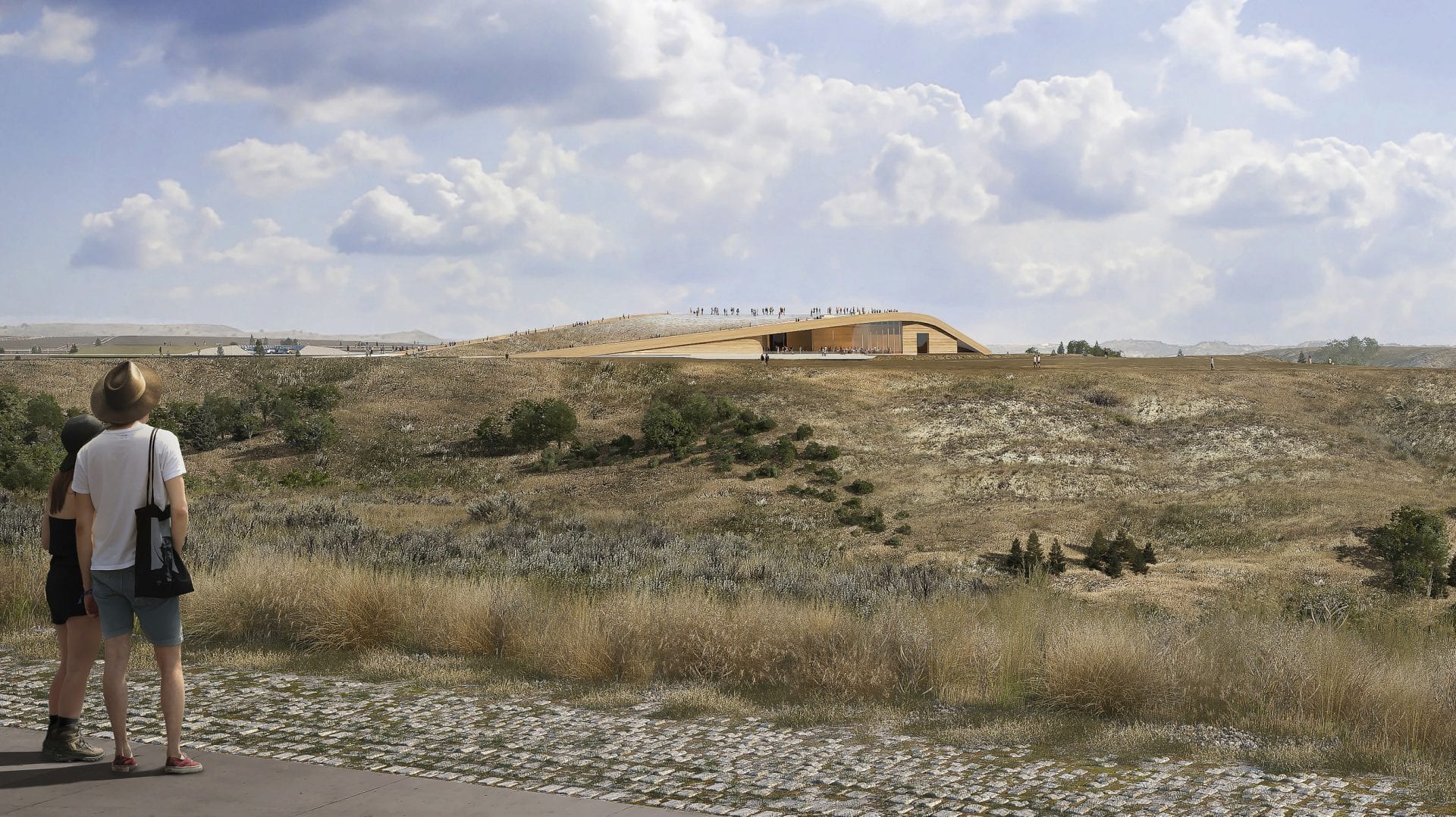 Snøhetta travelled to the site, near the North Dakota city of Medora, over the summer, alongside US firm Studio Hang and Copenhagen-based Henning Larsen, also shortlisted for the competition, to survey the site and meet with the local community and stakeholders in the project.
The design firm will work with local architects to realise the project and the construction will use locally sourced and renewable materials. Sustainable energy systems will also be employed in the design, setting new standards for the area, while the design has also been designed to mitigate climatic issues that would otherwise cause disruption to the Library being used year-round.
There are currently 13 presidential libraries throughout the US – each acting as an archive of the life and work of former presidents; however, the Theodore Roosevelt Presidential Library is the 15th. The 14th library, the Barack Obama Presidential Center, is currently under development in Chicago by architects Tod Williams and Billie Tsien.
All renderings courtesy of Snøhetta