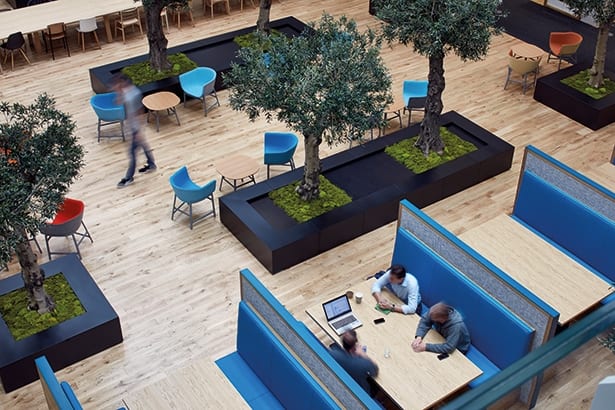 Planters with trees contribute to the airy, natural feel|||
The new west London HQ for media company Sky has many of the trappings of a contemporary "knowledge economy" workplace that has had the designers in: not one but two atriums, a couple of mezzanines, myriad work settings, lots of natural light, cafes, generous staircases, indoor planting. But there is a dearth of felt, so popular among manufacturers of office pods and booths for its domestic undertones and acoustic qualities.
Because at Sky Central there is a blanket ban – so to speak – courtesy of Sky's workplace director, Neil Usher. "I cannot stand felt – it's like nails on a blackboard to me. It's very flat, I don't like the texture of it, and it's everywhere."
Instead, workplace designer Hassell used the textured woven vinyl wallcovering Chilewich Bouclé on the "quiet focus desks", and Vitra's Hopsack fabric on the joinery booths, Vitra Allstar task chairs, Eames Aluminium Group conference chairs, Koskela, Sancal and Arflex sofas and other pieces of furniture.
Since July 2016, Sky Central, which sits on a former car park, has been home to 5,000 corporate and creative Sky employees. The 37,700sq m building, whose concept design was by Amanda Levete's firm AL_A, borrows from the industrial shed typology and is just three storeys high. If it were built as a city-centre skyscraper, it would have 31 storeys, says Sky. But, of course, that would not lend itself to the sort of collaborative, ideas-generating work practices that Sky is keen to foster.
Being able to build offices with a 163m x 100m ground floor is only feasible in a remote outpost like Sky's Osterley campus (or "Skyberia" as it is known by some of its 7,500 employees). AL_A was appointed to design the masterplan for the campus back in late 2010 as part of a plan to move out of leased premises. "When I joined three and a half years ago, there were 17 buildings on the Osterley campus," says Usher. Now Sky occupies nearly half that number of buildings and the ones that remain part of the campus are much more fit for purpose – and none of these more so than Sky Central.
Wide stairs and open kitchen areas provide places to talk
But on a cold, grey morning, the 13ha site has little in common with Silicon Valley, so the design team – which includes PLP Architecture as interior and executive architect, and engineer Arup – has pulled out all the stops. Rather than resorting to playful gimmickry (not a slide, retrofitted caravan or ping-pong table in sight), they've concentrated on making an environment in which "our colleagues can do the best work of their career", as Usher puts it.
And Sky Central oozes energy. On each floor and in every corner, staff were talking to each other, either informally or in meetings, and really did seem to be making good use of the various settings. Perhaps that's partly because – barring executives – there is no allocated desking.
Sky Central embraces two out of the three main types of workers at the media giant: the corporate workers (the laptop-toting types who are activity-based and totally flexible) and the "agile engineers" (software developer types who can function in what Usher describes as "scrum-based working"). The third type, broadcast tech and creative, are the less flexible type with double screens.
Coloured ropes delineate meeting room space
On entering the building, the visitor's eye is drawn from a 100m-long "high street" up to a glazed box on the first floor that hangs over the atrium. This is where Sky News is broadcast from 6am-9pm every weekday. But, beyond that, it is the swathes of timber that catch the eye: the stairways, some flooring and partitions, and most impressively the deep ceiling "beams" that house a grid of skylights and control the amount of sunlight entering.
Carolina Bartram, associate director at Arup, explains that the firm's Believe in Better education centre for the campus is the tallest commercial timber structure in the UK. "Sky took a risk on that and realised it worked well, and that freed us up for putting more timber in this building," she says.
Continuing on this theme, the cordoning-off of some quiet spaces is done with outsized Jenga-style ash blocks, supplied by Romanian company Craftwand. "It was cheaper than building plasterboard walls, and it's mobile," explains Matt Blain, a principal at Hassell.
Deep timber ceiling "beams" house a grid of skylights
Other alternative work settings by Hassell include bespoke meeting structures made from metal framing normally used as retail display units, mesh and coloured ropes, and vast velvet horseshoe-shaped sofas. There are 80 enclosed meeting rooms, the smaller one being a customised pod from Orangebox.
In total there are 2,500 alternative work settings, and 2,500 non-allocated desks, each with a monitor. That means the ratio of desking is 7:10, and is the same for alternative spaces. It's early days, but so far Sky's study shows 95% usage of the 2,500 desks. "That's good," says Usher. "It shows we are getting the best use out of it."
As well as providing settings that would be well used, Hassell's challenge was to organise navigation around the vast floorplates, to make them feel welcoming and manageable, creating a sense of connection and intimacy for the Sky team. Following the Bürolandschaft-inspired rule, "We have broken sightlines every 20m for a sense of intimacy," says Usher. "We don't want people to be unnerved by the scale of the architecture."
Giant velvet sofas offer zones for relaxation
This involved clever zoning through the introduction of 18 numbered "neighbourhoods", each housing around 200 people. Every one has a 'home zone', with a small kitchen, circular meeting tables and informal seating areas. "These 'residential' settings blur the boundaries between work and home and bring an intimate, human scale to Sky's expansive space," says Blain. Neighbourhoods also have a range of individual and team settings, to suit different activities.
And, while Sky Central makes its debut in London, a couple of hundred miles north in Leeds architect BDG has designed a software developer centre of excellence (read more about this in a future issue of OnOffice) "It's a stripped-out space that has a fantastic work area, very much scrum-based working," says Usher. As for relationships between north and south: "Those things all have a relationship; they all have something to do with each other."
After years of organic growth, the Osterley masterplan is now coming to a close. As Usher explains: "The pace of business is phenomenal, so masterplanning is fluid." That's not to say everything is shiny and new: "There are some buildings that have been completely renovated." Usher cites the Sky Create building as an example – "They wanted a bit of Shoreditch. With its stripped-out ceiling and rubber floor, it's quite a vibey place."
He adds that he expects that "by summer, most of the work on this campus will be finished". And perhaps at that point, Sky staff might feel the place would benefit from a new nickname.
The media company opts for an innovative campus HQ over a city tower