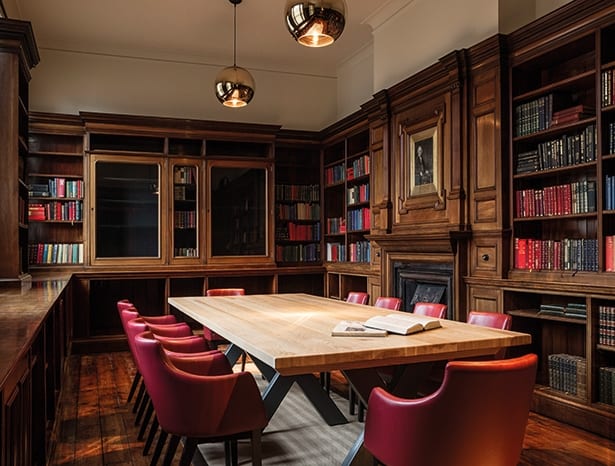 Assay Studios retains features from the old Assay Office|||
The cities of the West Midlands are positioning themselves on the national and international stage as centres for enterprise and culture. A diverse region, it encompasses rural towns in Herefordshire, Worcestershire, Warwickshire, Staffordshire and Shropshire, as well as metropolitan towns and boroughs with an increasing international standing.
In Wolverhampton, the focus has been placed on providing the city with high-quality offices to let. As part of the Wolverhampton Interchange scheme, the 2015 i10 development has provided 3,345sq m of sustainable Grade A office space near the city's stations and demand for similar space has resulted in a followup proposal for the i9 site close by. Wolverhampton City Council and developer Neptune are currently holding a design competition and the proposed development could provide a further 3,720sq m of Grade A offices to the area.
Coventry, the second largest city in the region, is also undergoing major city-centre development, such as the Friargate scheme, which proposes 14 new office buildings in a new business district. Coventry is known for its cultural and educational facilities and is currently bidding for UK City of Culture 2021 status. Respected institutions include Warwick University, a regular in the top ten of national league tables, whose new Faculty of Arts building will be designed by Feilden Clegg Bradley Studios.
Assay Studios offers creative workspace in the Jewellery Quarter
Much of the development in this region can be found in Birmingham, an important commercial centre and the second largest (after Leeds) outside London for employment in financial and business services. The city centre has enjoyed several key commercial projects in recent years, such as Future Systems' Selfridges building, Brindleyplace regeneration and the Millennium Point science and technology centre.
The City Plan 2031 aims to position Birmingham as an enterprising, innovative and green city on the international stage. Six Economic Zones group its economic activity and are led by the largest, the Enterprise Zone, which gathers professional and financial services, digital media, ICT and creative industries.
Not even Brexit uncertainties are slowing down Birmingham's office sector. Charles Warrack, head of office agency at Johnson Fellows, says that while the political climate caused initial concerns, companies are continuing to invest in office space in the city. Commercial interiors specialist Paragon is expanding its regional presence with the opening of a new office, double its original size, and HSBC hopes to move into its Arena Central premises next year.
The airy entrance area of MoreySmith's Colmore Building
For smaller businesses, the Jewellery Quarter is one of Birmingham's most diverse business hubs. With a variety of industries working alongside each other it has became a dynamic location for startup and creative businesses. This is where TCN UK created its Assay Studios by Glenn Howells Architects (GHA), the real estate company's first property in the city.
The 2,780sq m of creative office space was designed to attract Birmingham's growing creative and tech sector. The project was completed in November 2016 and is let to high-profile tenants including John Lewis Partnership, Deliveroo and Grayling Communications. GHA's refurbishment was sensitive to the site's heritage as the home of Birmingham's former Assay Office and combined the building's existing characterful elements with contemporary features, creating a modern, inspiring office space that meets the creative needs of the area.
Richard Pearce, CEO of TCN UK believes that the city has considerable potential for growth. "With the recent announcement by the government of the Midlands Engine for Growth, the regional economy could grow by £34bn by 2030," he says. "This will put significant pressure on office space, most especially for small and startup businesses."
The Colmore Building features an onsite coffeehouse
Last summer, architectural design practice MoreySmith refurbished the Colmore Building for AshbyCapital, as the real estate company's first investment outside of London. The building spans 28,000sq m across 14 floors and is let to a variety of UK and international occupiers including Vodafone and law firm Hogan Lovells. The impressive space was designed to offer workers a more lifestyle-friendly working environment and includes a gym, onsite coffee house, cycle facilities, changing rooms and even spa-like treatment rooms.
"The Colmore Building now offers the kind of amenities that forward-thinking businesses want in order to attract the best talent. What makes it unique is the combination of a city-centre location, world-class design and the amenities to rival any leading office development anywhere in the world," explains MoreySmith founder and managing director Linda Morey-Burrows.
"Birmingham is going through a really exciting transformation which has already seen the arrival of several global companies who have chosen to open major offices in the region," she says. "We expect this trend to continue as more and more companies seek high quality office accommodation in the Midlands." Weston Williamson + Partners and Overbury fitted out an agile workspace for Network Rail in Centenary Square last year. The team transformed three floors of Grade II listed Baskerville House, one of Birmingham's most prominent and historic buildings.
Baskerville House caters for a variety of workspace types
The workspace houses employees from offices throughout the city and "brings together some 900 staff in teams with very different roles and a range of working methods", says Phil Breese, senior partner at Weston Williamson + Partners. "The challenge was to balance agile working practices with the requirements of specialist teams who need to work in a very particular manner," he explains.
The flagship workplace is one of several new agile office spaces for Network Rail around the UK. "Baskerville House is a landmark building, right in the centre of Birmingham and within a stone's throw of the city's major attractions and amenities," explains Breese.
It's in easy reach of the three main city stations, the A38 Aston Expressway and the Midlands' motorway network and, says Breese, "provides a city-centre location for all of Network Rail's central England teams in one location". With Royal Assent recently granted to the HS2 bill and the first phase of the high-speed rail link connecting London to Birmingham expected this spring, it seems that even more businesses will be drawn to Birmingham and the West Midlands.
Modern breakout spaces work well with the historic building
This month our series exploring the regions observes how, even before HS2, a new generation of quality workspace is emerging to meet the needs of national businesses looking for a central hub