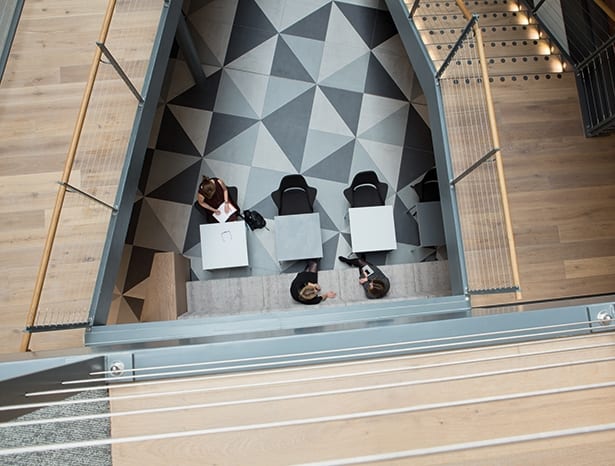 KPMG's Queen's Square HQ mixes open and private space|||
From Gloucestershire through Somerset, Devon and down to Cornwall, there's plenty going on in terms of architecture and design in the south west.
Last year, ID:SR Sheppard Robson completed 4,800sq m worth of office space for KPMG in Bristol – the location of the consultancy firm's first office over 200 years ago. This new-build project, on Queen's Square in the centre of town, consists of a ground-floor staff restaurant with a dedicated client reception space on the first floor, where there are also meeting rooms, forming an "Enterprise" space for people to simply drop in if they happen to find themselves in this bit of the south west of the UK.
Soft colours and textures draw on the city's urban fabric
The building encompasses various opportunities for staff to work in an agile fashion across four storeys. Each open floorplate has a central spine which includes work settings such as pods for individual and group work and open, more collaborative space. For those in need of ultra-private working, there are also booths around the perimeter of the floorplate.
Helen Berresford, partner and head of ID:SR, says: "This is our fourth project for KPMG. Our designs celebrate the dynamism and character of the KPMG team whilst incorporating subtle design features – in the form of soft colours and textures that draw upon Bristol's urban fabric."
Grimshaw's Engine Shed 02 incorporates a listed hotel
Adds Andrew Hodgson, KPMG's senior partner in Bristol: "Our objective was to create an innovative and flexible space that will enhance our interactions with clients and allow us to work better together."
Elsewhere in the city, construction has started on 3 Glass Wharf, a 10,350sq m office building in the Temple Quarter Enterprise Zone, by architectural studio Darling Associates, Completion is expected in the latter half of next year.
Glass and metal celebrate Bristol's industrial past
Managing director Chris Darling explains: "The design is intended to celebrate the industrial heritage of the area, and in particular the glass production that took place at this riverside site. We have incorporated glass in a very contemporary way: shimmering glass facades, floor to ceiling glazing and frameless glass balustrades that maximise views and elevate the amenity spaces, while balconies provide solar shading."
Grimshaw is also working in the same area, on a masterplan for Temple Square, as well as creating a startup incubator and co-working space called Engine Shed 02. The development will provide a vital link between Temple Meads railway station and the city centre, with a new walkway, the Brunel Mile, that prioritises pedestrians and cyclists, plus a new public square.
The Modus HQ in Cricket St Thomas, south Somerset
Under Grimshaw's proposals for Engine Shed 02, the Grade-II listed George and Railway hotel will be transformed into 4,000sq m of office and co-working space to meet the needs of Bristol business community, including startups. As its name suggests, the architecture will celebrate the city's engineering legacy (the city's Clifton suspension bridge is one of Isambard Kingdom Brunel's best-known designs, for instance).
The lower levels of the building have profiled metal cladding and external structural steel elements.The upper levels, meanwhile, are distinctive through their use of patterned glass. Though providing commercial office space, spatially there is a reference to a gallery space or studio. Andrew Byrne, principal at Grimshaw, says: "We look forward to setting the benchmark for developments of this kind as Bristol continues its drive to be a leading tech and business hub."
British Ceramic Tile is based in Devon's Newton Abbot
A planning application was submitted for Engine Shed 02 at the end of last year following a public consultation. The city's transport infrastructure, meanwhile, will be given a boost thanks to improvements to the MetroWest rail service due for completion by 2020 and a new network of buses up and running this year.
As well as the service industry, manufacturing is alive and well in this region too. Furniture firm Modus's new headquarters is in the picturesque location of Cricket St Thomas in south Somerset. There production facilities from traditional upholstery to CNC machining can be found in this rural spot. Indeed fans of this particular region will say it's a great place to work and live, being close to beautiful countryside and beaches as well as modern cities. And British Ceramic Tile's base in Newton Abbot in Devon benefits from the area's local resources too, as CEO Tony Taylor explains: "We are lucky to be able to source the vast majority our raw material (sand and clay) in the south west – a geological faultline runs through the area and provides some of the world's finest quality ball clay, a clay that is white when fired."
He adds: "Because of this availability, pottery was first made on our site over 100 years ago and generations of skilled clay and tile making experts have worked with us over the years to produce some of the world's most beautiful tiles."
This month OnOffice travels westwards in the first of a new series of RegiOn features, which take us out of our London comfort zones to see what the rest of the UK has to offer