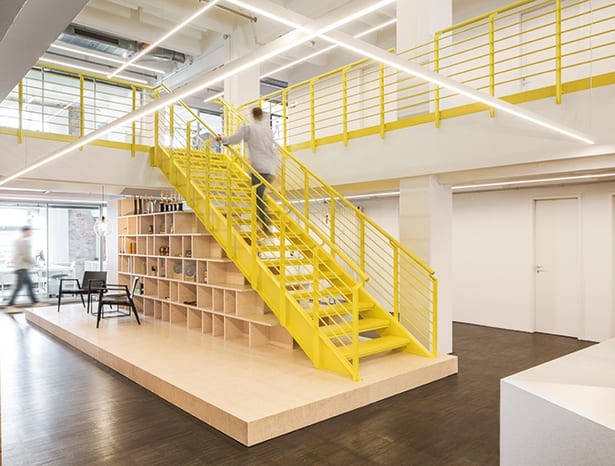 |||
Beside the River Spree, in what was formerly communist east Berlin, sits a tall, brick building that was once a grain silo. Situated directly on the river, the water laps at the foot of its brick exterior and there are pretty views from its high windows, including of the neighbouring Oberbaum Bridge, with its two distinctive tall turrets and series of brick arches. Built in 1913, the silo was used as a grain store until 1990, shortly after the fall of the wall, after which it fell into disrepair. When Berlin began to emerge as a creative hub in the early 2000s, a developer saw its potential and converted it to office space in 2001.
Today the building is home to tech startups and multinationals such as Universal Studios and to web and online marketing specialist Razorfish, which occupies a 2,500sq m space in the silo. Last year, the firm asked local architect Bruzkus Batek to update its office space: Razorfish has two other offices in Germany, one in Frankfurt and one in Munich, and wanted to distinguish its Berlin base. "Razorfish wanted a space that reflects Berlin," explains Bruzkus Batek co-founder Patrick Batek, who worked on the scheme with project architect Anke Müller. "They didn't want the shabby chic vintage feel that Berlin has become known for, but they didn't want a sleek standard office either."
Listed original stairs were painted yellow to suit the casual vibe
The practice focused on materials to meet the brief, using oriented strand board (OSB), a type of engineered wood similar to plywood, to lend the space a casual yet contemporary feel. Brushed stainless steel accents and pops of colour, including a bright yellow staircase, warm the otherwise simple scheme. "We used materials that are normally part of the construction process – like OSB and polycarbonate, which are usually hidden behind more expensive materials – to reflect the casual Berlin vibe," says Batek.
Razorfish occupies two levels of the building, linked by pre-existing staircases. Because the building is listed these could not be removed and so were painted in bright yellow. "We wanted to make a feature of the stairs, to expose rather than hide them," explains Batek. Underneath the stairs is extensive shelving, filled with books and other objects and lending a homely living-room feel to the space.
Warm white lighting is used at entry level to create an airy feel
Along with this small library, the entry level houses the reception area and client meeting rooms, while the upper floor is primarily office space, with metal-framed desks topped with OSB creating a sense of airiness and adding to the casual vibe. There are nooks and crannies around the space with colourful cushions on built-in furniture in unfinished OSB for informal meetings and socialising. A casual seating area known as the White Room has a teahouse
atmosphere, with slatted wood walls and low soft furnishings that can be adapted as needed. In another corner, painted red, two hanging chairs offer a laid back, Berlin-style meeting space. The upper floor also has a kitchen with a large, freestanding counter flanked by metal stools. A "green wall" of plants adds life and texture, while folding windows made from polycarbonate panels also serve to soften the design.
Wide podium steps clad in OSB double up as a seating area
Bruzkus Batek, which was founded in 2007, focuses on detailing interiors and, says Batek, it always aims to work within existing site-specific conditions: "We want to honour the building's story and for people to be able to continue to see its past. We always work in this way, working with the space rather than imposing our style on it. Our interventions don't destroy the existing structure. We prefer our architectural elements to be like sculptural exhibits within the existing space."
In this project the practice took several steps to ensure that the existing architecture and history was retained. Batek points to the new podium stair by way of example. A key feature of the design, it is clad in OSB and acts as podium-style seating for meetings when all of the 80 employees are present. Wide and well lit, the stairs are also used by staff as an alternative workplace and for informal meetings. Though large and significant in the new design, structurally the stairs barely touch the framework of the building, seeming almost to rest against thin air.
Warm wood gives a teahouse atmosphere to the White Room
"We work a lot with shadow gaps – there's always a very subtle touch between the existing structure and our work," says Batek. "Even our doors are usually without frames. It's technically a challenge and requires very good craftsmen because the work needs to be perfect; any mistakes really stand out."
There were several other challenges in the project, in particular bringing light into what was quite a dark space. "The building has great spaces, huge and airy, but it only has small windows because grain silos didn't need windows. Bringing light in was one of the real challenges for us," says Batek.
A bright kitchen counter encourages a relaxed atmosphere
A series of LED strips in a U-shape were employed across both levels, always using warm white bulbs. "We worked with a specialist light planner to make sure we had enough light, especially in the hall and on the stairs which were quite dark. Now the light ensures the stairs are a real architectural feature and the staff really like it too. They comment a lot on how cosy the space feels now," explains Batek.
The warmth is in part due to the light and in part to the tactility of the materials, the OSB in particular, which has a reach-out-and-touch-me feel to it. "Our style is modern and simple but not cold," says Batek. "We use a lot of colour and textural materials because we want spaces to feel warm and welcoming."
A green wall of plants brings a feeling of the outdoors and adds life
Architect Bruzkus Batek uses colour and texture to bring a warm contemporary look to internet marketing firm Razorfish's riverside offices in a former grain store in Berlin